2013
UC San Diego COSMOS Intel Scholars
Eight 2013 UC San Diego students were chosen to be Intel Scholars and were provided with scholarships to attend the COSMOS program. In March 2014, the COSMOS Intel Scholars presented their final research project at the Intel Scholars Reception to campus representatives, COSMOS representatives, Intel representatives and students' families. Many thanks to Intel for sponsoring these San Diego area students. The 2013 UC San Diego Intel Scholars are:
2013 UC San Diego COSMOS Intel Scholars
Cluster 1: Khelsey Gozum
Cluster 2: Cristabel Otero
Cluster 3: Joey Uy
Cluster 4: Diego Espnoza
Cluster 5: Marcella Marquez
Cluster 6: Angela Chen
Cluster 7: Brandon Nguyen
Cluster 8: Laura Leon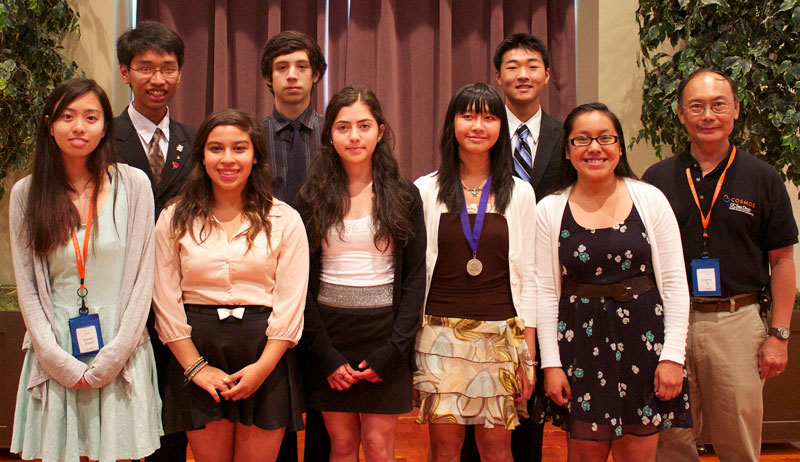 2013 UC San Diego COSMOS Intel Scholars with COSMOS Director Charles Tu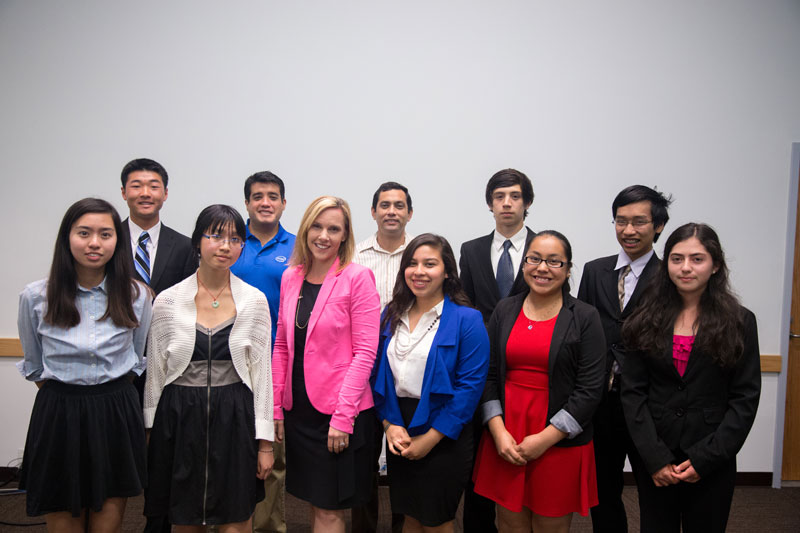 2013 UC San Diego COSMOS Intel Scholars with Grace Davis, Daniel Ugarte, and Wilberth Escalante-Tamayo of Intel Corp.
2010
High School Students Awarded Intel Research Grant
On October 27, 2010, the following high school students were selected to receive a $500 Intel Research Grant in order to support their continued research in science or engineering. The Intel Corporation is a major sponsor of COSMOS. The goal of this competitive award is to support research by UC San Diego COSMOS alumni, to encourage them to enter projects in science fairs and competition, and to enable them to excel in future academic endeavors.
2010 UC San Diego COSMOS Intel Scholars
Cluster 1: Khelsey Gozum
Cluster 2: Cristabel Otero
Cluster 3: Joey Uy
Cluster 4: Diego Espnoza
Cluster 5: Marcella Marquez
Cluster 6: Angela Chen
Cluster 7: Brandon Nguyen
Cluster 8: Laura Leon