Overview
Transfer Prep is a 4-day program held over the summer for incoming transfer engineering students. This FREE program provides incoming students with the opportunity to acclimate to campus life, build skills and habits necessary for success in engineering, and develop community amongst their peers before beginning their courses in the fall.
This free program provides incoming transfer engineering students an opportunity to interact and build community with peers and current engineering students who will serve as your mentors throughout the duration of the program. You will participate in academic and social activities that include connecting with faculty, staff and current students through workshops, small group discussions, and information sessions.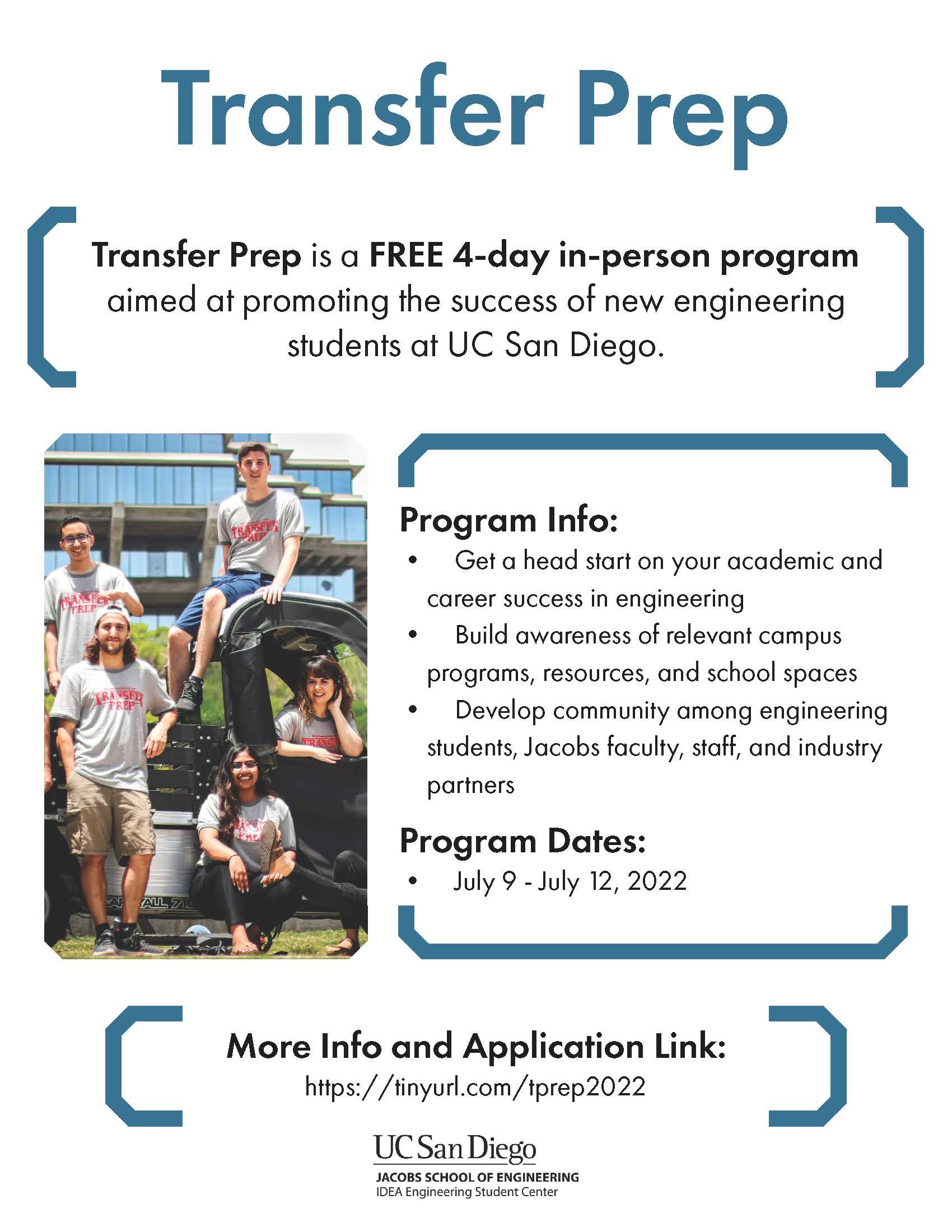 ---
Goals:
Foster a sense of community and support among participating students
Prepare incoming students academically for the rigor of engineering studies
Provide incoming students tools to aid in the transition from community college to UC San Diego's Jacobs School of Engineering
Build awareness of relevant campus programs and resources
Connect transfer engineering students to industry and professional networks
---
Important Dates
Program Dates: Saturday July 9, 2022 - Tuesday July 12, 2022
Transfer Prep Application Opens: Tuesday, May 13, 2022
Transfer Prep Application Deadline: Thursday, June 9, 2022 11:00PM PST. 
---
Eligibility Requirements:
Incoming transfer students admitted to an engineering major at UC San Diego.
We highly encourage students underrepresented in the field of engineering to apply (first generation, low-income, women, historically underrepresented students, veteran/military-affiliated students, students with disabilities, and older students/students with dependents)
---
Cost
FREE. The IDEA Engineering Student Center will be providing Transfer Prep at no cost to the student.
---
Feedback from Participants
Excellent program. Would highly recommend it to other incoming transfer students in the future.
It was a fantastic experience that allowed me to connect with my fellow students and learn about the UCSD campus and it's engineering departments in a fun and creative way.
This program relieved much of the anxiety I initially had about transferring to UCSD, especially because of the campus's large size. I am excited to utilize all the resources available to me, and I am hopeful that because of this program, I will have a better opportunity to succeed at this school. Thank you so much!
I learnt a great deal of information and I felt that I was ready to adapt for UCSD culture which I was not before the trip. Moreover, I am so proud of being a UCSD Engineering student. I believe I will have an amazing time here with all my great friends and if I need anything, there are sooo many help out there. Thank you for making all of that. Please continue the program for more students, you change lives.
---
Contact Information
IDEA Engineering Student Center, Jacobs School of Engineering
Website: idea.ucsd.edu
Phone: 858.534.6105
E-Mail: idea@eng.ucsd.edu