The Workshops and Info Sessions for Engineers (WISE) are a series of academic, professional and technical skill-building events open to all undergraduate engineering students at the Jacobs School of Engineering.
Check out our WISE playlist for recordings of past WISE Sessions and subscribe to our YouTube channel to get new video updates! 
NEW: Check out the IDEA Center's Spotify to listen to podcast versions of select WISE Sessions.
---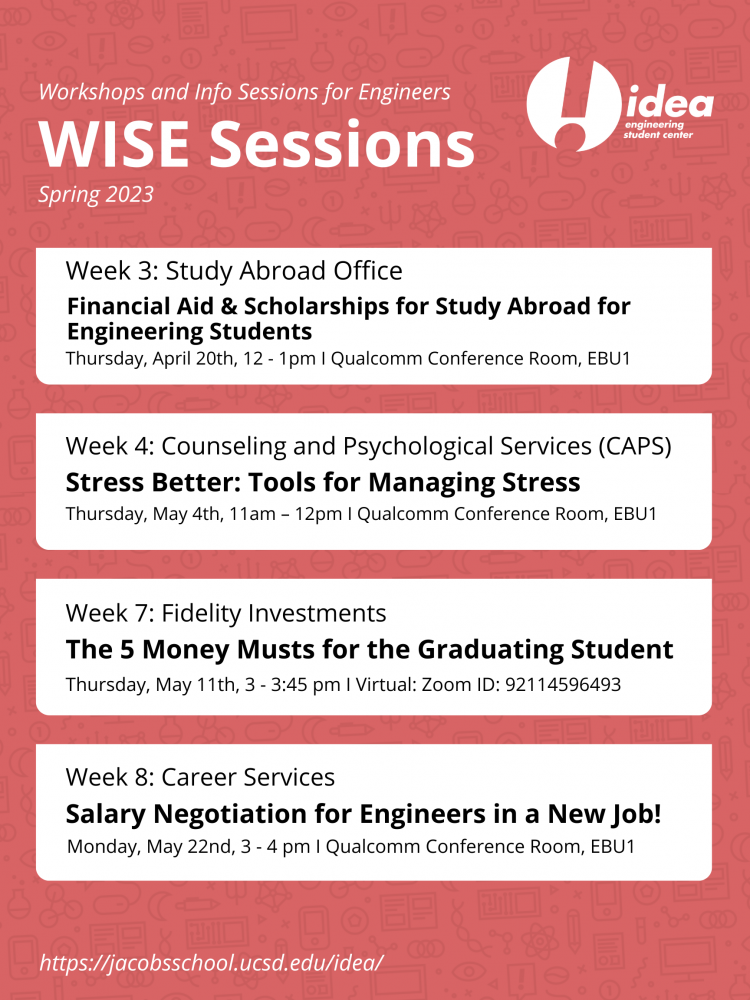 ---
PAST WISE SESSIONS
Spring 2022
Rocking your Summer Internship
Corporate Affiliates Program
Date Recorded: May 26th, 2022
Mastering Interviews
Corporate Affiliates Program
Date Recorded: May 5th, 2022
Drafting Your Engineering Resume & Cover Letter
Career Services
Date Recorded: April 27th, 2022
---
Winter 2022
Career Conversations with Engineers
Corporate Affiliates Program
Date Recorded: February 18th, 2022
Jumpstarting your Career in Engineering for First & Second-Year Students
Career Services
Date Recorded: February 8th, 2022
STEM Summer Research Opportunities
Undergraduate Research Hub
Date Recorded: January 19th, 2022
---
Fall 2021
Study Abroad Engineering Programs
Study Abroad
Date Recorded: October 13th, 2021
Demystifying Graduate School: Tips and Strategies for Planning and Applying to Graduate Programs
Graduate Division
Date Recorded: October 27th, 2021
Writing your Statement of Purpose for Graduate School
Teaching & Learning Commons
Date Recorded: October 28th, 2021
---
Spring 2021
Guide to Funding Your Graduate Education 
Graduate Division
Date Recorded: May 4th, 2021
Advice from Beyond: First-Generation College Student Engineers in Industry
Industry Panelists
Date Recorded: May 19, 2021
Recruiter's Do's and Don'ts for your Summer Internship
Corporate Affiliates Program 
---
Winter 2021
Time Management for Engineering Students
Presenter(s): Teaching & Learning Commons 
Department: Teaching & Learning Commons 
Date Recorded: January 27, 2021
Jacobs School of Engineering First Generation Faculty Panel
Presenter(s): Jacobs School of Engineering Faculty 
Department: Jacobs School of Engineering 
Date Recorded: February 9, 2021
Leadership & Teamwork in a Remote Environment for Student Organizations
Presenter(s): Luis Legaspi  
Department: Center for Student Involvement  
Date Recorded: February 17, 2021
Introduction to Python Workshop #2
Presenter(s): Association for Computing Machinery  
Department: Association for Computing Machinery   
Date Recorded: February 24, 2021
---
Fall 2020 
Tips for Remote Success for Engineering Students
Presenter(s): Guadalupe Barreiro, Susan Rinaldi
Department: Teaching & Learning Commons
Date Recorded: October 23
Applying to Graduate School
Presenter(s): Edgar Beas
Department: Grad Division
Date Recorded: November 5, 2020
Introduction to Python
Presenter(s): ACM - Association for Computing Machinery
Date Recorded: November 12, 2020
Writing your Personal Statement for Graduate School
Presenter(s): Maggie Thach, Celeste Montano
Department: Teaching & Learning Commons
Date Recorded: November 13, 2020
Study Abroad Engineering Programs 
Presenter(s): Jay Minert 
Department: Study Abroad Office 
Date Recorded: November 17, 2020