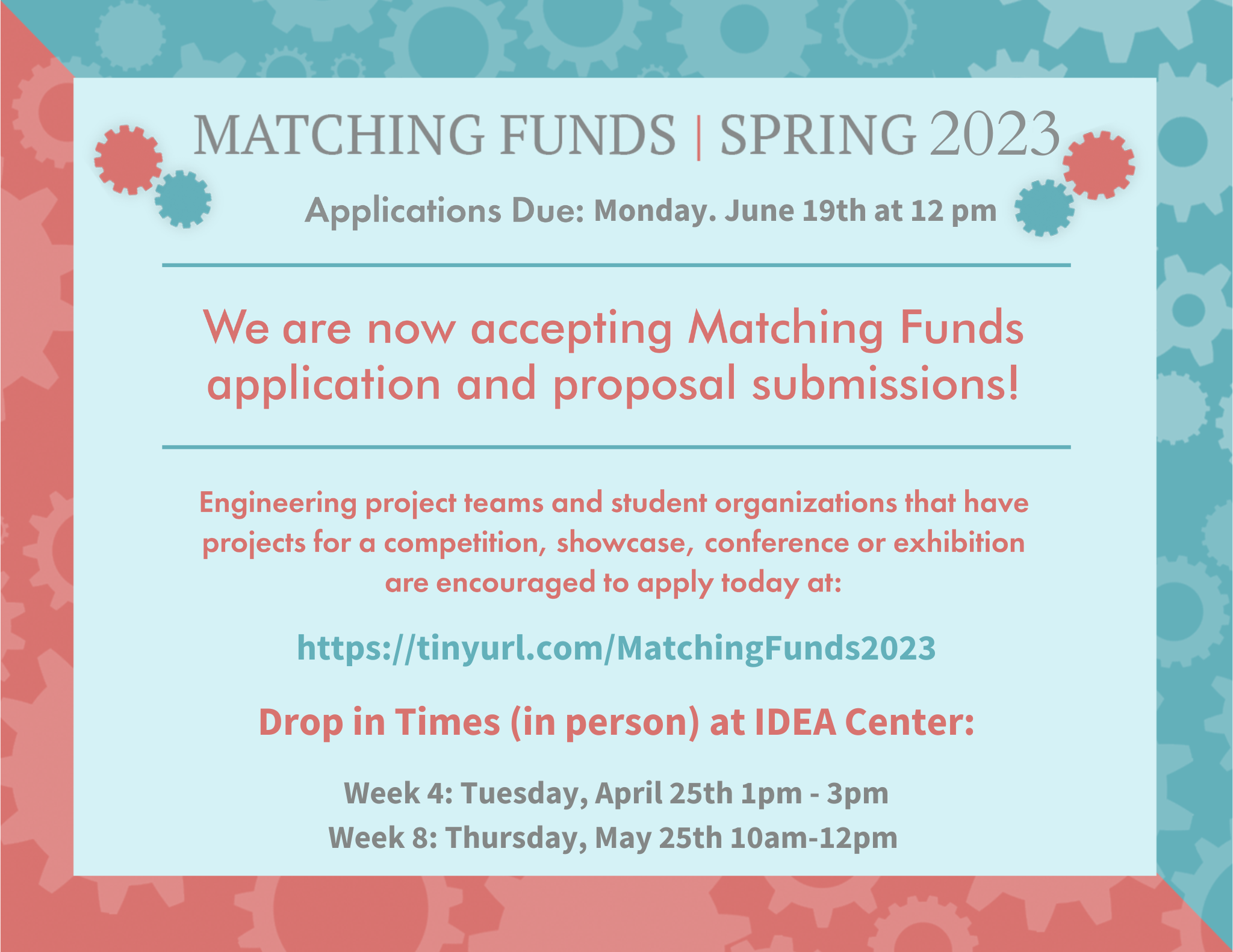 The purpose of the Jacobs School Matching Funds Program is to encourage external fundraising among diversity student organizations and project-based teams that are part of UC San Diego-recognized engineering student organizations. The Matching Funds Program matches external funds raised to provide financial support for project teams' project supplies and equipment, and to encourage diversity organizations' attendance to national conferences for professional development.
Funds raised by diversity organizations and project-based teams will be considered by a selection committee for matching on a dollar-for-dollar basis. The maximum award to any individual effort is typically $4,000 per team submitting to a competition, conference or exhibition, though larger awards are occasionally available for teams with high-budget projects who raise sufficient funds.
Matching Funds Spring 2023 Cycle Timeline
| | |
| --- | --- |
| Week 1 Spring Quarter | Spring 2023 Matching Funds Cycle Begins |
| Tuesday April 25th | Drop-In Question Day at the IDEA Engineering Student Center in-person (1pm-3pm) |
| Thursday, May 25th | Drop-In Question Day at the IDEA Engineering Student Center in-person (10am-12pm) |
| Monday June 19th | Applications and Documents are due through online submission form and proposal PDF with detailed budget submitted via Typeform. |
| Early July 2023 | Matching Funds Teams notified of funding decisions |
| Varies | FINAL REPORT DUE - 20 days after competition/conference date |
**Please note that the Matching Funds program accepts funding proposals during two application cycles – fall quarter and spring quarter. Teams may only submit one application per academic year.
Matching Funds Documents
Program Guidelines - Provides the rules and regulations governing the Matching Funds Program. By applying for Matching Funds, project teams acknowledge that they have read and understand these guidelines.
Proposal - Refer to page 3 of the Program Guidelines document when creating your team's proposal.
Final Report - Refer to pages 4-5 of the Program Guidelines document when preparing your team's final report.
Submitting Documents
Use the following links to submit all Matching Funds documents. Please note that emailed proposals, receipts, and final reports will not be reviewed.
Questions?
If you have questions about the Matching Funds Program, or if you need assistance in creating your proposal, please contact the IDEA Engineering Program Coordinator Alejandra Arguelles at marguelles@eng.ucsd.edu or (858) 822-3778.