STEM Graduate and Postdoc Professional Talks are a series of academic, professional, and technical training workshops open to all graduate and postdoctoral engineering students at the Jacobs School of Engineering. ALL talks are on Fridays, 12:00 pm to 1:00 pm.
Grad Talks are FREE and require students to RSVP ahead of time. Registration opens 1 week prior to the date of each talk, and will close once we reach full capacity.
Check out our Grad Talks playlist for recordings of past Grad Talks and subscribe to our YouTube channel to get new video updates! 
---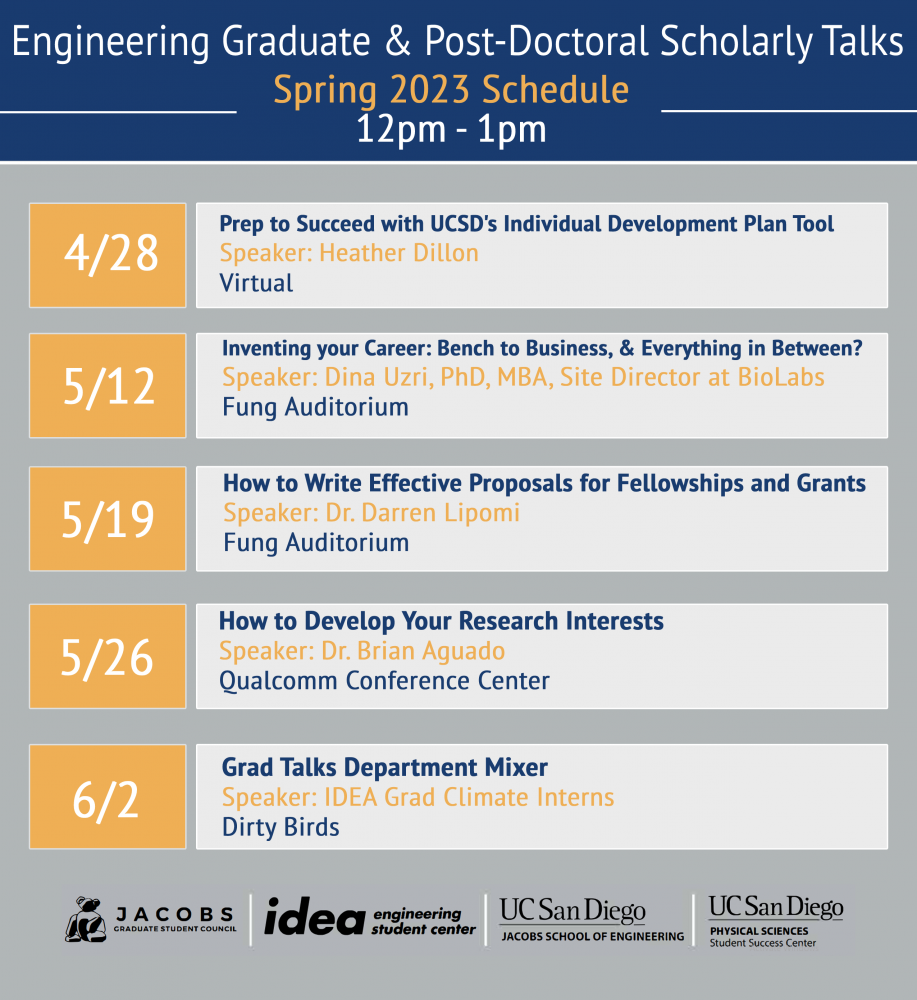 ​
---
Spring 2022 Presentation Slides
Life after the PhD: Applying to Post Doctoral Positions
Dr. Debika Datta
Date Recorded: May 13th, 2022
Women In Tech: Mentorship and Career Growth Opportunities
Intuit
Date Recorded: April 15th, 2022
Finding a Job in Industry
Panel with CAP Partners
Date Recorded: April 29th, 2022
---
Fall 2021 Presentation Slides
NSF & Ford Fellows Panel
Ke'La Kimble (NSF Fellow), Carlos Guzman (Ford Fellow)
Date Recorded: October 8th, 2021
Micro Aggressions
Veronica Abreu and Chelsea Richardson
Date Recorded: October 15th, 2021
Reflective Mentorship
Madison Edwards
Date Recorded: November 5th, 2021
Faculty Failures Panel
Dr. Jesse Jokerst, Dr. Padmini Rangamani, Dr. Darren Lipomi
Date Recorded: December 3rd, 2021
Spring 2021 Presentation Slides
Reasonable Expectations
Prof. James Friend and William Connacher
Date Recorded: April 9, 2021
Effective Teaching Practices 
Dr. Thomas Bussey
Date Recorded: April 16, 2021
Alumni Industry Panel: How to Succeed after UC San Diego
CAP - Corporate Affiliates Program
Date Recorded: April 23, 2021
Introduction to Crafting Competitive Proposals
Wendy Groves, Sharon Franks
Date Recorded: April 30, 2021
Telling a Scientific Research Story
Writing Hub - Erica Bender
Date Recorded: May 7, 2021
Creating a Strong Online Presence
UCSD Alumni - Sean R.B. Bearden, Ph.D.
Date Recorded: May 21, 2021
---
Winter 2021 Presentation Slides
Teach, Publish, Research: Explore Academic Jobs
The Nuts and Bolts of Pursuing Jobs in Industry 
Industry Panel
Recorded 1/22/2021 
*Due to an interruption during the session, the panel was cut abruptly
Creating Spaces in Equity or Diversity in STEM
Panel on Non-Traditional Career Options with an Academic Career
Presented by CAPS Industry Panel
Job Hunting through a Pandemic 
Presented by the Career Center 
A Recruiter's Do's and Don'ts for Success (Recruiter Panel)
Presented by CAPS Industry Panel
Managing Relationships and Networking
Presented by Dr Christine Alvarado
Associate Dean of Student Affairs, Jacobs School
This session was not recorded. 
---
Fall 2020 Presentation Slides
Developing a Successful Ford Fellowship Application
Tips for Creating a Work/Life Balance
Michelle Liu
Women's Center Grad Intern 
Recorded: October 30, 2020
Professional Planning: COVID Edition 
Giulia Hoffmann, Ph.D.
Associate Director, Graduate Career Development 
Career Center  
Recorded: November 6, 2020
What's Next? Post Doc Opportunities!
---
Summer 2020 Presentation Slides
Faculty Panel: Teaching Students of Color in STEM
---
Spring 2020 Presentation Slides