News Release
Passing of Shao-chi Lin, Professor Emeritus of Engineering at UC San Diego
Shao-chi Lin, Professor Emeritus of Engineering at the University of California San Diego, died on October 8, 2020 at the age of 95. He is remembered by former students and colleagues as a talented and caring teacher, mentor and researcher; and an active member of the campus community.

Lin was an internationally renowned engineer who specialized in gas dynamics, which has applications in many areas including the re-entry of spacecraft into earth's atmosphere after space travel.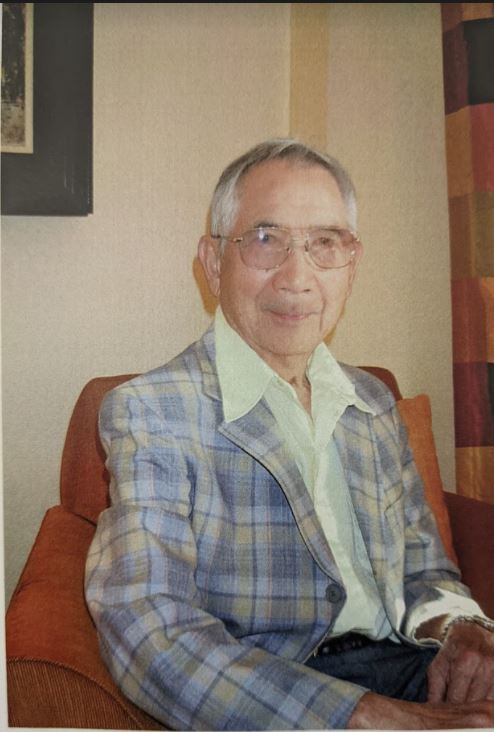 UC San Diego Professor Emeritus Forman Williams remembers Lin as an experimentalist who had excellent theoretical understanding, which is a powerful combination. Lin's dual strengths in theory and experimentation fed his passion for making real-world impacts through research, teaching, and mentorship.

UC San Diego professor Sol Penner recruited Lin to UC San Diego in 1964, where he joined the newly formed Aerospace and Mechanical Engineering Sciences (AMES) Department as a professor of engineering physics.

A world-class mentor

Lin taught and mentored many UC San Diego students over the years. Two students who earned PhDs under his guidance, and who were driven, like Lin, by a desire to make real-world impacts, are Robert Akins BA '74, M.S. '77, Ph.D. '83, and Richard Sandstrom, BA '72, M.S. '76, Ph.D. '79.

Grounded in expertise on excimer lasers that were part of Lin's research program at UC San Diego, Akins and Sandstrom founded Cymer. This San Diego based company grew to lead the world in the design and manufacture of laser light sources used for making computer chips for computers, phones and many other electronic devices.

"He was a strong intersection of a practical hardware guy and a very good theoretician," said Sandstrom, who explained that Lin instilled the importance of backing up experimental research with a good theoretical foundation. Lin pushed his students to keep asking themselves "What's behind it?"

There are different kinds of personalities you find among professors, explained Akins. "Some are extremely academic, some are outward focused. Dr. Lin was able to blend very strong academics with being very involved in real life," said Akins. "In one of his graduate classes on gas dynamics, the only question on the final was to calculate the peak temperature on the heat shield of a re-entering Apollo space capsule. It was as short as that. You had to come up with a ballpark answer."

Akins fondly recalled Lin's ability to quickly walk through a calculation rationale, making numerous assumptions and calculating units, and then asking students to check his calculations. "You would find he was pretty close, maybe 10% off. He could do that again and again and again."

21st Century China Center

In 2012, Lin and his wife Lily helped to found the 21st Century China Center in the School of Global Policy and Strategy (GPS) at UC San Diego. Lei Guang, director of the Center, described Lin as the "gentlest, kindest, and most sincere person" who only wished for the two countries to get along. "He was proud of the role the Center plays in bridging the understanding between the Chinese and American people."

"Professor Lin was a role model for all of us," says Susan Shirk, research professor and Chair of the 21st Century China Center at UC San Diego. "He achieved great professional success in the United States, and retained a strong love for the Chinese culture and people."

Lin was born in Guangzhou, China on January 5, 1925. He earned his undergraduate degree from National Central University in Chongqing, China in 1946. He went on to earn a Ph.D. in aerospace engineering from Cornell University in 1952, under the guidance of professor Arthur Kantrowitz. Lin worked for a company founded by Kantrowitz called Avco-Everett Research Lab (AERL) in Everett, Massachusetts as a principal research scientist from 1955 to 1964.

Human connection and inspiration

"Dr. Lin was always very accessible. He was very good to all his students," said Sandstrom, who recalled that Lin and his wife Lily were always looking out for a circle of visiting students and other young people, some family some not.

In 2006, in the context of a planned gift that Shao-chi and Lily communicated to UC San Diego regarding an endowed chair professorship, Lin said, "The best reward has been seeing my students become successful professors, entrepreneurs and leaders."

Outside the laboratory, Lin and Lily lived an active and full life. Ballroom dancing, downhill skiing, and travel were shared passions. They took annual January ski trips together until Lin turned 90. He also maintained a pilot's license. Shao-Chin and Lily were actively engaged with the Friends of the International Center at UC San Diego for many years.

In a UC San Diego alumni magazine profile, Akins and Sandstrom cite the research laboratory run by Lin, where they collaborated together for years, as particularly impactful to their futures. "Professor Lin had an entrepreneurial spirit and was an incredibly talented physicist and engineer. The way he ran his group had a huge impact on Rick and I. We conduct a lot of our meetings here at Cymer the way he conducted them at UCSD."

Akins recently elaborated a bit more on this point.

"We ran our weekly review meetings exactly how he ran his meetings. We fell back on the virtues of integrity, passion to succeed, and innovation. Looking back, I see the influence Dr. Lin had on the way we ran the company," said Akins.

Sandstrom's advice for graduate students rings out like another lesson learned from Lin: "Keep in touch with your advisor after you are out of graduate school. They are a great resource for you when you are out in your career."

Honoring Professor Lin

Gifts to honor Shao-chi Lin can be made to the Mechanical and Aerospace Engineering Excellence and Innovation Fund (E3889) at the UC San Diego Jacobs School of Engineering.

Media Contacts
---
Daniel Kane
Jacobs School of Engineering
858-534-3262
dbkane@ucsd.edu