Engineer inducted into prestigious biomedical institution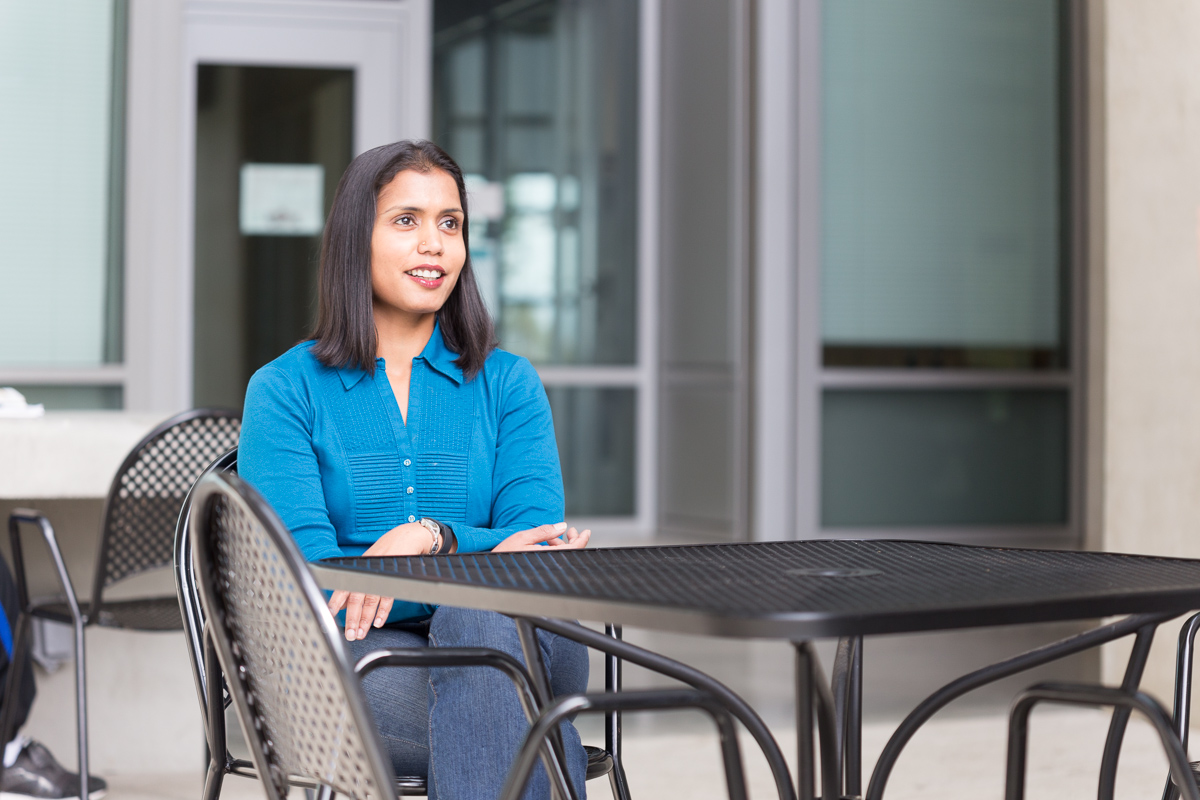 Padmini Rangamani, a professor in the Department of Mechanical and Aerospace Engineering at UC San Diego, is part of the 2021 class of AIMBE Fellows.
Feb. 22, 2021--Padmini Rangamani, a professor at the Jacobs School of Engineering, has been inducted into the College of Fellows of the American Institute for Medical and Biological Engineering (AIMBE). She was recognized for outstanding contributions to multiscale computational modeling of cellular mechanobiology including spatial signal transduction and membrane trafficking processes.
The College of Fellows comprises the top 2 percent of medical and biological engineers in the country, including the most accomplished and distinguished engineering and medical school chairs, research directors, professors, innovators and successful entrepreneurs. AIMBE Fellows are recognized for their contributions in teaching, research and innovation.
A formal induction ceremony will be held during AIMBE's 2021 Annual Event on March 26. Rangamani will be inducted along with 174 colleagues who make up the AIMBE Fellow Class of 2021, including two other UC San Diego researchers, Samuel Ward and Jiang Du from the UC San Diego School of Medicine. They join a total of 37 UC San Diego AIMBE Fellows.
Rangamani's research is focused on understanding the design principles of biological systems. Her long-term research goal is to understand the control of cell shape by analyzing biological membranes and their interaction with proteins and the cytoskeleton using principles from transport phenomena. This is a unifying framework that brings together mechanics of the membrane, membrane-bound proteins, and their coupled interactions.
Her work uses a combination of novel mechanical theories and computational approaches to simulate many aspects of cellular membranes, in collaboration with experimentalists. Her areas of focus include transport phenomena in biological membranes, influence of cell shape on biochemical activation of signaling networks and morphological and topological changes to lipid membranes mediated by proteins and cytoskeletal forces.
In addition to her research, Rangamani has been active in advocating for women in science and under-represented groups in science. She recently was part of a group of women deans, chairs and distinguished faculty that authored a call to action to fund Black scientists, published in the journal Cell. Karen Christman, a Jacobs School's associate dean and a bioengineering professor, was also part of the group.
Rangamani also was a coauthor of a paper in PLOS Computational Biology titled "Ten simple rules for women principal investigators during a pandemic." It's perhaps important to note that despite its title, the article is careful to say that the cardinal rule is that there are no rules. So all 10 points outlined are in fact suggestions. Also despite its title, Rangamani says most of the 10 points outlined in the publication can apply to all caregivers juggling work and caregiving during the pandemic.
AIMBE's mission is to recognize excellence in, and advocate for, the fields of medical and biological engineering in order to advance society. Since 1991, AIMBE's College of Fellows has led the way for technological growth and advancement in the fields of medical and biological engineering. Fellows have helped revolutionize medicine and related fields in order to enhance and extend the lives of people all over the world. They have also successfully advocated public policies that have enabled researchers and business-makers to further the interests of engineers, teachers, scientists, clinical practitioners, and ultimately, patients.
For more information about the AIMBE Annual Event, visit www.aimbe.org
Media Contacts
---
Ioana Patringenaru
Jacobs School of Engineering
858-822-0899
ipatrin@ucsd.edu


Related Links
---