News Release
NASA's Perseverance inspires UC San Diego's Yonder Dynamics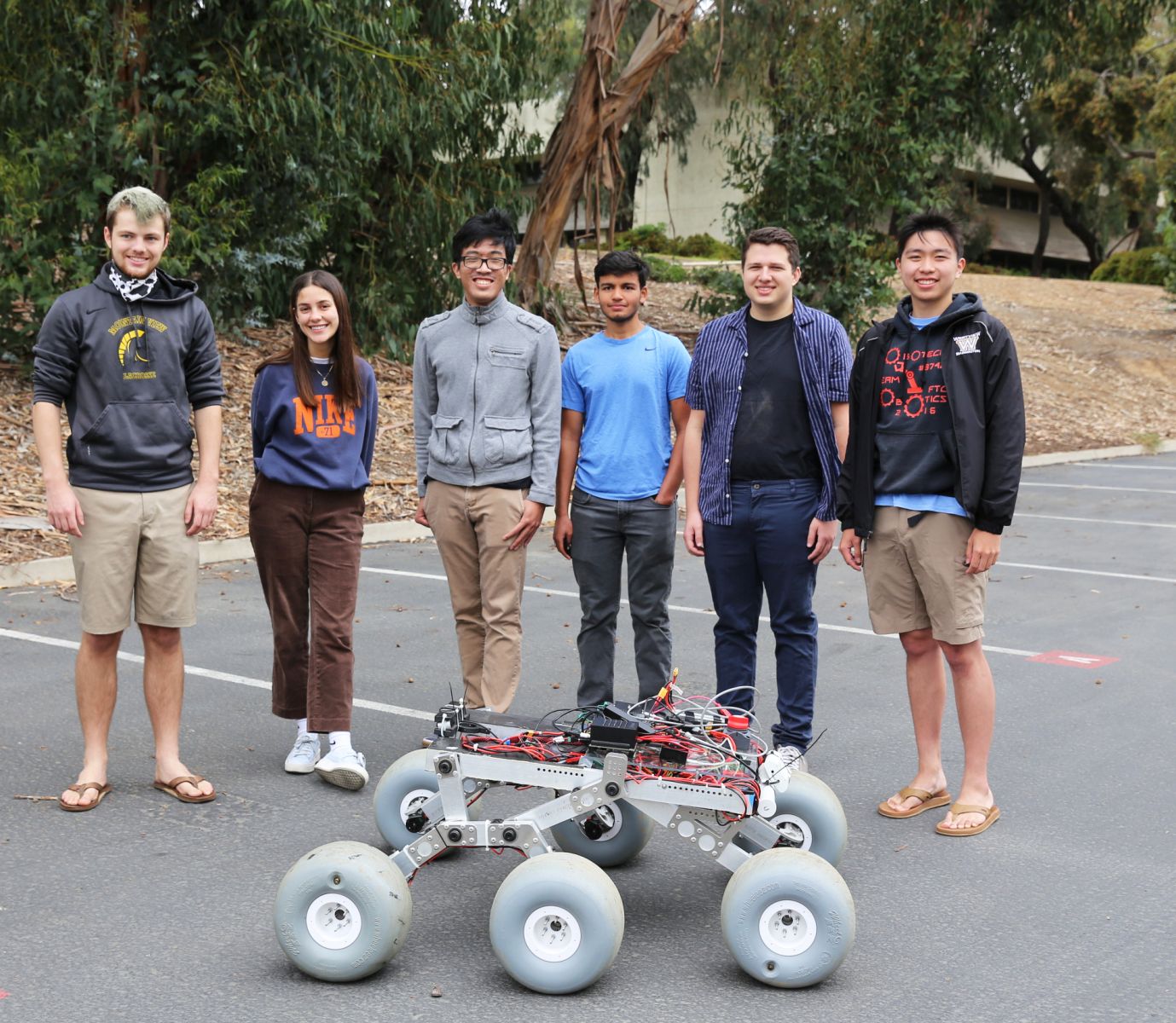 Several members of the Yonder Dynamics team, with their rover Apathy
By Melissa Hernandez
June 3, 2021--NASA's latest feat, the landing of its rover Perseverance on Mars this past February, inspired the nation and world, as people were able to watch in near real-time as the autonomous robot touched down on Mars. Perseverance has an important job: gathering soil samples and other intel on the red planet to answer the age-old question: Is there life on Mars? This accomplishment was particularly exciting for the Yonder Dynamics student robotics team at the Jacobs School of Engineering at UC San Diego, which builds a Mars rover of their own each year in a bid to compete in the international University Rover Challenge (URC) hosted by The Mars Society.
Rovers that are accepted to the competition are tasked with tackling challenges similar to what Perseverance faces, including autonomously collecting soil samples, traversing difficult terrain to deliver a payload, repairing broken equipment on a mock lander, and autonomously navigating to a set site. Though the in-person URC competition was cancelled in 2020 and 2021 due to COVID-19, the Yonder Dynamics team and their rover, Apathy, were one of 36 teams from around the world that qualified for a pared down remote competition in June 2021, with teams competing at their own campuses. Watch footage of their rover here.
Fourth-year biophysics student and Yonder Dynamics Project Manager and Science Team Lead Luke Piszkin, said watching the Perseverance's landing was inspirational.
"The NASA rovers have been a huge inspiration for us at Yonder, especially the students on the science sub-team. The goal of the science team is to develop ways for our rover to look for signs of life in the environment to find out if there is life on other planets," Piszkin said. "We've mimicked the Perseverance's way of detecting life on our rover by using a high-powered spectroscopy laser to use light scattering to detect organic molecules in the soil, which would give us clues of past life."
Yonder's 2020 rover, Apathy, was one of 36 from around the world that qualified for the University Rover Challenge competition before it was cancelled due to COVID-19 restrictions. This wasn't the only setback the team would face in 2020. Yonder Dynamics also had to make changes to the way they functioned as a robotics team, as the pandemic forced them into a fully remote workflow, which is especially challenging for a team building a physical robot. Despite not having access to their rover or being able to work in-person, the team was able to not only complete a submission to the virtual 2021 competition, but they were even able to make improvements to Apathy, including a complete revamp of the electronics of the rover, an improvement to the code underpinning its autonomous tasks, and mechanical improvements to Apathy's robotic arm.
Electrical team lead and second-year electrical engineering student Karl Johnson, notes the changes the electrical team has been able to make.
"We changed a lot of the wiring on our rover from a breadboard, which is not optimal and very complicated. This year we decided to learn more about printed circuit board design, and we've designed and printed our own PCBs to put on the rover," Johnson said. "Even without access to the rover we can design the boards to then replace the existing breadboards once we have physical access to the rover. It provides an opportunity for all the electronics team members to contribute to the rover."
The country-wide shutdown not only affected the Yonder team in terms of the way they work on the rover, but it affected their approach to planning their future as an organization on campus. Their entire recruitment process was completed online.
Fourth-year computer science student and Software co-lead Cyrus Cowley explained that the software team was able to create a simulated version of Apathy, which allowed them to work on the autonomous tasks, without accessing the actual robot.
"Because of COVID-19, we have been focusing a lot on simulation. We've gone through and taken our entire software stack and simulated it. It can run on any member of the software team's computer," Cowley said. "We can launch the simulation with just two commands. We rethought our approach to our autonomous traversal task entirely, and things have gone pretty well."
On the mechanical side of things, Johnson highlighted that not having physical access to their hardware was a blow to the mechanical team. To deal with this, they created CAD replicas of the mechanics of the robot, using these simulated versions of their hardware to test out changes and new additions. Through this form of remote designing, the mechanics team has been able to visualize the future physical changes that will be done to the rover.
"We have been able to improve a lot of aspects that have been flaws in our design through our CAD models," Johnson said. "When we get back to physically working on it, these will help us improve the mechanics of our rover."
"We promoted recruitment events normally as we would before and much like we would've done in person we had a general body meeting for potential new members," Johnson said. "This year we had a pretty good turnout for interviews, fortunately, but with things being virtual it is difficult to keep retention with new members."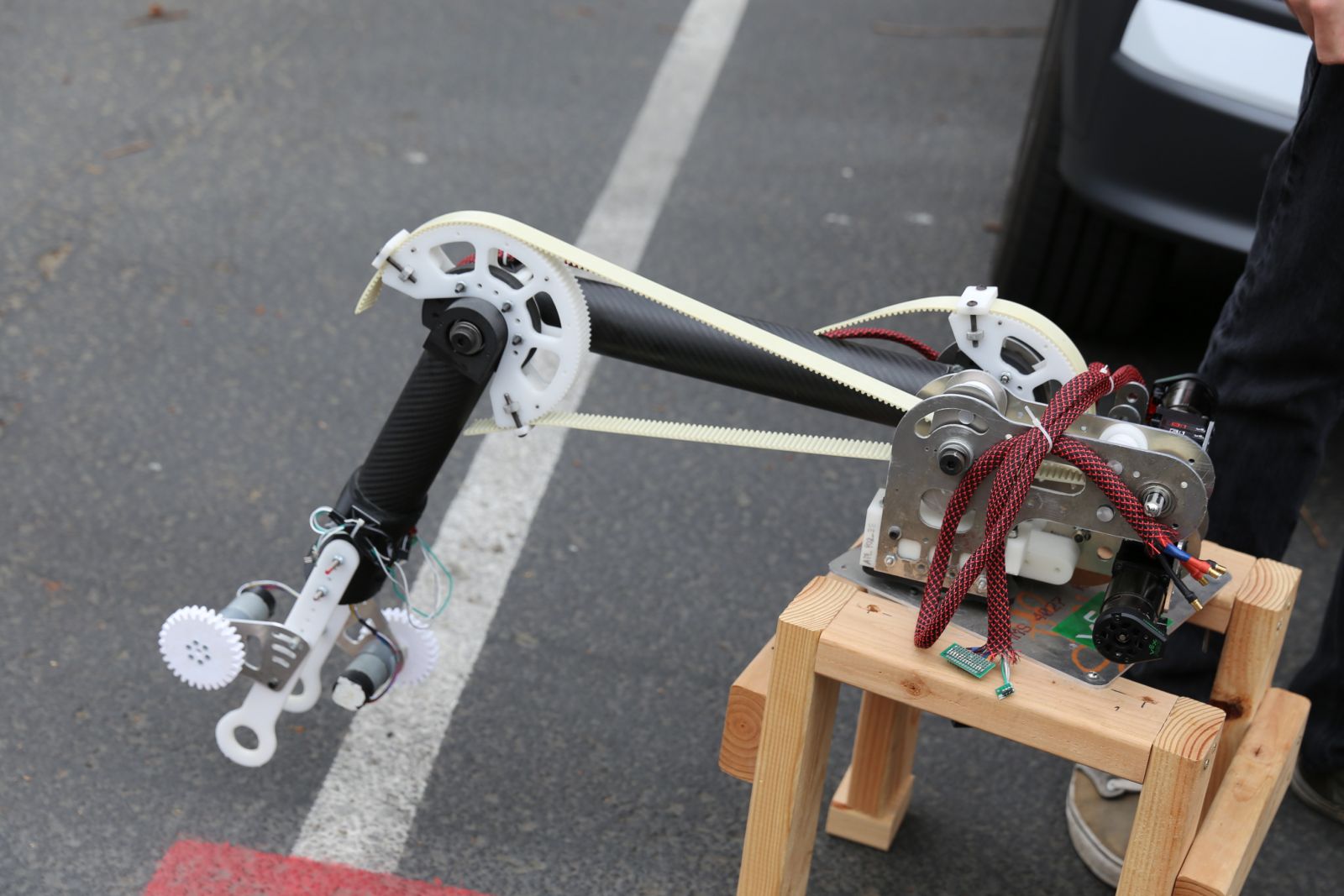 The new robotic arm that the Yonder team designed for Apathy.
Despite the circumstances, the Yonder Team was able to submit the System Acceptance Review documents required to earn a spot in the University Rover Challenge; these consist of a five-minute video and a seven-page report detailing the ins and outs of their rover. Their hard work paid off when they found out that Apathy was one of only 36 from around the world to score highly enough to qualify for the pared down version of the competition being held remotely in 2021. Unfortunately, since each competing team needs to setup their own course on their own campus this year due to COVID considerations, the Yonder Dynamics team made the tough decision to not compete.
"Unfortunately, we will not be participating in the virtual competition this year because we do not have the time or resources to set up the courses for ourselves," said Piszkin. "But seeing Apathy score so well was a really great feeling, knowing that all the time and effort we put in during the last year made a difference. Although we have to miss this year's virtual competition, we are looking forward to competing for the presumably in-person URC 2022."
The team first qualified for the competition in 2017, and has since qualified in 2018 and 2020. Their latest rover, Apathy, is a nod to the team's culture.
"We just thought it was funny," said Piszkin. "It sort of represents the style of Yonder: we don't take ourselves too seriously."
Media Contacts
---
Katherine Connor
Jacobs School of Engineering
858-534-8374
khconnor@eng.ucsd.edu