News Release
Two Jacobs School Researchers Named AAAS Fellows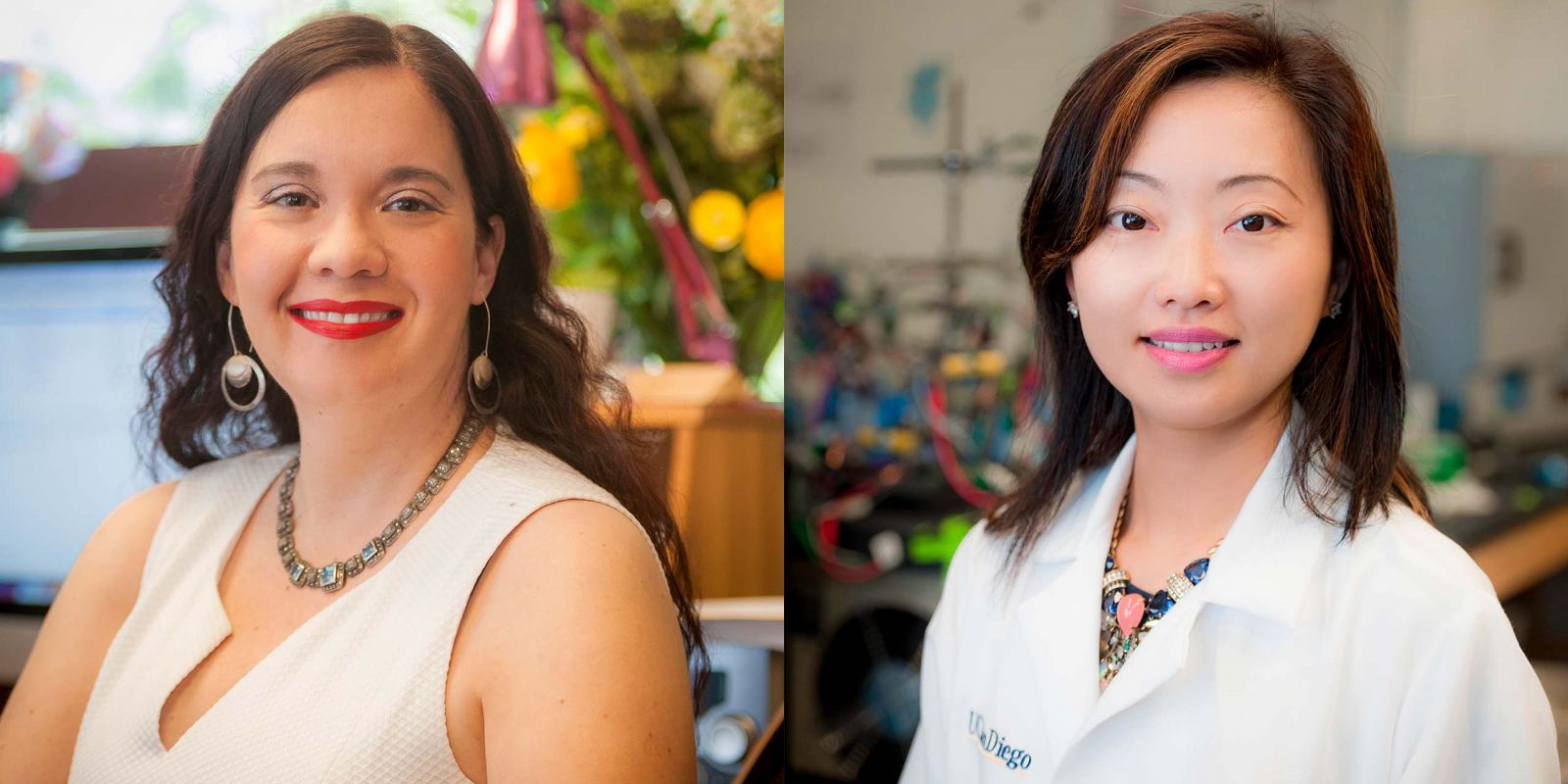 Olivia Graeve (left) and Shirley Meng.
Jan. 26, 2022 -- Two Jacobs School of Engineering material scientists have been elected as fellows of the American Society for the Advancement of Science), the largest general science organization in the United States and publisher of the journal Science.
Professor Shirley Meng, a batteries expert, and Professor Olivia Graeve, an expert on materials for extreme environments and an advocate for engineering education for underrepresented students, join a total of 564 other scientists and physicians across the country recognized this year for work deemed scientifically or socially distinguished, advancing science or its applications.
Four other UC San Diego researchers also have been recognized: Dr. Gary Firestein and Dr. Victor Nizet from UC San Diego Health Sciences, Brian Palenik from the Scripps Institution of Oceanography and Michael Kalichman, who unti recently headed the campus' research ethics program.
Shirley Meng
Shirley Meng, an adjunct professor in the UC San Diego Department of Nanoengineering, was cited for "innovative and original discovery of interfacial sciences in energy storage materials that has led to improved battery technologies." Her research group – the Laboratory for Energy Storage and Conversion (LESC) – focuses on functional nano and micro-scale materials for energy storage and conversion. Her research focus includes the design, synthesis, processing, and operating characterization of energy storage materials in advanced rechargeable batteries; new intercalation materials for sodium ion batteries; and advanced flow batteries for large scale storage on the grid.
Olivia Graeve
Olivia Graeve, a professor in the Department of Mechanical and Aerospace Engineering, was cited for "distinguished contributions to the field of material science, particularly materials for extreme environments and for leadership in engineering education for underrepresented students." Her area of research focuses on the design and processing of new materials for extreme environments, including extremes of temperature, pressure, and radiation. She heads the CaliBaja Center for Resilient Materials and Systems, a cross-border collaboration in materials science research and manufacturing. Graeve also spearheads the CaliBaja Education Consortium, which brings together high schools and higher education institutions on both sides of the U.S.-Mexico border. Graeve also runs ENLACE, summer research program at UC San Diego aims to encourage the participation of high school students, university students, and researchers/teachers, in research in the sciences and engineering, while promoting cross-border friendships between Latin America and the United States. Graeve earned a bachelor's degree in structural engineering from UC San Diego in 1995.
New fellows are nominated by the steering group of their respective AAAS sections, by three existing fellows or by AAAS's chief executive officer. Each steering group reviews the nominations of individuals within its respective section and a final list is forwarded to the AAAS Council, which votes on the aggregate list.
Media Contacts
---
Ioana Patringenaru
Jacobs School of Engineering
858-822-0899
ipatrin@ucsd.edu