News Release
Lighter, stiffer, faster, stronger
Steel Bridge team to compete at Pacific Southwest Symposium, hosted by UC San Diego
March 21, 2022--On April 2, student teams from Southern California and Hawaii will gather on the UC San Diego campus to put together the strongest, lightest bridge made of steel in the shortest amount of time. The Steel Bridge competition is a highlight of the American Society of Civil Engineers' Pacific Southwest Symposium, being hosted by UC San Diego for the first time in 15 years.
The student teams have spent a year designing and building their bridge, and will aim to put the dozens of pieces that go into the 21-foot long bridges together in under five minutes. Then, they'll put 2500 pounds– the weight of a Toyota Corolla– on top of each bridge, which they hope will bend less than an inch under the weight.
In addition to Steel Bridge, the three-day symposium includes Concrete Canoe races in Mission Bay, other structural engineering competitions, community building games, and an awards banquet at the San Diego Air and Space Museum. For more information and to participate, visit:https://scse.ucsd.edu/psws.html
Structural engineering student and Steel Bridge co-project manager Saul Chaplin said he got interested in bridges when he realized that they might look simple from afar, but a lot of intricate details below the surface are responsible for that.
"For example the Golden Gate Bridge, on the surface level you have swoopy curves and two towers. If you zoom in you can see there's secondary cables that support the deck. And on the deck you can see this intricate truss structure. And if you look even closer you can see seismic isolators that absorb the motion of the earth. What you see on the surface is so simplistic. I love how the closer I look, the more I find to learn about," said Chaplin.
The team of roughly 20 UC San Diego students, many of them structural engineers, spend the first part of the year designing a bridge that meets that year's requirements. These requirements change each year, including where the bridge can touch the ground, and certain design elements it must include.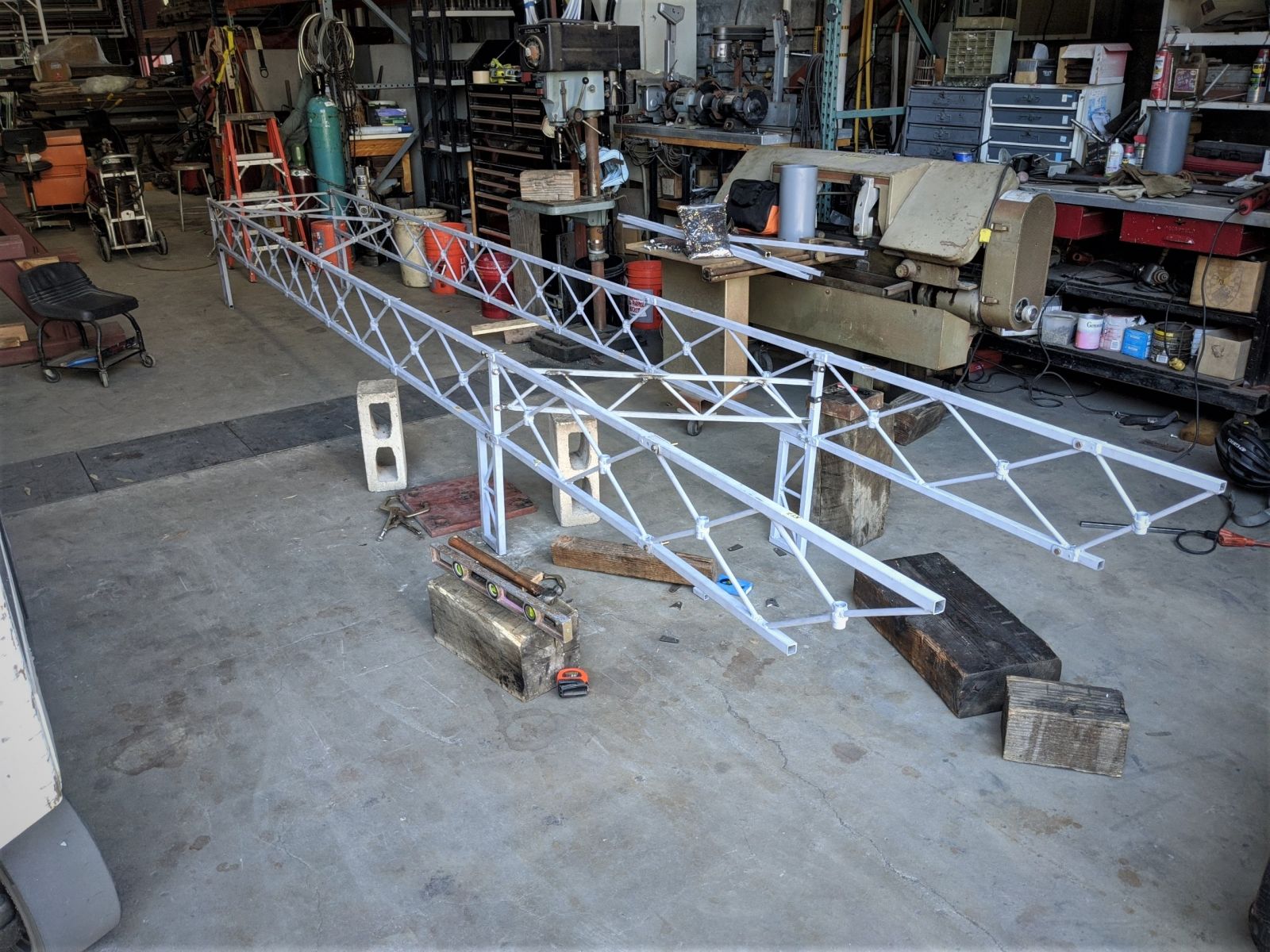 The team's 2022 bridge, measuring in at 21 feet long and 2.5 feet tall.
Then they move from the chalkboard to the computer, and make a 3D fully functioning model of the bridge and all of its components– stringers, connections, beams, columns– and test the model to see how their design would respond to the 2,500 pound load. After analyzing their design, they get to building. The team, which is part of UC San Diego's Society of Civil and Structural Engineers, works out of the High Bay Physics Laboratory, using saws, grinders, and welding equipment to transform raw steel into their bridge.
"We have a steel design class, but this is a lot of learning as you go too," said Richard Tang, co-project manager and structural engineering student. "You use theory, but you have to get in there and actually do it. We had a lot of connections that looked fine on paper and then we tested it and had to make changes."
Learning as they go has actually been a bright spot for students wanting hands-on experiences during the COVID-19 pandemic when many classes were virtual.
"I'm taking a statics class right now and we were learning about bridges and trusses," said Jenny Ruiz, a structural engineering student on the team. "I found it fascinating but it was really hard since with online school it's hard to visualize what's going on. So I thought why not come here and see how it actually works. On my first day I learned how to weld, which was very interesting. They were so welcoming and taught me how to use all of this equipment."
For this year's competition, the student teams are graded on deflection– how much the bridge bends under 2,500 pounds of weight– constructability–how fast they construct it– and weight. Historically, the UC San Diego team has done well, routinely placing in the top 10 and even top three. While they hope to earn a spot on the podium again this year, the students also value the opportunity to learn by doing, and the community they've formed through the organization.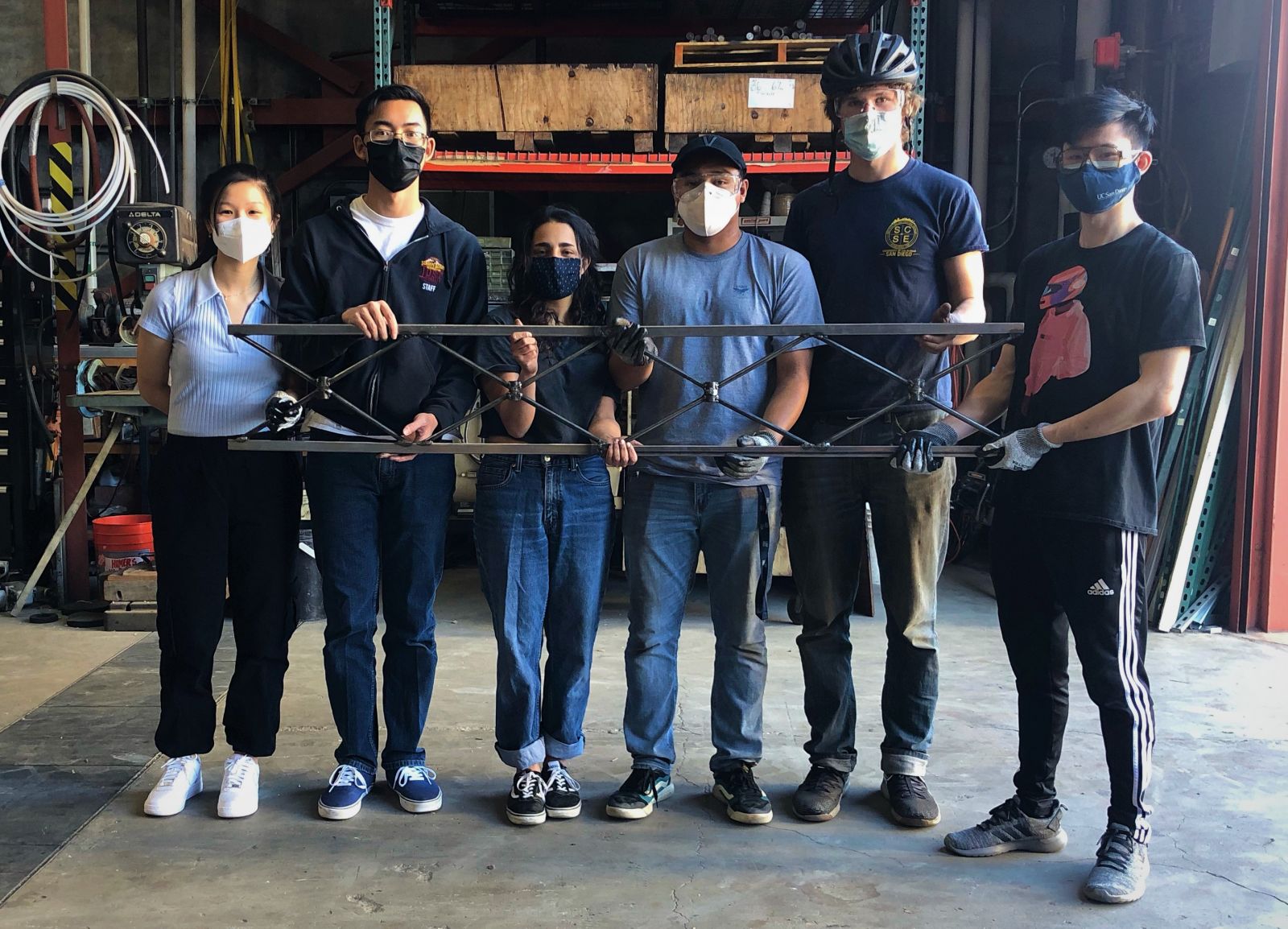 Some members of the Steel Bridge team working in the High Bay Physics Lab space.
"I've been able to do everything," said structural engineering student and team welding lead Becca Bauman. "The nice thing about working here is everyone gets to do a little bit of everything; everyone gets the chance to weld, grind, use the chop saw. I've done as much as I want to do really; it's really cool. The community is great too, everyone is super positive and encouraging. We've got a tight deadline so it's great seeing everyone come together and work hard to get it done."
While the team is excited to be hosting this year's conference, it does come with high stakes.
"The exciting part about us hosting the conference this year, and the scary thing about that, is we'll invite all our professors and friends out, my family is coming down; I want to make sure this bridge is completely functional like three times over so when it's competition day nothing bad will happen," Chaplin said.
Media Contacts
---
Katherine Connor
Jacobs School of Engineering
858-534-8374
khconnor@ucsd.edu