News Release
Alumni Q&A: David Loo, serial entrepreneur on his journey and inviting luck into your professional life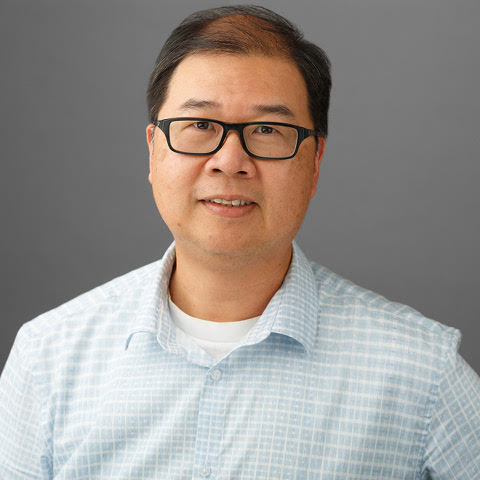 Jacobs School alumnus David Loo worked his way up from software engineer to founding developer of ServiceNow and CEO of Perspectium
Pictures courtesy of David Loo
May 24, 2022 -- David Loo graduated from UC San Diego in 1991 with a degree in computer engineering. During his 35-year career, he worked his way up from software engineer to founding developer of ServiceNow and CEO of Perspectium, the company he cofounded after leaving ServiceNow. In this Q&A, Loo talks about his journey and gives some advice about how to invite luck into your professional life.
What brought you to UC San Diego?
I am a first-generation immigrant born in Malaysia and came to the US for my undergraduate education. I was motivated by my older brother who came to the US before me. At first I attended Pasadena City College, as did my brother who eventually continued on to UCLA–the decision was a cost saving one.I had been an admirer of the UCSD Pascal programming language and the computer science work at UCSD since high school and as I made friends who were also planning to attend UCSD, the choice was easy. After a year, my brother packed up his Honda Civic with all of my belongings in the back and we drove to San Diego.
How was your experience at UC San Diego?
Going to UC San Diego wasn't what I was expecting. It was better.
I was thrown into an open collaborative environment and allowed to fail. That experience set me up for the rest of my life.
I had a great first year because I already had a group of friends that also transferred from Pasadena City College and were in the same situation. They became my roommates off campus eventually.
My first impression of the campus was how large and spread out it was. I remember being surrounded by trees and there was an ocean view. Also there were apartments right on the edge of it. I loved the distance between classrooms because it introduced a different pace for the day. To go from class to class, you actually had to sprint or bike from one place to the other, forcing the students to get out and move. When I had to get to class, I would sprint or jump on my bicycle; it was much more refreshing than going from one class to another in the same building. It's the first time I saw eucalyptus trees. I love the singing tree. There are so many of these little gems that survived time and change. I also loved the traditions, like the annual watermelon drop and the Sun God festival.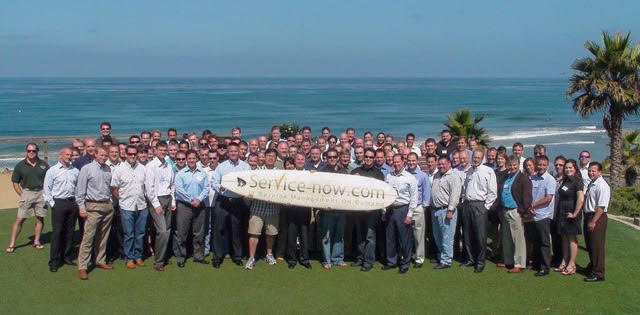 ServiceNow group pic at Solana Beach. (Loo is in shorts, holdong the surfboard)
I appreciated the multiple little nooks and crannies that are there if you just want some quiet time to study. The main library (Geisel) was an engineering marvel and a frequent hideout for me. I sat right to the edge of the "mushroom building" and would gaze down. It gave me a free floating sensation and then soon I would doze off. A highly recommended stress relieving experience during finals cram.
I really appreciate the hands-on approach that UCSD facilitated. The professors were there to guide you on what you need to do, and provided freedom to attain your outcomes and goals. It was really clear that it was up to you to succeed. I remember at the time, especially with labs, you had to rely on your creativity, resourcefulness, and tenacity to complete assignments in time. The teacher's assistants (TA) were of great help.
I had a great time learning, and not just subject matters, but more importantly how to work with and among my peers, and how to negotiate. I learned to be self-sufficient and at the same time to be part of a larger collaborative team, in a short amount of time.
Were there any professors that you remember, who taught you more perhaps?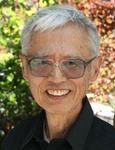 TC Hu, an emeritus professor in the Department of Computer Science and Engineering
I took a class with TC Hu (now an emeritus professor in the Department of Computer Science and Engineering). In his class, I was exposed to code optimizing strategies that resulted in execution speed improvements at scale. I learned that even the little things mattered with Professor Hu. However, at some point, hardware engineers had achieved nano-circuit improvements that rendered code optimization insignificant. This led me to a realization that in science and engineering, we must always be broad and accepting of all solutions to achieve our goal. At the same time, we must all be cautious not to fall into an obsessive and myopic approach for the sake of being perfect while disregarding the sometimes simple and obvious solution. I learned to pick my battles and where best to spend energy and time.
What was your greatest challenge as a student and what advice would you have for current students who want to make the most of their experience at UC San Diego?
I would tell them to spend more time in class and less time working, if they can. I worked at least 20 hours a week through most of my four years at UCSD, and in retrospect, missed out on a lot of important social and collaborative activities as well as just being too tired most of the time. I had little choice as I was putting myself partly through school. If I had the chance to go through it again full time, without working, I would choose that. However, with the time gained from not working, don't party all the time and play computer games in your dorm room! Make use of your environment, meet people and participate to further your goals as much as you can. Friendships and relationships you make at this time will last a lifetime.
Do your best not because graduating is the goal (it's one goal), but because the journey to get there is just as valuable.
A lot of happiness comes from struggle and the ability to overcome struggle. It's not a bad idea to put yourself in a spot where you are challenged, but only for the right goals and reasons, do so with intention. In school, don't take the easy class but challenge yourself with a class that benefits you the most after graduating. Struggle with purpose and intent, but also have the wisdom to know when you're not going to win that battle.
What advice do you have for students who want to become entrepreneurs?
Make serendipity happen. These are the three ways I know:
Take your time: the longer you persevere, the more chances of being lucky. However this requires you to be aware when it's time to open that door opportunity has presented to you.
Be smart: you can't roll a rock uphill all the time. You must know when it's worthwhile to struggle, or when it's not. Have the wisdom to pick the right battle and persevere.
Get resources: find people that can help you, and who you can support in return. Surround yourself with people who are smarter than you. Every successful person I know has a mentor or two along the way that helped them along. Find your mentor.
One more thing:
Starting is the hardest. If you don't start, you won't finish.
Make a good life for everyone around you and create opportunities for other people. Have lunch with people, talk to them, offer your support, find your mentor but also be a mentor to someone else. Always keep a lookout for opportunities that present themselves.
Tell us about your professional journey?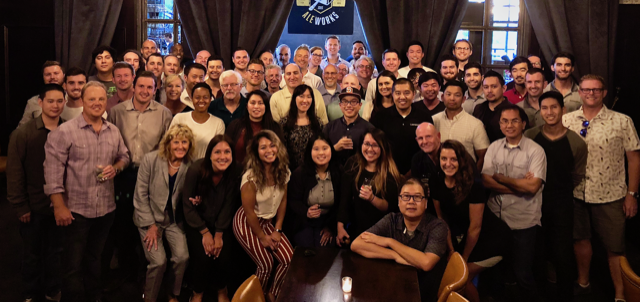 Perspectium team picture
My professional journey actually started before I graduated UCSD. As stated previously I've always worked half time through school, I mainly worked 20 hours a week–sometimes more–at the UCSD Cancer Center, as a database administrator. I was named as a contributor in a clinical trial paper, that was a proud moment for me. However, the experience caused me to delay my graduation till spring.
After UCSD, I decided to seek off campus experience and found a job at First American CredCo as a database administrator and 4GL programmer. It was 1991, the economy was really bad, unemployment at an all-time high, so I was happy to have found a job. I was blessed to have found a mentor there who guided my career and gave me opportunities. I remember going beyond my work requirements as I got into creating reusable software components for the rest of the team. I also participated in a pattern matching algorithm for credit scoring that resulted in a patent being granted. The company later sponsored me for permanent residence and that's the greatest opportunity I was given.
I jumped into my first startup company after a couple of years. An early software startup in Carlsbad was hiring quality assurance engineers to validate an X Windows based application development platform. This was my chance to move away from 4GL and into mainstream software engineering and so I dove in headfirst. The pay was horrible and the hours even more so, but it didn't matter because this was the struggle I was looking for. As it turned out, the company didn't make it. After a month working there, the worst happened. I was let go without pay as they closed the company doors.
Some would think this is the worst that could have happened but in retrospect it was the beginning of my journey to always move, challenge myself, adapt and push forward.
I was hooked on the "startup" life in that short time and was lucky to find my next one soon after. A couple of engineers that left the previous company
A group picture of Perspectium employees on Zoom.
started another company, Triteal Corporation, and asked me to join them. I got my first taste of traveling for work at this company and perfected my startup life – work long hours, customer is first, and do whatever it takes. This was also my first experience of a company initial public offering (IPO). Bad luck struck again as the company declared bankruptcy soon after and I left.
I needed some stability at that time as I was planning to get married. I found a job as a Product Architect for Peregrine Systems, in Del Mar. It was a public company. I got married and we were saving up for a house. This formative experience allowed me to grow as a software engineer in an enterprise computing environment. I traveled all over the world helping Global 1000 companies achieve their enterprise service management goals. At this company is also where I discovered my life changing mentor, Fred Luddy, CTO of Peregrine Systems. At some point, I was helping the office of the CTO in mergers and acquisition technical validations, a turning point in my career.
How did you become the cofounder of ServiceNow?
After Fred quit Peregrine, we kept in touch. He had been a great mentor to me, and I wanted to continue the relationship. We kept each other updated about the latest Java and Web technologies at that time. One day, almost a year later, we had lunch at CPK in Del Mar and he showed me a couple of printouts. It was a web-driven platform for creating applications. That became the base for ServiceNow. I asked Fred to hire me at that point and that's how I started at ServiceNow as the first employee. I spent 8 years building automation and an integration system for ServiceNow, and towards the end created a developer bootcamp program to train engineers. The bootcamp program eventually became the ServiceNow Developer Community. I trained and got to know around 120 of these early engineers in the company.
Eventually ServiceNow became a public company and grew too large for me. I was still longing for the rapid pace of startup life, so I left in 2013.
Within a month of leaving, I started my own company, Perspectium Corp. I was still actively involved in the ServiceNow community and as the CEO and Chief Engineer of Perspectium, created value for its customers. Another 8 years went by as I grew Perspectium into a global enterprise with Global 1000 customers and about 80 employees, I finally sold the company.
At this time, I am incubating a technology that might turn into another startup.
How did you juggle career and family?
If I hadn't had a supportive spouse, I wouldn't have been able to do what I do today. Startups do not guarantee stable pay and so we had to rely on savings in the beginning. We had been married 2 years at the time I joined ServiceNow, and we had an 8-month-old daughter. I was jumping ship from a stable, good-paying job to build a startup from scratch with a mentor. We checked our savings and decided that we could risk living without income for about 6 months, and so with my wife's blessing I jumped right in. I took a big pay cut, but we never missed a paycheck from ServiceNow.
We had moved to our second home by then, and we had a hefty mortgage payment. So eventually my wife had to take a job to supplement our income when our daughter was old enough. That fueled my crazy late nights and my traveling. Looking back, that was a life changing event for our family.

Media Contacts
---
Ioana Patringenaru
Jacobs School of Engineering
858-822-0899
ipatrin@ucsd.edu