News Release
Binational research program kicks off with largest cohort yet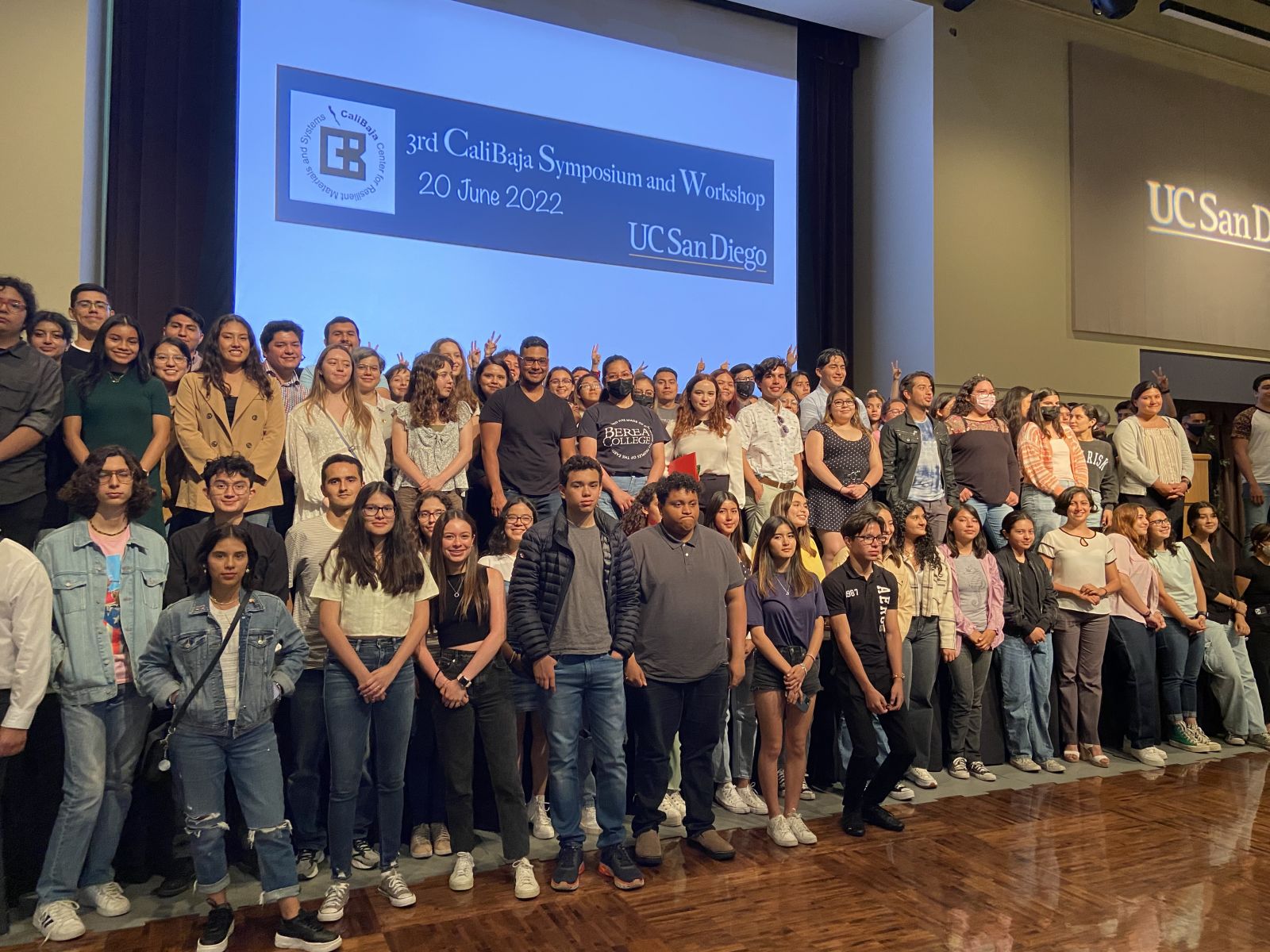 185 students from both sides of the border kicked off the ENLACE binational summer research program on June 20. Photos courtesy of ENLACE program.
July 15, 2022--This summer, 185 high school and college students from the United States and Mexico will be collaborating on real-world scientific research projects in labs at UC San Diego, as they participate in the 9th annual ENLACE binational summer research program. The program, organized and run by Olivia Graeve, a mechanical and aerospace engineering professor and director of the graduate program in materials science and engineering, has expanded every summer, from five students from Tijuana in 2013, to 185 from across both countries in 2022.
The goal of ENLACE is to use science and engineering as a bridge for students to build professional connections and personal friendships across the border that last a lifetime, positively affecting binational relations.
"My goal with this program is to teach the students how to connect with each other through the lens of science," said Graeve. "And eventually, entice them to consider graduate degrees that can then influence the way that science is done across borders and have them become uniters of our two countries."
The 2022 program commenced on June 20th with the CaliBaja Symposium and Workshop, featuring remarks from academics and industry professionals from both the US and Mexico, outlining areas of collaboration including climate change research, and workforce development efforts.
The symposium also included remarks from seven ENLACE alumni who are now doctoral students at UC San Diego. The students shared how their experiences in ENLACE prepared them for graduate school, and described their current research projects.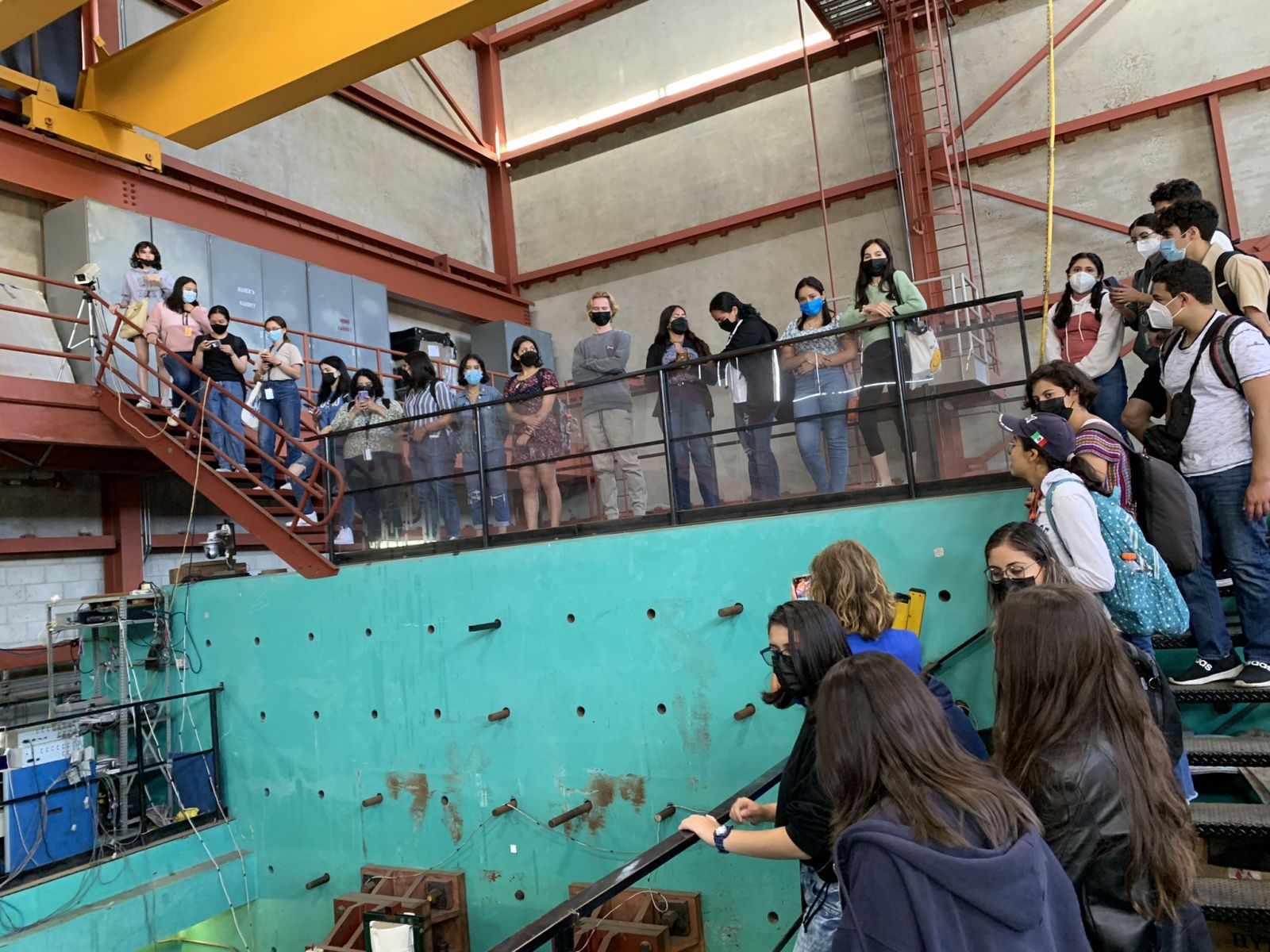 ENLACE participants tour the Charles Lee Powell Lab for earthquake engineering at UC San Diego.
Minerva Padilla Villa, who participated in ENLACE in 2019 as a college student at the Universidad Autonoma de Baja California in Tijuana, is now pursuing a PhD at the Scripps Institution of Oceanography at UC San Diego, focusing on marine trace element cycling.
"In 2019 as a college student, Andrea Gomez– another ENLACE participant– and I were assigned to Dr. Kaustuv Roy's laboratory," said Padilla Villa to the room full of current ENLACE participants. "For seven weeks we studied the effect of ocean acidification on the ability of California mussels to repair their shells. This was a very enriching experience not only from a scientific standpoint, but also from a networking and friendship aspect."
As a college student, Padilla Villa served as a chaperone to a group of high school students participating in ENLACE that year, which added yet another element to the experience.
"It was a very beautiful experience which to this day inspires me to look for mentoring opportunities."
This year, many of the 185 ENLACE participants received scholarships to participate in the program, thanks to the support of industry partners including Illumina, Insulet, ASML, Hologic, Sempra Energy, Viasat, Solar Turbines, and support from UC San Diego.
Media Contacts
---
Katherine Connor
Jacobs School of Engineering
858-534-8374
khconnor@eng.ucsd.edu