News Release
A big machine for earthquake safety reopens at UC San Diego
NSF director visits and inaugurates UC San Diego earthquake simulator, one of the two largest in the world
July 20, 2022-- "Five, four, three, two, one!"
National Science Foundation Director Sethuraman Panchanathan was counting down the grand reopening of UC San Diego's earthquake simulator. It is one of the two biggest shake tables in the world. On June 30, 2022 the NSF Director watched as the table moved north-south, east-west, up and down back and forth as well as in roll, pitch, yaw motions–putting the foundation of a 10-story building through a reproduction of the 1994, 6.7 magnitude Northridge earthquake.
Panchanathan was on campus for a day-long visit, during which he toured facilities, met with researchers and learned about the many startups spun off from campus research.
"UC San Diego exemplifies the spirit of what curiosity and discovery-based university research can do – unleashing energy to power innovation, startup companies and an ecosystem of public-private partnerships all coming together," Panchanathan said.
The shake table is an example of the campus' leadership and spirit, he added. The facility was recently upgraded with a $16.9 million grant from NSF. It went from being able to move in one direction – east-west – to three directions – east-west, north-south, up and down, as well as roll, pitch and yaw, three motions in the x, y and z axes performed by airplanes in flight and commonly seen in earthquake motions. The upgrade to one vertical and two horizontal motions and three rotations–known technically as six degrees of freedom–will allow the facility to test structures with an unprecedented degree of accuracy when compared to real earthquake ground motions.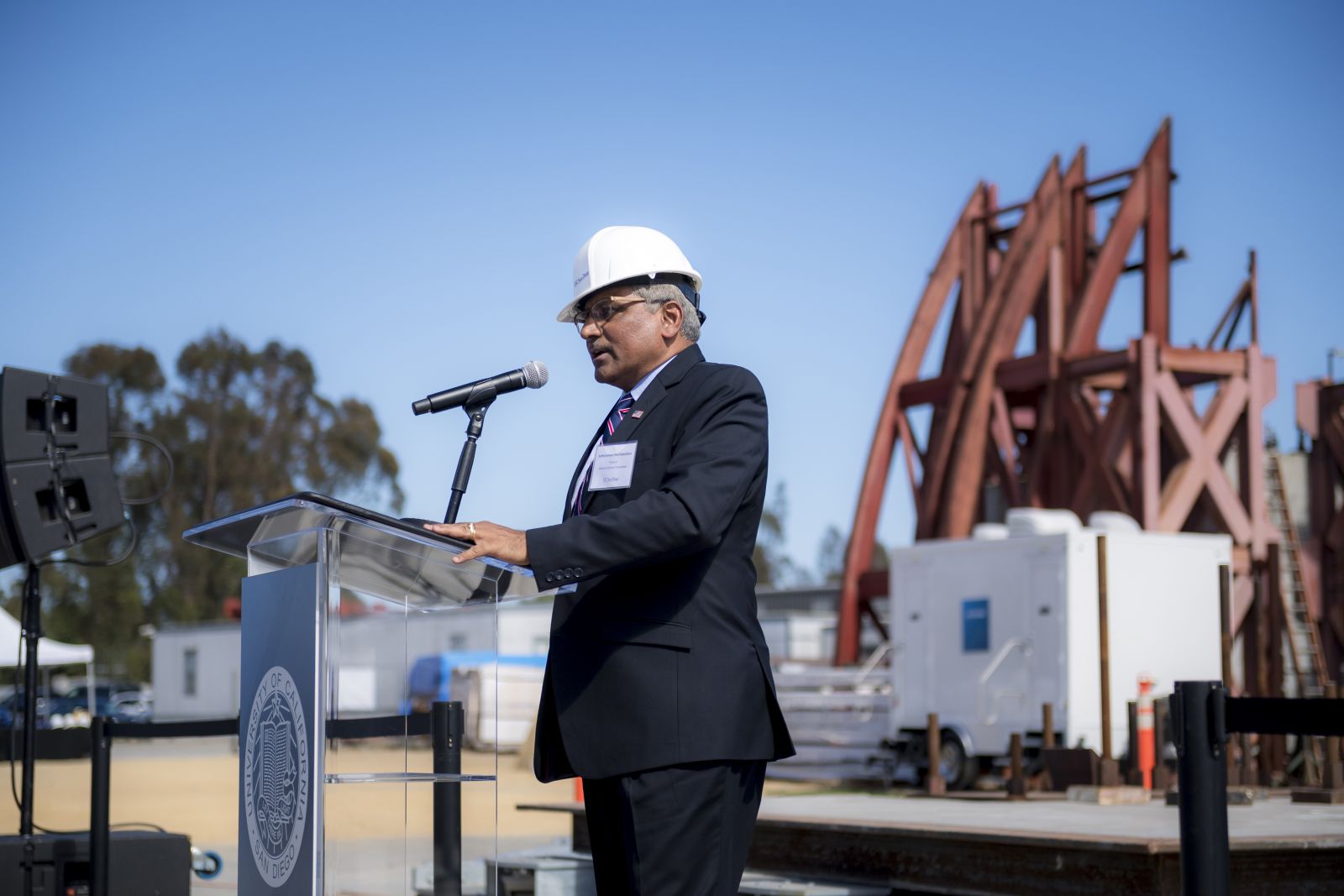 National Science Foundation Director Sethuraman Panchanathan inaugurating the updated UC San Diego earthquake simulator.
Photo by Erik Jepsen/UC San Diego
Approved in 2018, the upgrade is one of the many grants that NSF has awarded the UC San Diego campus. In fact, UC San Diego receives the most funding from NSF of all the University of California campuses, Director Panchanathan said. This past fiscal year, that amounted to $167 million.
"A large facility like the shake table cannot be built with funds from a single institution," said UC San Diego Chancellor Pradeep K. Khosla. "It requires investment from those who understand the long horizons of fundamental scientific research."
Federal funding from agencies such as the NSF provides the ultimate risk reduction mechanism for science. Similar to the insurance industry, pooled resources are carefully invested by the nation's leading science, health and technology experts. The projects chosen are deemed to have the most promise for long-term beneficial impacts on our society.
"NSF is a key partner for UC San Diego to build large research infrastructure," Chancellor Khosla said. "We could not conduct this level of impactful research without the investment of federal funds."

A big machine for earthquake safety
Earthquakes are an important research problem, and half of Americans live in seismically active areas, Panchanathan said. California alone experiences 10,000 earthquakes a year. Major temblors cause both loss of life and significant economic losses.
"We cannot, should not, allow this to happen," Panchanathan said.
That is where facilities like UC San Diego's shake table come in. The shake table, opened in 2004, has tested more than 30 structures in that time, and has already made a significant impact. Tests here have resulted in changes to building codes for everything from hospitals, to tall buildings, to roads and bridges.
"This big machine has contributed to making many of the buildings we live in and the infrastructure we use today safer," said Jacobs School Dean Albert P. Pisano.
How it works
When reproducing a large earthquake, the power delivered by the shake table is about 9 MW, corresponding to the daily peak power consumption of a small town of a few thousand households. Harnessing this amount of electrical power from the grid is impractical. Instead, the shake table is powered by an ingenious hydraulic system, which pumps 9500 liters of hydraulic fluid (about 2500 gallons) into accumulator banks filled with nitrogen. The interaction of the oil and nitrogen pressurizes the oil at 5000 PSI. The oil is then released at 3000 PSI to drive the horizontal and vertical actuators, or pistons, that move the table. For reference, a car tire is pressurized at 32 PSI.
In motion, the empty table can accelerate up to 4.2Gs–astronauts experience around 3Gs during a rocket launch.
"This is truly high pressure research," Dean Pisano said.
A tenacious quest for funds
The shake table was designed by researchers in the UC San Diego Department of Structural Engineering in the early 2000s to be able to move in three directions. Specifically, the design called for the 10 actuators, or pistons, required to reproduce earthquake ground motions in six degrees of freedom. But based on the resources available at the time, only two actuators were connected to the table, allowing it to move back and forth, in one degree of freedom.
The researchers, however, never lost sight of the original vision of a shake table that can move in six degrees of freedom. In 2009, the research team was able to secure funds from the Department of Energy for the six vertical actuators needed to move the table up and down. However, funds were not available to upgrade the table's hydraulic power system to allow these new actuators to function at full power.
The team was finally successful in 2018, when NSF awarded that $16.9 million grant for the long-envisioned upgrade. Construction took place mostly during the COVID-19 pandemic, from early 2020 to April 2022. Testing resumed in May 2022. The upgrade included adding two horizontal actuators to the original two and reconfiguring these four horizontal actuators in a V-shape; adding a high-flow, computer-controlled valve to each of the six vertical actuators; quadrupling the capacity of the accumulator bank; and replacing the table's closed-loop large piping system and controller.
Why six degrees of freedom are important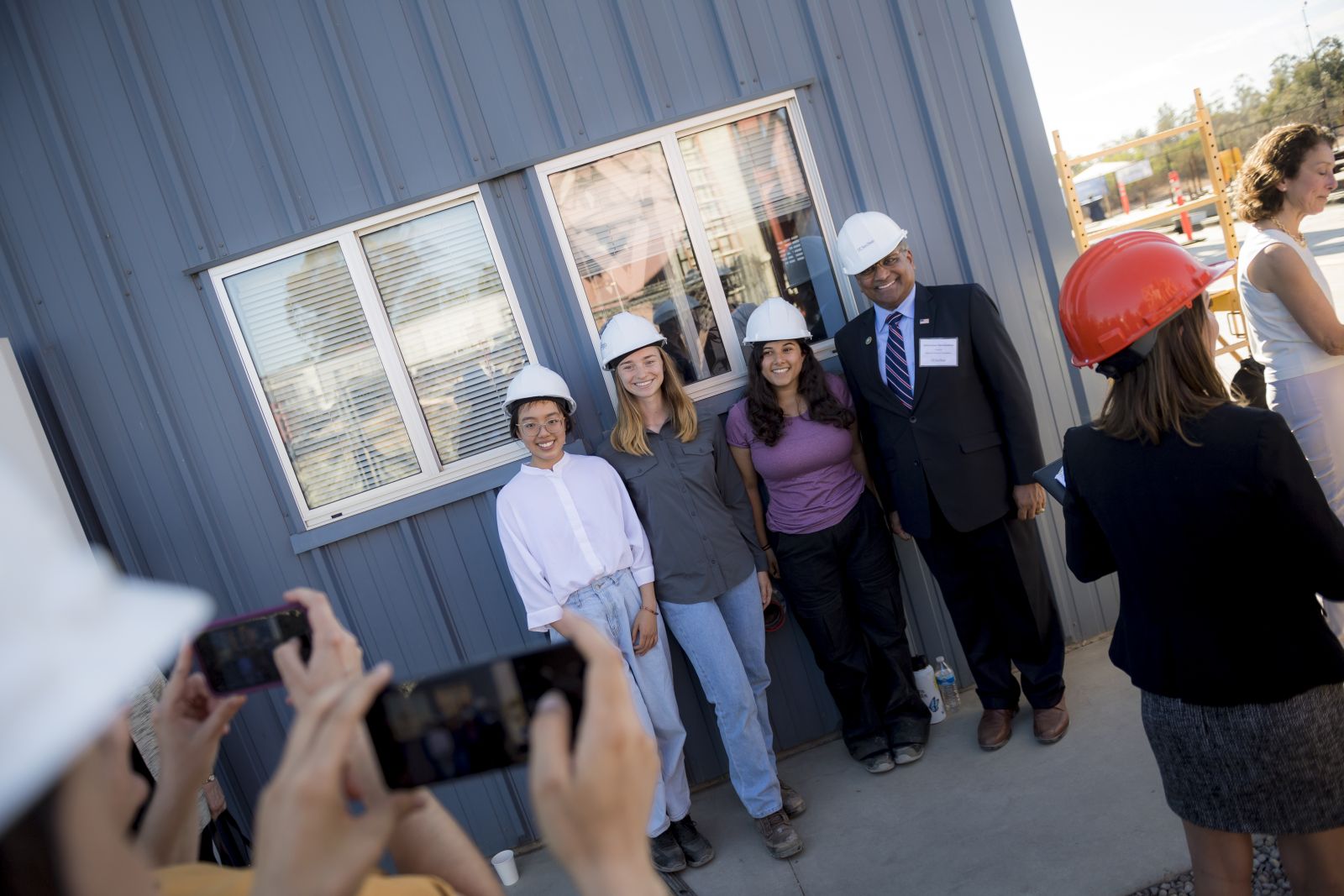 Director Panchanathan poses with three undergraduate students who are conducting research projects at the shake table thanks to funding from the NSF.
Photo: Erik Jepsen
Being able to reproduce earthquake ground motions in six degrees of freedom is important because during a tremor, the ground doesn't just shake horizontally in a single direction. For example, during the Northridge earthquake in the Los Angeles area in 1994, bridge columns punched through bridge decks, hinting a strong vertical motion of the ground. Similarly, during the 1971 San Fernando earthquake, the buildings twisted and swayed, hinting that the ground was probably rotating.
If engineers were to repeat, after the upgrade, the more than 30 structural and geo-structural tests performed on the shake table since its inauguration in 2004, they would find different levels of damage and different failure modes, said Joel Conte, the table's principal investigator and a professor in the UC San Diego Department of Structural Engineering.
"This upgrade will have a huge impact on earthquake engineering," he said. "It will accelerate the discovery of knowledge engineers need to build new structures (buildings, bridges, power plants, dams, levees, telecommunication towers, wind turbines, retaining walls, tunnels and more) and retrofit older structures. It will enhance the resiliency of our communities."
Nationwide shared experimental facility
Located at the UC San Diego's Englekirk Structural Engineering Center, the shake table facility is part of NSF's Natural Hazards Engineering Research Infrastructure (NHERI), a network which includes nine experimental facilities open to all research institutions in the United States and the world, along with their industry partners.
The project under construction on the table right now brings together six universities and more than two dozen industry partners and government agencies. Their goal is to test a 10-story full-scale, cross-laminated timber building, the tallest structure ever to be tested on a shake table.
"We are ready to serve the research and engineering communities," Conte said.
The leadership team for the shake table upgrade project consists of UC San Diego Professor Joel Conte (PI), Professor Lelli Van Den Einde (Co-PI), Professor Jose Restrepo (Co-PI), Professor Machel Morrison (Co-PI), and Koorosh Lotfizadeh (Site Operation Manager and Project Manager).
Media Contacts
---
Ioana Patringenaru
Jacobs School of Engineering
858-822-0899
ipatrin@ucsd.edu