News Release
Problem-solving like an expert
High school students, teachers gain critical thinking skills through new course
August 15, 2022-- Learning to become better problem solvers is how several San Diego high school students, as well as high school teachers, spent part of the summer here at the University of California San Diego. The engineering problem-solving course they participated in is part of a larger UC San Diego project to better prepare more San Diegans for technical careers. The UC San Diego approach involves teaching practical problem-solving skills that have been extracted out of the practice of engineering.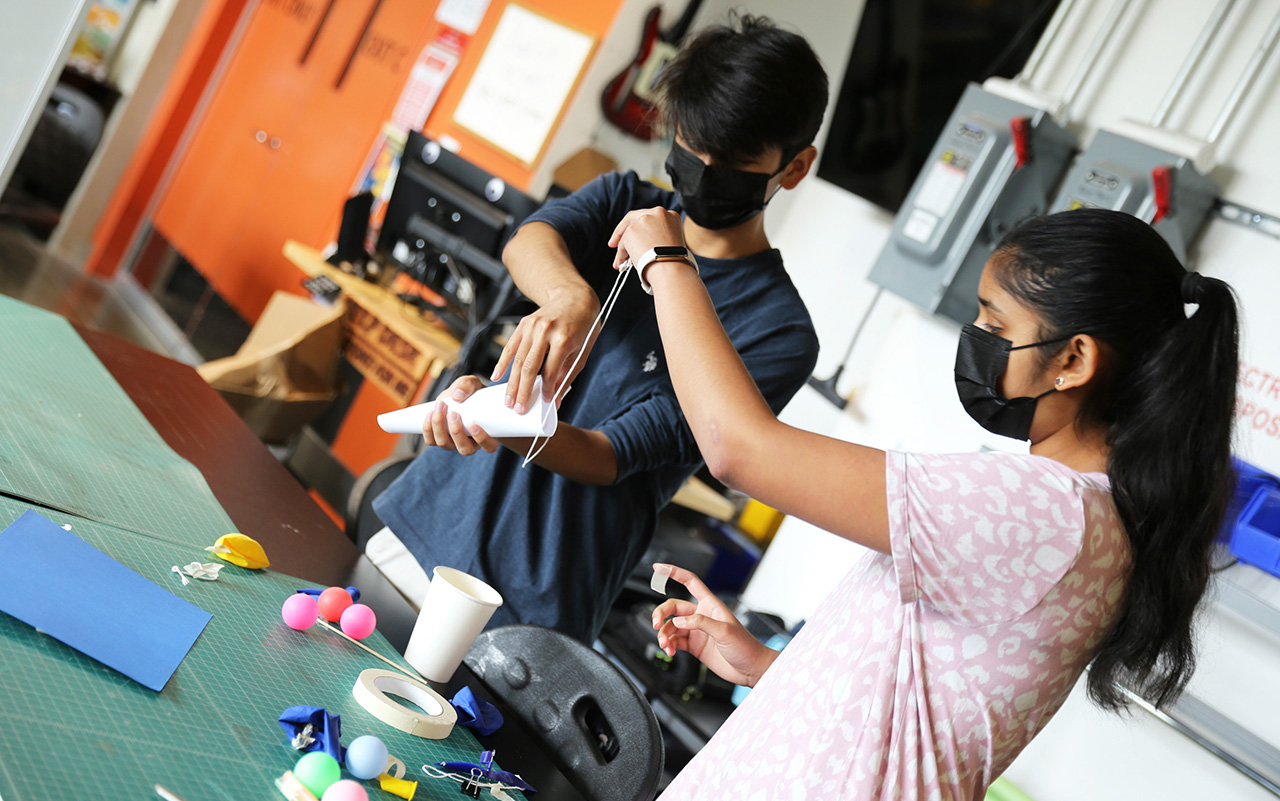 Students in the Problem-solve like an Expert course work together to design a device to transport golf balls a specific distance on a tether.
Twenty San Diego high school students spent four weeks learning these skills through a series of hands-on projects, practicing and learning actionable steps for identifying problems and then solving them. The following two weeks, seven local high school teachers were also introduced to these skills and worked on curriculums they can bring back to their classrooms this fall, in order to further spread this problem-solving know-how.
The new "Problem-solve like an Expert" course, offered by the UC San Diego Jacobs School of Engineering in collaboration with UC San Diego Extension, is designed to help students develop critical thinking skills to better analyze the challenges that arise in a variety of situations, and work toward clever solutions.
The course is part of a larger university initiative to expand the region's engineering and technical workforce. With a three-year pledge from local philanthropist Buzz Woolley in 2020, UC San Diego's Jacobs School of Engineering and UC San Diego Extension have been working to enrich the problem-solving skills of San Diego's K-12 students.
"We engineers have a real responsibility to empower every student, engineering or not, to become a confident and engaged problem solver by applying the tried-and-true methods developed in engineering," said Albert P. Pisano, Dean of the UC San Diego Jacobs School of Engineering. "Problem solving takes practice, and it's up to us as educators to create engaging tools and experiences that make the practice of problem solving relevant to all of today's students."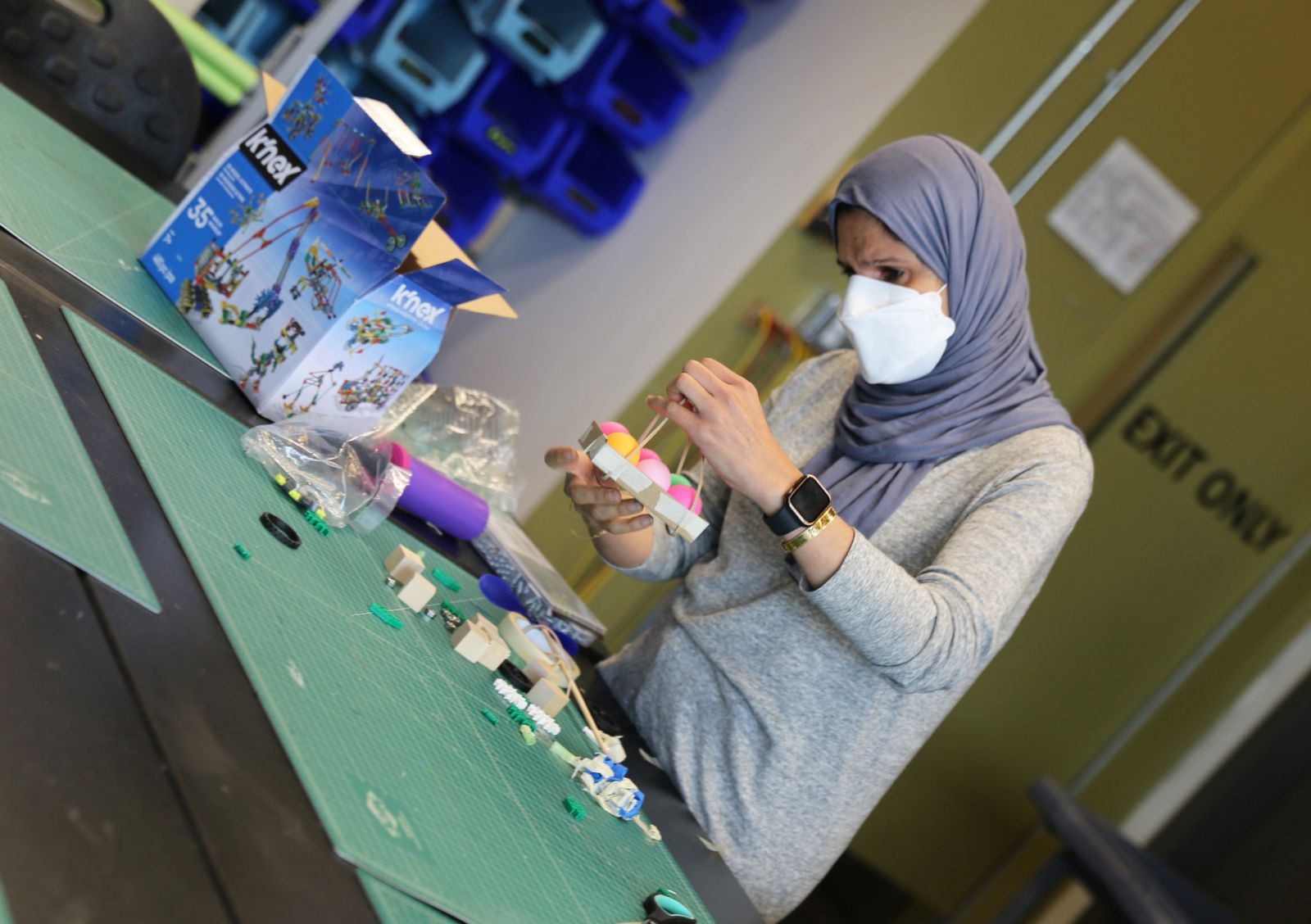 Local high school teachers also participated in the class, bringing what they learned back into their classrooms this fall.
Jennifer Ogo, a biomedical science and technology teacher at Kearny High School who participated in the class, said she's noticed a disconnect between what we ask of students, and what we teach them.
"Students are often asked to think outside the box or come up with creative solutions, but there are no steps provided for how to actually do that," Ogo said. "So this class has been helpful for me to learn how to teach them to problem solve, and provide those steps to get them thinking in new ways. They're asked to innovate and come up with great solutions, but how you get there is a whole other thing."
Over the course of the class, students and teachers learned problem identification and solution strategies including a Duncker Diagram, the Kepner Tregoe decision analysis model, and the fishbone diagram. They learned how to identify unintended consequences, and develop and reduce their assumptions list. Following these lectures, students spent the second part of each session putting those skills to practice in a team-based hands-on activity, such as creating a car powered by a rubber band, or designing a device to transport golf balls a specific distance on a tether.
Hannah Song, a senior at Canyon Crest Academy, said the course helped her put names and techniques to practices she had been using unknowingly for years.
"I think this program made me more conscious about actual problem solving strategies," said Song. "Unconsciously I sometimes implemented them but I never had a name for them, or a way to consciously dissect them and organize them. This made me more conscious of how I problem solve. I did enjoy it, I really liked the interactions we had with other classmates."
Yani Ciampistraneo, a junior at San Diego High School, said first being able to accurately identify the problem is crucial to being able to solve it.
"I basically learned how to identify a problem, and some different strategies for how once you identify the problem, you can come up with concise solutions that actually solve the problem, and figure out what worked, what didn't work so well, so you can improve on the next one."
His teacher, Leqah Munaim, who teaches calculus, physics and engineering at San Diego High School, participated in the teacher session. She said the hands-on projects used in the course will make great teaching tools for her students.
"All of my students will have the opportunity to try these hands-on activities," Munaim said. "I can see how a lot of the projects I can apply to teaching different topics. So one project I can use to teach momentum, while also using it to teach about force and so on."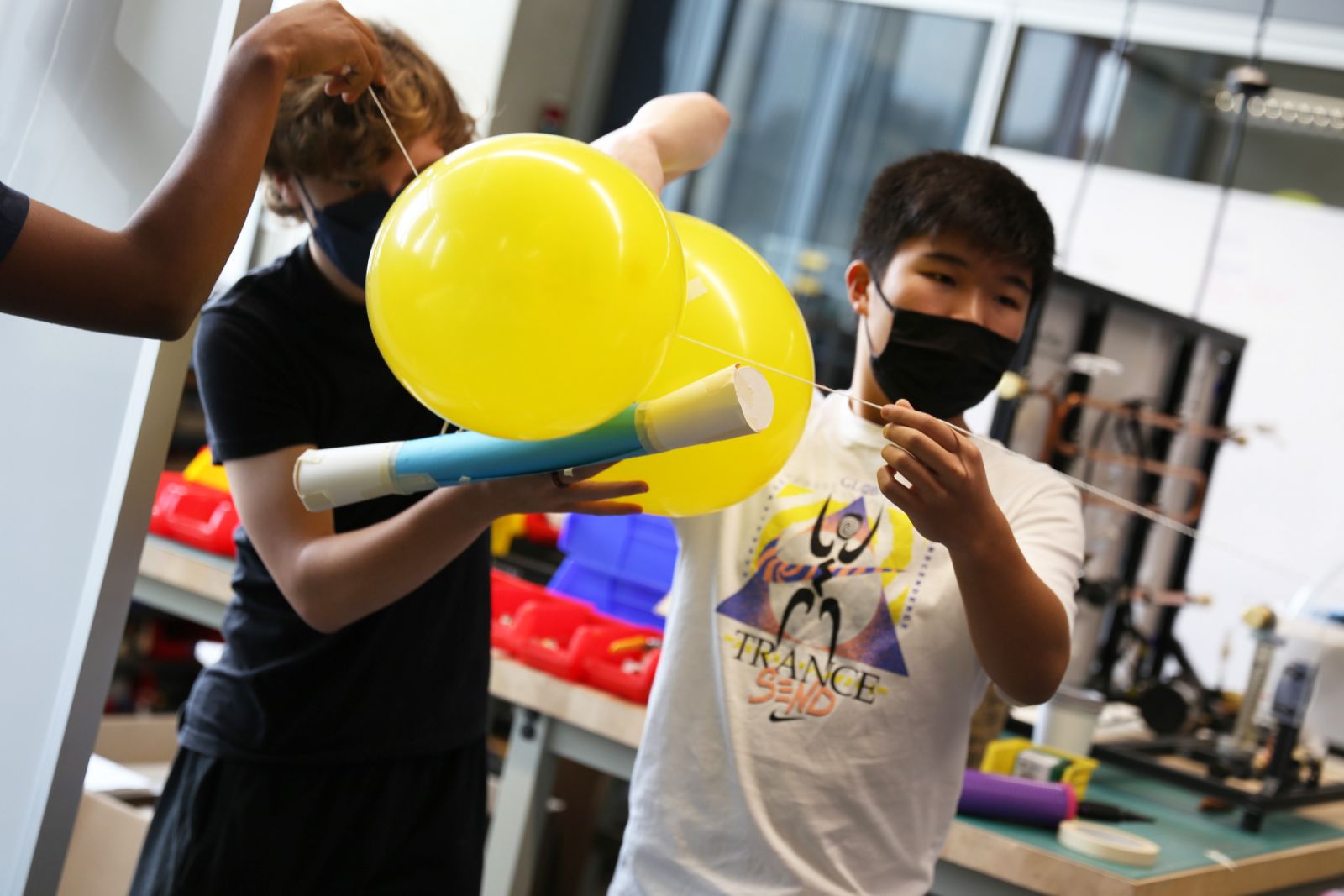 A student team tests out their golf ball transport sysyem.
Drew Shyffer, a junior at Canyon Crest Academy, said the class was not only useful, but also fun.
"I really enjoyed this class," he said. "It's always fun to build stuff; it's like the best science experiments from your classes, but every single day. The fun parts of school but all the time. It was really enjoyable and fun, but you still learn stuff."
He also enjoyed having access to the UC San Diego EnVision Arts and Engineering Maker Studio, where the class was taught, and all the design-and-build tools available there.
The course was taught by Jacobs School of Engineering lecturer Dr. Alex Phan, and co-designed with Curt Schurgers, an associate teaching professor in the electrical and computer engineering department, and faculty director of the EnVision Arts and Engineering Maker Studio at UC San Diego.
Media Contacts
---
Katherine Connor
Jacobs School of Engineering
858-534-8374
khconnor@ucsd.edu