News Release
Researchers receive $3.14M NIH grant for better imaging during pediatric heart procedures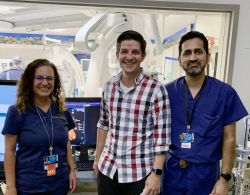 The research team on the new NIH grant to improve imaging during heart procedures in children: from left: Dr. Howaida El-Said, from Rady Children's Hospital and UC San Diego, UC San Diego Jacobs School bioengineering professor Francisco Contijoch and Dr. Sanjeet Hegde, from Rady Children's and UC San Diego.
August 17, 2022-- Engineers and physicians at the University of California San Diego have received a $3.14 million, five-year grant from the National Institutes of Health to help make MRIs a viable option for imaging during heart procedures in children.
The team includes Francisco Contijoch, an assistant professor of bioengineering at the UC San Diego Jacobs School of Engineering, and Dr. Sanjeet Hegde, an associate professor of pediatrics at UC San Diego Health and Rady Children's Hospital.
Cardiac procedures, such as placing a stent in a blood vessel, often rely on X-ray imaging to guide the physician. This delivers radiation to the patient. That's an issue in treating young children who are more vulnerable to radiation and may need multiple treatments throughout their lifetime.
One alternative is to use MRI as it does not deliver ionizing radiation to the patient. However, MRI imaging is slower than X-ray imaging, so delivering high-quality pictures to the physician in a timely manner is challenging.
Contijoch, Hegde and their team have developed a new data processing technique, which addresses this issue and could deliver physicians a clearer image. The technique continuously analyzes a patient's heart and breathing motion and determines the optimal way to gather MRI data. The technique is similar to how a self-driving car constantly analyzes the road ahead to avoid obstacles and navigate smoothly.
"We believe our approach can make the images crisper so that they could help guide clinicians during sensitive cardiovascular procedures in children," Contijoch said.
The technique was initially designed to improve MRI imaging for adults with arrhythmia. The team plans to leverage the expertise of Rady Children's Hospital's new Dickinson Image-guided Intervention Center, the first of its kind in the nation, to adapt the method to focus on children. One of the suites in the Dickinson Center was built to pioneer the use of MRI as an alternative approach for guidance of procedures.
The work could have broader implications, Contijoch said.
"Success would not only improve MRI guidance of cardiovascular interventions in children, but also create new opportunities for MRI guidance of cardiovascular and non-cardiovascular (biopsy, drainage, thermal therapy) procedures for adults," he said.
Media Contacts
---
Ioana Patringenaru
Jacobs School of Engineering
858-822-0899
ipatrin@ucsd.edu