News Release
Binational program provides students with impactful research opportunities
August 25, 2022-- Bioprinting for in vitro blood brain barriers. Acoustic tracking of humpback whales and marine robots. Smartphone-based health measurements. Understanding why jerboas have long feet. These are just a handful of the more than 94 different research projects undertaken by high school and college students in the ENLACE binational summer research program at the University of California San Diego in 2022. With its largest cohort yet, 185 students from Mexico and the United States spent the summer in science and engineering labs on the UC San Diego campus, getting hands-on experience conducting research, while also learning skills to apply to college and graduate school, immersing themselves in a new culture, and making friendships to last a lifetime.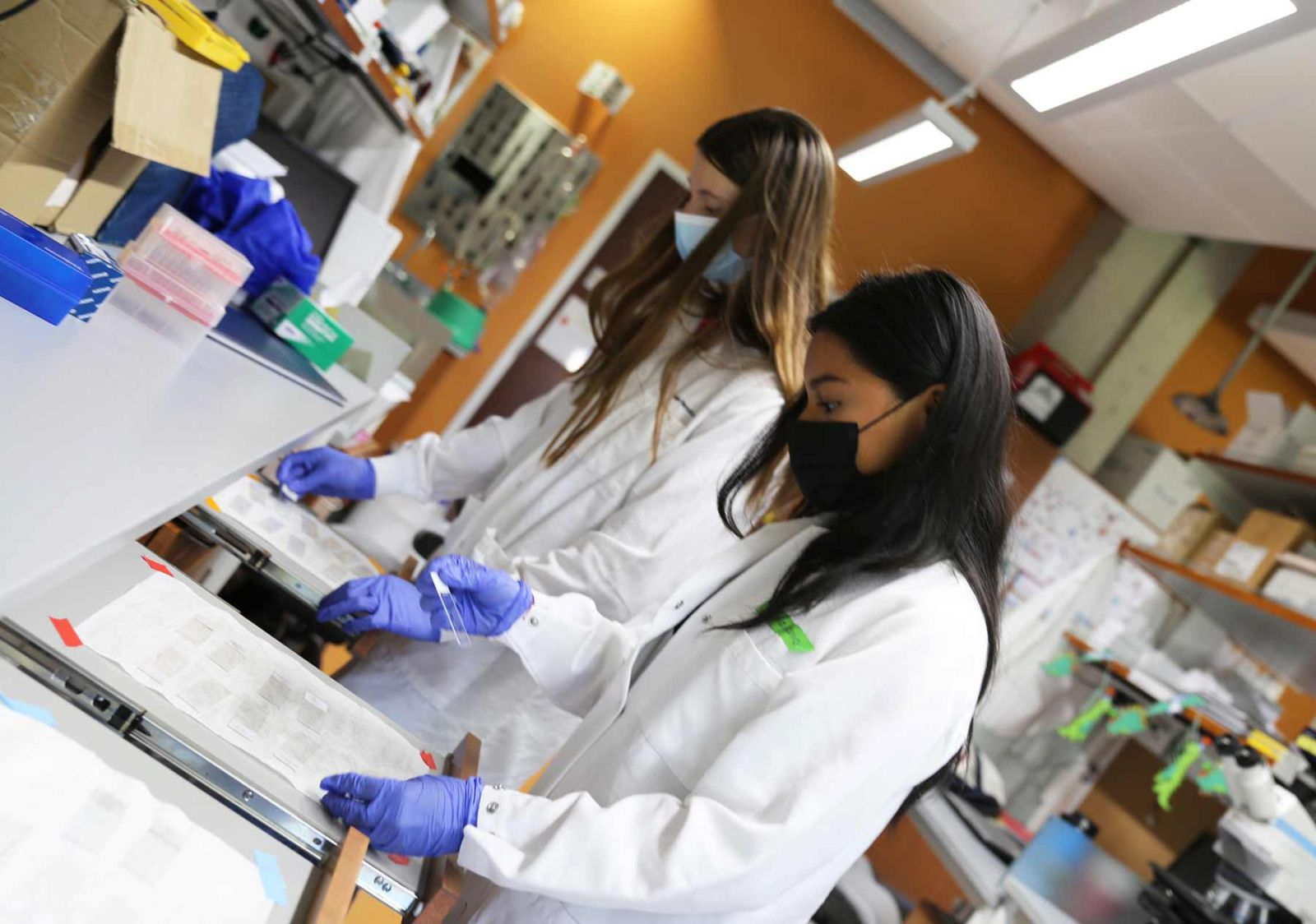 Estefanía Azcanio Muro, foreground, and Sofia Gandarilla look at tissue staining samples in bioengineering Professor Karen Christman's lab.
"This is the ninth year I've organized the ENLACE program, and every year the students continue to impress me not only with their intellect, but their drive to learn," said Olivia Graeve, a professor of mechanical and aerospace engineering at the Jacobs School of Engineering, and director of the ENLACE program. "In that time, we've expanded from serving five students to nearly 200 this year, highlighting the demand for this type of binational research experience. This program provides an opportunity to learn what it really means to do research, and experience what life is like as an undergraduate or graduate student researcher, while helping broaden students' horizons of what is possible."
The students are partnered together to tackle a real-world, impactful research project during the seven weeks of the program. Some of the student pairs include one student from the U.S., and one from Mexico. Other pairs are both students from different parts of Mexico, working and learning from their UC San Diego graduate student and faculty mentors, who hail from all around the world. The goal is to use science and engineering as a bridge for students to build professional connections and personal friendships across the border that last a lifetime, positively affecting binational relations.
Sofia Gandarilla, a bioengineering student at UC Riverside, and Estefania Azcanio Muro, a biotechnology student at Tecnologico de Monterrey who is from Veracruz, Mexico, spent the summer in the lab of Karen Christman, a professor of bioengineering. They worked to understand how the novel biomaterials Christman's lab develops to treat heart attacks interact with nearby cells when injected into heart tissue.
In order to accomplish this, they had to learn how to code using the R language, how to do tissue staining and how to use microscopes to find infarcted areas of heart tissue.
"I learned so much. I've enjoyed every day I'm here. This is like a dream for me to be here," said Azcanio Muro. She said the experience helped her solidify her desire to pursue graduate school.
"I know that I want to do a Ph.D. and I want to do research," Muro said. "Before this program, I was like hmm…, do I want to be a researcher or work in industry? I didn't know. But now I do know that I want to be a researcher and I want to do a Ph.D. because I really enjoyed being in the lab, doing research. It might be stressful, but I like it. I like this type of life."
Her research partner, Gandarilla, participated in ENLACE as a high school student in 2019, and found the program so valuable she decided to return, this time also serving as a chaperone to current high school participants. Her experience in 2019 helped her decide to pursue a degree in engineering. This year, her time in the lab, working to develop therapeutics that will one day benefit patients, has yet again opened doors.
"I feel like this experience has opened up so many different routes and opportunities I could potentially take," Gandarilla said. "All of them are really great, but I'm still deciding on which one would be best for me. In our grad school prep session this past week, Dr. Graeve was helping me explore potential MD/PhD programs and the scholarships I can take to potentially get there, so we'll see; that's an option."
For high school students Isabel Watson from Moreno Valley, Calif., and Angelina García Martínez from Monterrey, Mexico, part of the excitement has been learning what it's like to be on a college campus, and getting their first experience in a research lab. The pair worked with Alexis Komor and Neal Devaraj, both professors in the UC San Diego Department of Chemistry and Biochemistry, to isolate and verify two fluorescent cells. The duo learned how to prepare cells for expression and purification, and how to perform transfections.
"I thought it wasn't going to be so professional," Garcia Martinez said. "I was kind of shocked to be working with actual Ph.D students., and I'm only a high school student; I've learned so much."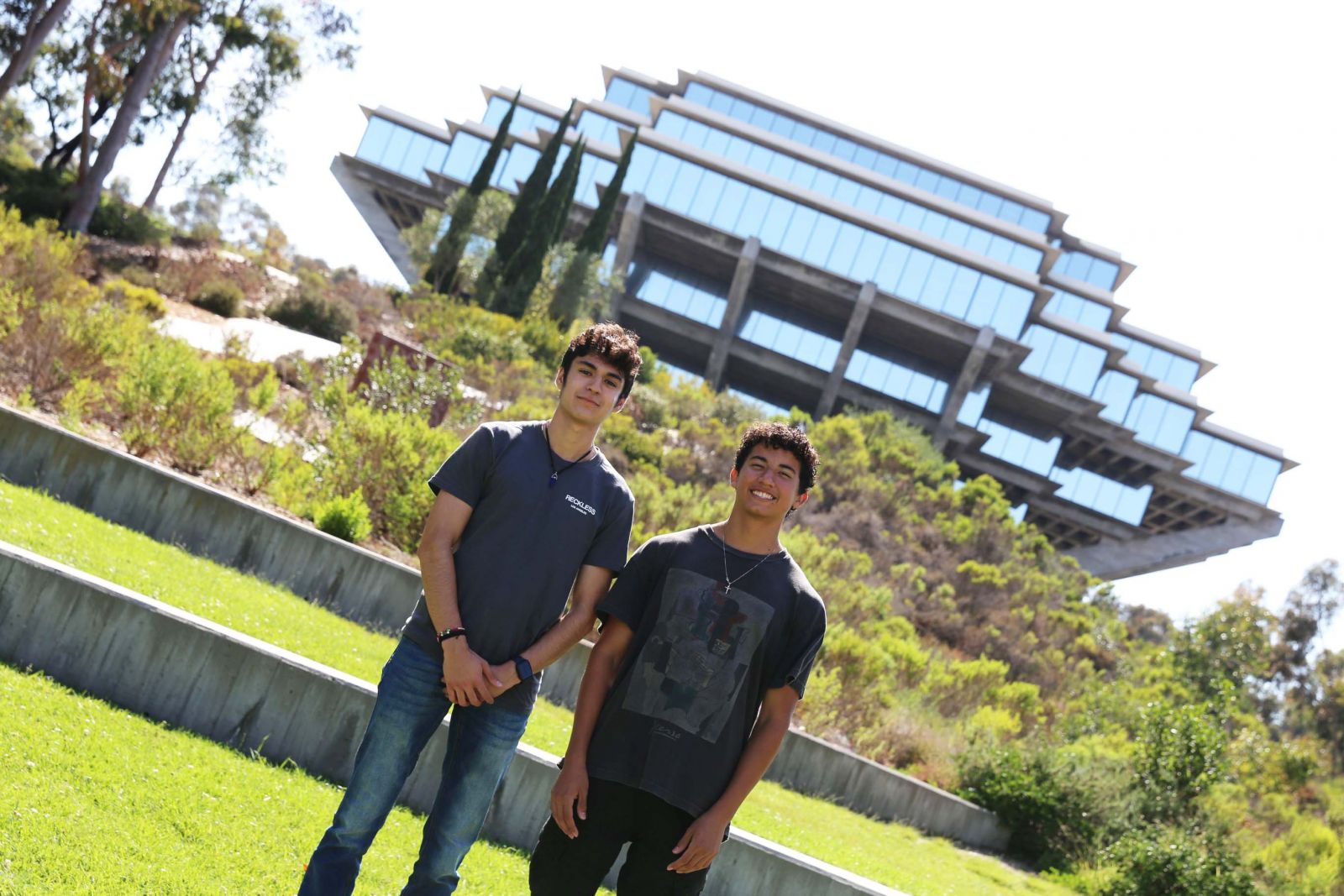 José Eduardo Martín Llamas and Nicolas Mosqueda spent the summer in mechanical engineering Professor James Friend's lab.
"The closest thing I've done to this was trying to make white blood cells express a gene in high school," Watson said. "It did not work out because it was one class period, less than an hour. It's so nice to actually see what we're learning come to life in front of us. It's so cool."
Watson and Garcia Martinez have also appreciated the opportunity to live on campus, being able to walk where they need to go, and use public transit to explore the larger San Diego area on weekends and evenings.
"I love going around town, exploring San Diego," Garcia Martinez said. "Taking the trolley, buses, finding new places with friends. We've gone downtown, to Las Americas plaza, the La Jolla Cove; it's been great."
Nicolas Mosqueda, a high school student in San Diego, and José Eduardo Martín Llamas, a high school student just across the border in Rosarito, Mexico, were placed in UC San Diego mechanical and aerospace engineering professor James Friend's lab. Mosqueda was tasked with testing new materials for a catheter that can be more easily controlled in tight spaces like veins. Martin Llamas worked to use a tool called ELISA to accelerate virus detection using acoustic waves.
Neither had experienced this caliber of lab, and research, before.
"For me, this was my first time working in a real lab," Martin Llamas said. "Nothing compared to the high school labs we have back in Mexico. It's a different experience from what I'm used to."
"Definitely new for me, too," echoed Mosqueda. "It's a lot different than the labs at the school classroom. A lot more intricate machinery, more advanced stuff."
Aside from learning from their graduate student and faculty mentors about hands-on research, the weekly College Prep sessions were also hugely impactful for Martin Llamas, who aspires to attend college in the U.S.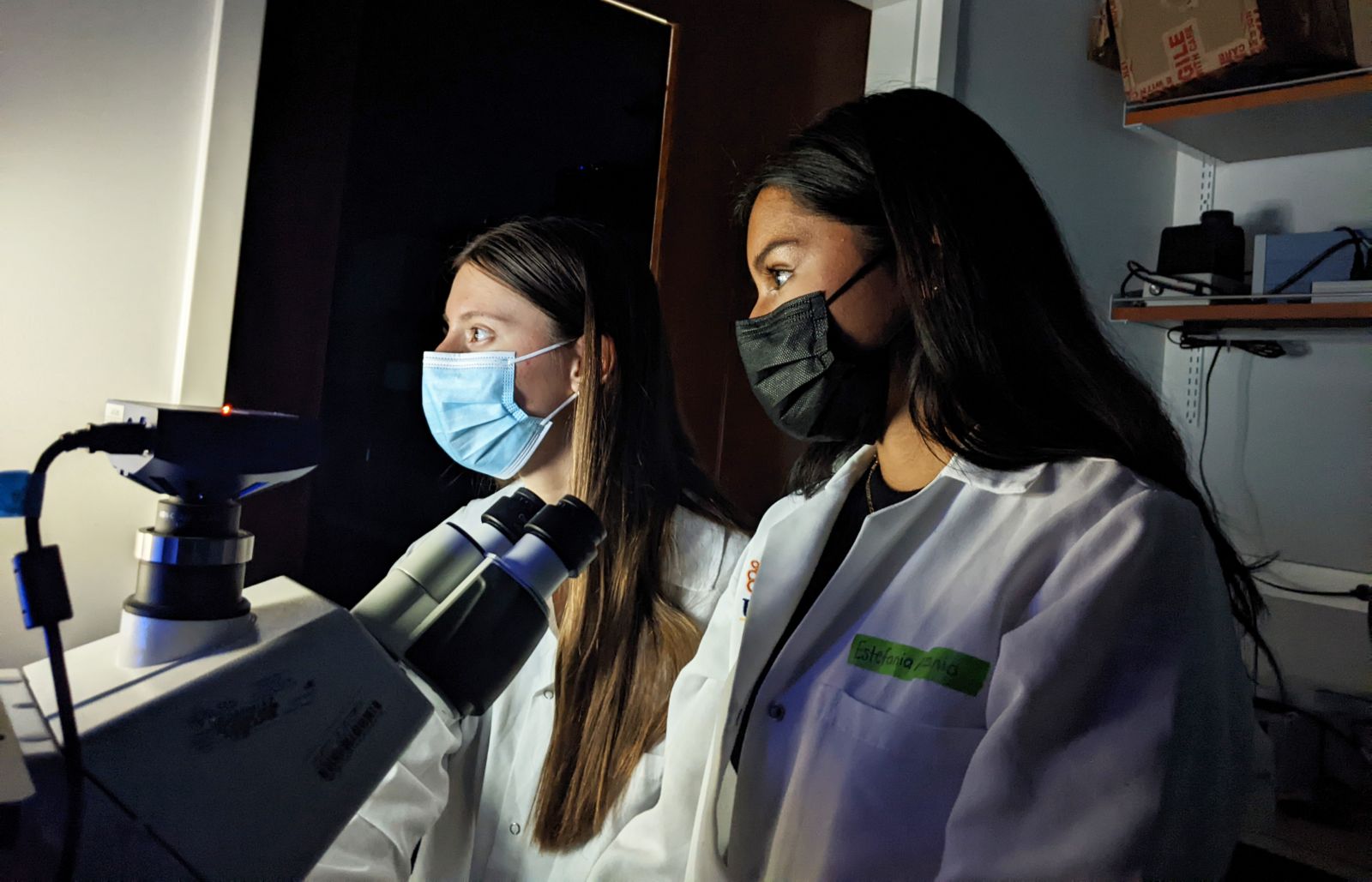 Gandarilla, left, and Azcanio Muro learned how to use powerful microscopes and imaging tools to study cell movement.
"In the College Prep class, we learned how to apply to college, private and public schools, learned about the Common App questions, all you need to know before applying to college. Maybe the homework they give to us is hard, but I know that at the end of the day, it's going to be very useful for me. Because I didn't know that to apply for a college in the U.S. you need to answer essay questions, unlike in Mexico where you just take an exam. So, it's helped me better understand the college application process."
While Martin Llamas, and many of the students from Mexico, have visited the U.S. frequently, spending such a long chunk of time here is rare.
"As an undergraduate, I couldn't find any programs in the U.S. to participate in that didn't require citizenship or permanent residency," said Azcanio Muro. "So, this ENLACE opportunity has been very appreciated, to be able to finally get this experience."
For Mosqueda, who hasn't spent much time in Mexico, he said the program reaffirmed something he'd known all along.
"Being with a bunch of people from Mexico for these weeks, you realize that we're all really alike even though we're on different sides of the border. If I didn't know they were from Mexico, if they didn't tell me, I would have never known. We're basically the same."
This year, many of the 185 ENLACE participants received scholarships to participate in the program, thanks to the support of industry partners including Illumina, Insulet, ASML, Hologic, Sempra Energy, Viasat, Solar Turbines, and support from UC San Diego.
For more information on ENLACE, including application instructions, visit their website.
Media Contacts
---
Katherine Connor
Jacobs School of Engineering
858-534-8374
khconnor@ucsd.edu