News Release
San Diego Union-Tribune previews opening of Franklin Antonio Hall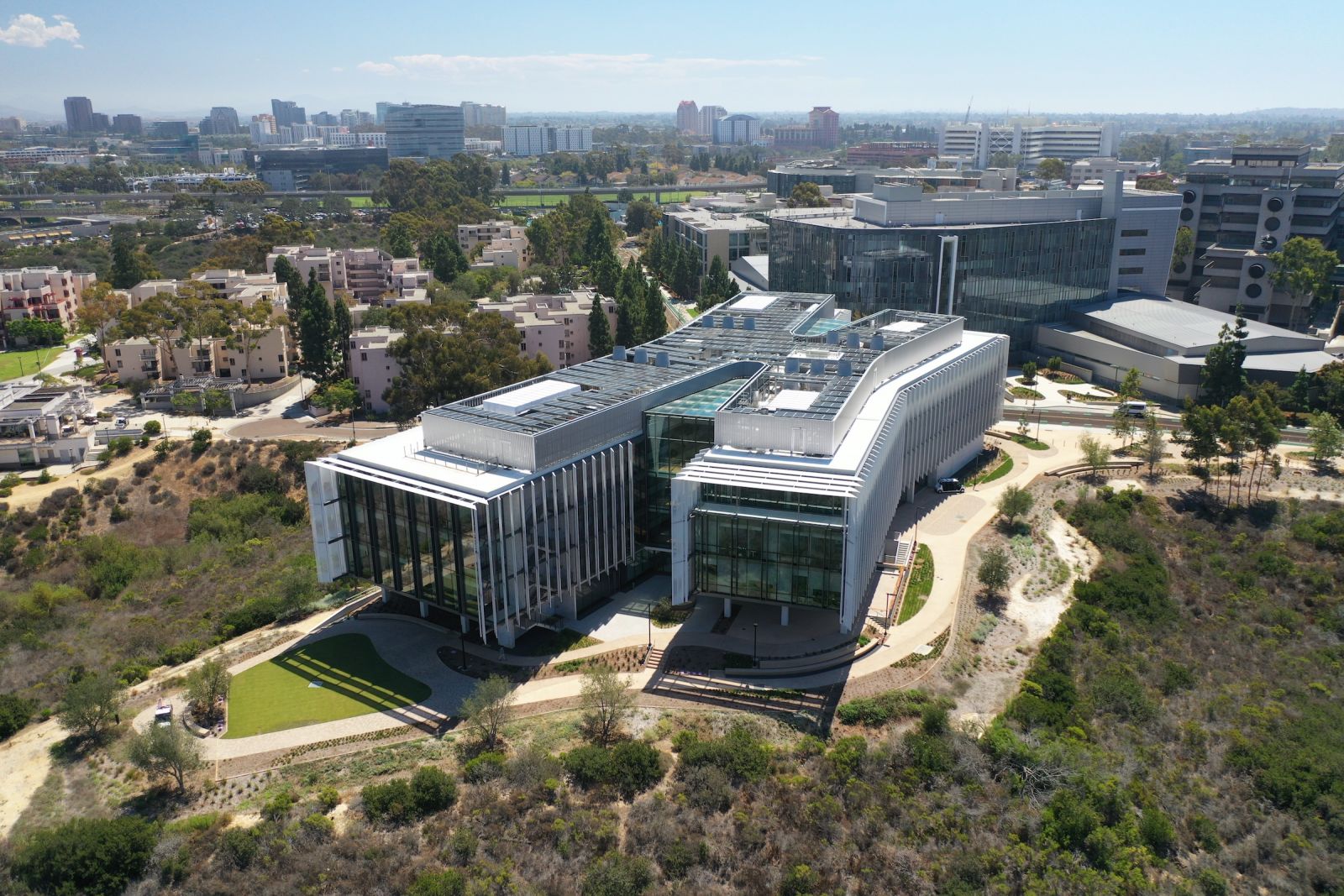 An aerial view of Franklin Antonio Hall.
September 6, 2022-- Just weeks before the grand opening on Sept. 23, The San Diego Union-Tribune published an extensive story about Franklin Antonio Hall, the latest building at the UC San Diego Jacobs School of Engineering. The sleek and soaring structure is located across the street from to Atkinson Hall, near the campus' Warren College neighborhood.
The Hall is named in honor of Qualcomm co-founder and UC San Diego alumnus Franklin Antonio, who passed away earlier this year.
Franklin Antonio Hall was only possible thanks to the generosity and vision of a wonderful community of people and industry partners who share the vision of engineering and computer science for the public good. The building is designed to bring together researchers, students and industry partners in new ways by maximizing the circulation of people and ideas.
Franklin Antonio Hall "is an upbeat vision of a digital future where science and technology are used to assist people in pursuing health and happiness," Jacobs School of Engineering Dean Albert P. Pisano told Gary Robbins, the science and technology writer for the Union-Tribune.
The building was designed to make it easier for faculty, students, and industry partners to interact. In terms of education and interaction, the building includes a number of dynamic facilities for active learning, spaces for informal interaction, executive education and industry collaboration spaces, indoor-outdoor meeting areas, and a cafe.
The research spaces are not split up into siloed domains managed by individual professors. Instead, the research is organized into 13 facilities called "collaboratories" housing multiple interacting teams, with each team led by a different professor. This will allow students from different research teams to mix and work together, with opportunities to interact with other collaboratories, as well as industry partners.
"Our engineers will be able to drop by and have face-to-face conversations," John Smee, vice president of engineering at Qualcomm, told the Union-Tribune. "They can propose ideas that might end up as experiments."
Among the research groups set to move into the building are most of the core faculty for the UC San Diego Contextual Robotics Institute. "Our programs have been spread across five buildings," Henrik Christensen, the institute's director and professor in the Department of Computer Science and Engineering, told the Union-Tribune. "But all of this will be consolidated in Antonio Hall. Our industry partners will be able to see everything we are doing in one place."
The building will be home to a number of cross-disciplinary centers and institutes including the Center for Engineered Natural Intelligence; the Center for Microbiome Innovation; the Center for Machine-Intelligence, Computing, and Security; the Center for Nano-Immuno Engineering; the Center for Precision Genomics; the Center for Wearable Sensors; the Center for Wireless Communications; the Contextual Robotics Institute; The Halicioglu Data Science Institute; and the Institute for the Global Entrepreneur.
"We need to work with others," Patrick Mercier, co-director of the Center for Wearable Sensors and faculty in the Department of Electrical and Computer Engineering, told the Union-Tribune. "That is the spirit behind what will happen in this building."
Media Contacts
---
Daniel Kane
Jacobs School of Engineering
858-534-3262
dbkane@ucsd.edu

Ioana Patringenaru
Jacobs School of Engineering
858-822-0899
ipatrin@ucsd.edu