News Release
Franklin Antonio Hall opens its doors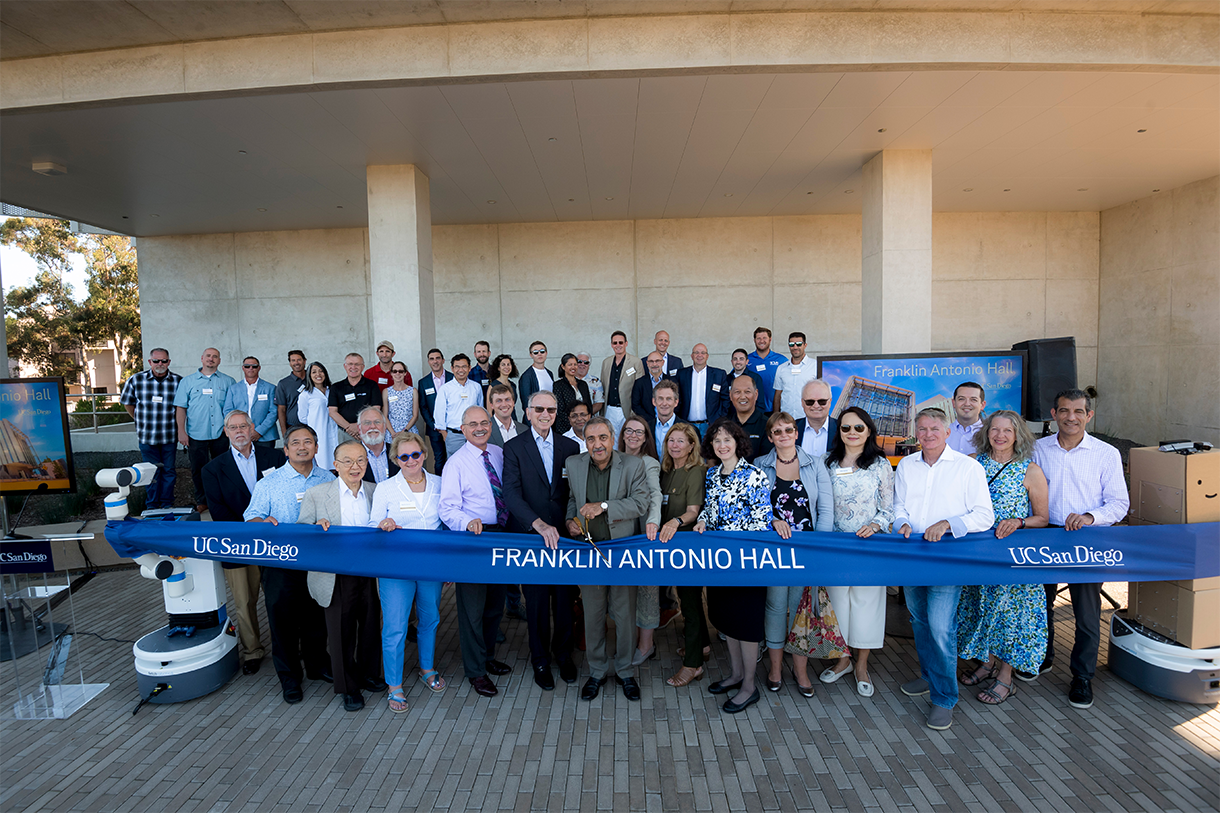 Chancellor Khosla is joined by Irwin Jacobs, Executive Vice Chancellor Elizabeth Simmons, Jacobs School of Engineering Dean Albert P. Pisano, faculty and philanthropic supporters to celebrate the opening of Franklin Antonio Hall with a ribbon cutting. Photo credit: Erik Jepsen
September 29, 2022-- The University of California San Diego campus community turned out in big numbers last Friday to celebrate the opening of the sleek and soaring Franklin Antonio Hall. The 186,000 square foot building is not only innovative in its architecture, it's also ground-breaking in how research teams are organized within the building. It is home to 13 collaboratories–research laboratories bringing together researchers from different departments to solve a wide range of problems facing society.
"Franklin Antonio Hall is a model for how to evolve the physical environment of a global research university in order to support and promote efficient, collaborative exploration, discovery and changemaking," said Chancellor Pradeep K. Khosla. "The innovative collaboratories housed in this new building will connect teams of researchers and students from multiple disciplines across campus to help solve the biggest challenges facing humanity and our planet."
Electrical engineering Ph.D. student Daril Brown is one of the people who has already moved into Franklin Antonio Hall.
"My own research is very interdisciplinary and prior to this building and this structure, it required me to run across campus between four different departments," Brown said. "Now all the labs where I work are in one building, so it's a nice cross pollination between the neuroscience field, the electrical engineering field, the mechanical engineering field, the medical systems and neurosurgery field. I was more like a worker bee between different flowers on campus. But now all the flowers are in one consolidated garden."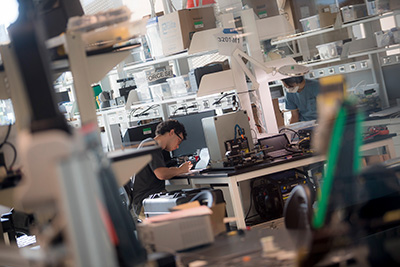 Graduate students in Franklin Antonio Hall will work alongside students, faculty and researchers from a variety of different disciplines.
Brown works within the Center for Engineering Natural Intelligence collaboratory on the second floor of Franklin Antonio Hall. This center brings together neuroscientists, bioengineers and electrical engineers. One of Brown's advisors, electrical and computer engineering Professor Vikash Gilja, said being co-located with researchers from other disciplines will naturally lead to the sharing of ideas and expertise, even in unstructured ways.
"This space will be a nexus where we can physically work together and learn from each other and also concretely see what's going on," said Gilja. "Oftentimes good ideas emerge from seeing a set up in real time. We can wheel the physical instantiation of one idea next to another and find new ways to collaborate."
Franklin Antonio Hall
The building is named after UC San Diego alumnus Franklin Antonio in recognition of his incredible $30 million gift to the UC San Diego Jacobs School of Engineering. Antonio, who co-founded Qualcomm, was adamant that collaboration and the student experience be at the heart of the building. Antonio passed away in May.
"This project really elevates and advances everything that it means to be part of UC San Diego," said Executive Vice Chancellor Elizabeth Simmons. "It's a space that instantiates our spirit of innovation, inclusion and collaboration. And it's a huge component of the broader vision for transforming the campus intellectually, physically and culturally. This will rebuild the culture of how research is done throughout engineering and in other, partnering, fields."
Baking multidisciplinary collaboration into the foundation of the building, and therefore into the way research will be conducted inside it, is not only a goal for the new space, but for the Jacobs School of Engineering itself.
"The No. 1 mantra for the design of the building is that it is chartered to maximize the circulation of people and ideas. And that's a deceptively simple phrase," said Albert P. Pisano, Dean of the UC San Diego Jacobs School of Engineering. "It's an organized principle for what we do every day at the Jacobs School of Engineering. We work to enrich the student experience, we amplify the research impact, we create the space and opportunities to engage the entire campus community as well as industry and public sector, in order that we have maximum relevance on the issues facing society today."
Collaborative Research
The 13 large research facilities called "collaboratories" that make up the heart of Franklin Antonio Hall will house a collection of professor-led research groups from different but related disciplines. Together, these complementary research teams will pursue grand-challenge research in areas like renewable energy technologies, smart cities and smart transportation, wearable and robotics innovations, real-time data analysis and decision making, digital privacy and security, nanotechnology, and precision medicine.
"We are very excited to move into Franklin Antonio Hall because it gives us the opportunity to be closer to a lot of other robotics labs," said Tania Morimoto, a professor of mechanical engineering and member of the Contextual Robotics Institute. "The lab I am in is the Medical and Healthcare Robotics collaboratory, so all three of the labs in this space work on robots related to medicine, surgery, and healthcare, and so I think it will present a lot of opportunities for us to work together."
The bulk of the Contextual Robotics Institute is moving into Franklin Antonio Hall, after being scattered across five to seven different locations, said Director Henrik Christensen. "This will make a huge difference," he said. "This is going to be fantastic for the graduate students."
Many faculty and researchers from the Sustainable Power and Energy Center are also moving into Franklin Antonio Hall, including nanoengineering Professor Tod Pascal.
"We're in the Sustainable Power and Energy Center, and by design, the Center was meant to bring together theorists, experimentalists, economists, political scientists, everyone that is involved in the energy enterprise, to think about how we go from basic research all the way up to widespread adoption of energy technologies," said Pascal. "The Center is inherently interdisciplinary, and being in Franklin Antonio Hall will streamline our collaborations from across campus quite significantly and bring the interconnectedness of our research projects to the next level."
Pascal's group focuses on theoretical work in developing materials for renewable energy technologies. They frequently collaborate with experimental groups that develop batteries, fuel cells and solar cells.
"The really exciting part is that being in a space like this will enable our students to do both theoretical and experimental work, not just one or the other. For my students, who have been itching to get in the lab and do something with their hands that does not involve typing on a keyboard, being able to work right alongside researchers making batteries or new materials is going to be an incredible opportunity," said Pascal.
Expanded education and entrepreneurship spaces
Franklin Antonio Hall will also serve as an important new facility for undergraduate and graduate-student learning, both inside and outside the classroom. The building is home to a 250-seat auditorium and two 100-seat classrooms designed for active learning, and collaborative study space for students.
The building will provide critical workspace for Jacobs School undergraduate student organizations that are participating in national design competitions. Teams of students will design, build and test their projects in this new collaborative Qualcomm Student Space environment. Teams will cycle through the space annually to best serve the growing number of nationally ranked student teams.
The first two student teams selected for the space are the Rocket Propulsion Lab, which is building a liquid bi-propellant rocket in an attempt to be the first university team to launch to a height of 45,000 feet for the FAR-MARS Competition; and Yonder Deep, which is designing a 3D-printed, low-cost, autonomous underwater vehicle.
Franklin Antonio Hall will also serve as the home of the Institute for the Global Entrepreneur, a collaboration between the Jacobs School of Engineering and Rady School of Management, with a mission to educate, train and empower engineers to become changemakers and technical leaders who are prepared to drive innovation and advance research from the lab to the marketplace.
A community effort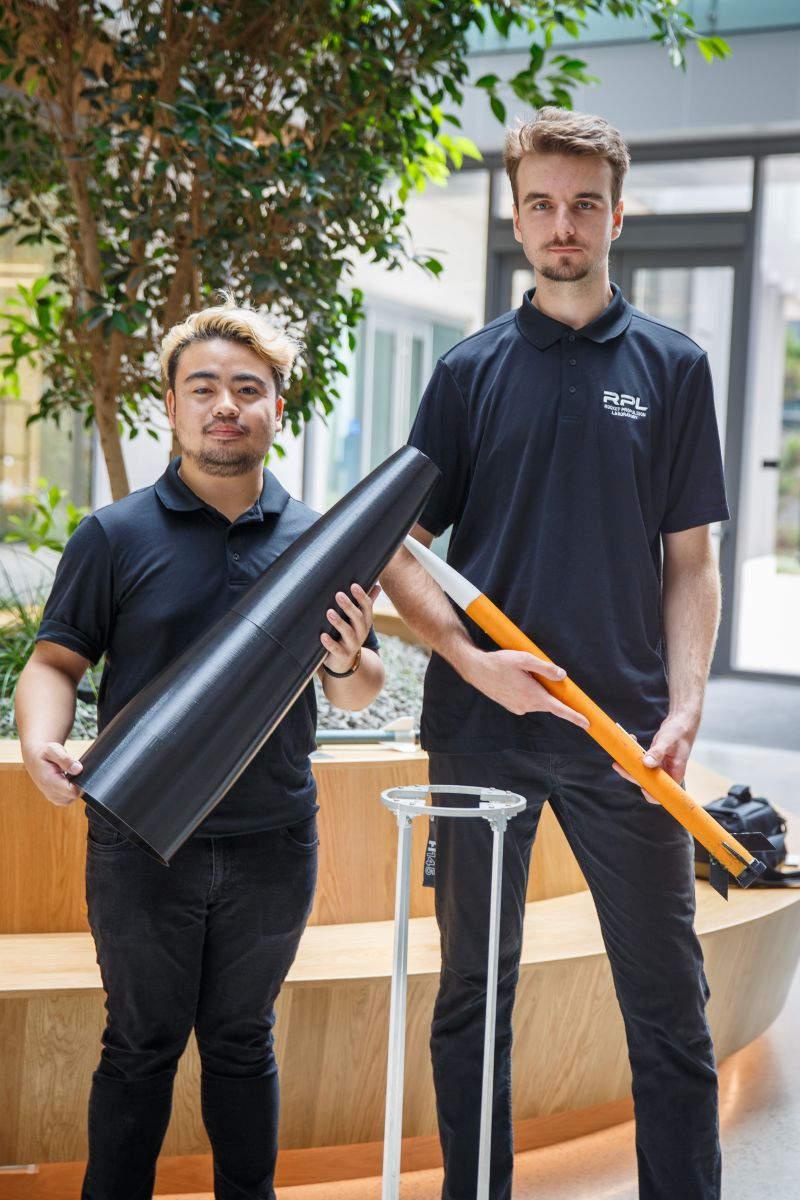 Engineering students Jay Buensuceso and Miko Karon display some of the rocketry components their student org, Rocket Propulsion Lab, designs and builds. The group will be working in the Qualcomm Student Space in Franklin Antonio Hall this year.
The $180 million project was made possible by the generous support of friends and industry partners of the UC San Diego Jacobs School of Engineering, who stepped up to support the programmatic growth of the Jacob School. Their generosity is being recognized with naming opportunities in Franklin Antonio Hall. The current list of donors who are recognized within Franklin Antonio Hall include:
Franklin Antonio '74, Charles Bergan '87 and '88, Marc Canel and Jun Song, Shu and KC Chien, Charles Lee Powell Foundation, Martha and Ed Dennis, Ambassador Diana Lady Dougan, Erik T. Engelson '82 MS '84, Peter Farrell, Arlene Harris and Marty Cooper, Yvonne Hildebrand, Larry Icerman MS '68 PhD '76, Waguih Ishak, Irwin and Joan Jacobs, Kristi Jaska, Sanjay and Fiona Jha, Xiaosong Jiang PhD '94, Peggy and Eric Johnson, Vera Kripalani, SS Lau, Ann Lee-Karlon '93 MS '96 PhD and Bill Karlon, Life Science Innovation Network - Japan, S.C. and Lily Lin, Dayna and Luis Pineda '84, Roberto and Colleen Padovani, Sam Ramji '94, Venkata "Murthy" and Aruna Renduchintala, Anna Scipione '78 and Mario Scipione, Jan Talbot, Chiang & Carmen Tom, Susan Tousi and Randall Camp, Toby Wolf, Cubic Corporation, Qualcomm Corporation, ServiceNow Inc., Teradata Corporation, Vertical Venture Partners, Xalles Inc., Paul Yu.
Media Contacts
---
Ioana Patringenaru
Jacobs School of Engineering
858-822-0899
ipatrin@ucsd.edu

Katherine Connor
Jacobs School of Engineering
858-534-8374
khconnor@ucsd.edu