News Release
UC San Diego selected for expanded NSF Innovation Corps Hub
October 5, 2022-- The Institute for the Global Entrepreneur at the University of California San Diego has been selected to join one of five new NSF Innovation Corps (I-Corps) Hubs, meant to scale the NSF-led National Innovation Network in accelerating the translation of discoveries into new solutions that benefit society. Each I-Corps Hub is funded for up to $3 million per year for five years and comprises a regional alliance of at least eight universities; UC San Diego joins the Desert and Pacific Region Hub, led by Arizona State University.
Established in 2011, the I-Corps program is designed to support the commercialization of deep technologies, which grow from discoveries in fundamental science and engineering. Since its inception, approximately 2,800 NSF I-Corps teams have participated in the program.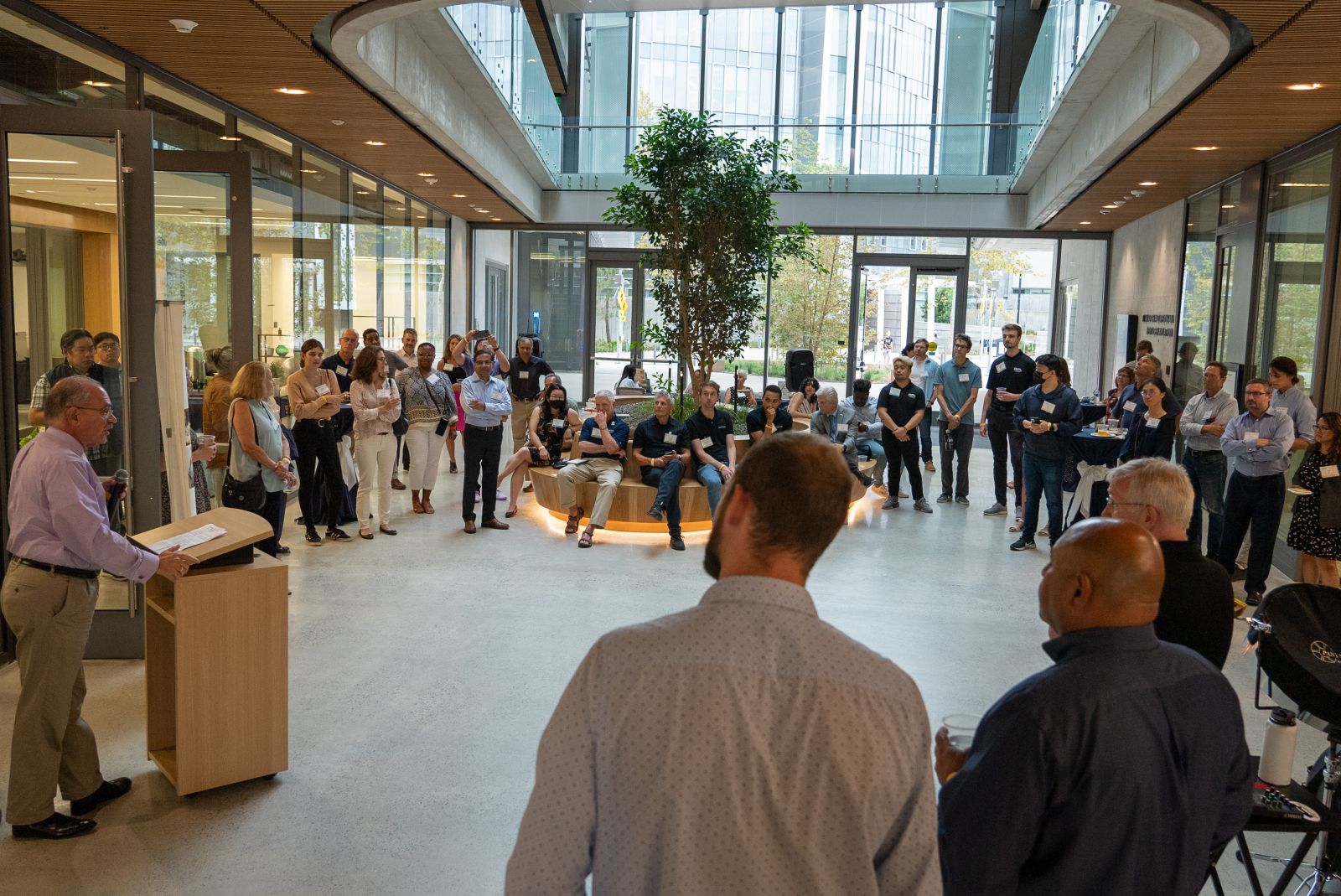 Jacobs School of Engineering Dean Albert P. Pisano speaks to a crowd gathered to celebrate IGE's selection in the expanded I-Corps program. The celebration was held in Franklin Antonio Hall, IGE's new home. Credit: Alex Matthews
"At the Institute for the Global Entrepreneur, we've supported dozens of student and faculty teams through the I-Corps Program, leading to companies making better batteries, more affordable prosthetics, safer hardware, and so much more," said Sujit Dey, director of the Institute for the Global Entrepreneur, and professor of electrical and computer engineering at UC San Diego. "I'm thrilled to see the expansion of this program, and anticipate many important innovations that will positively impact society in the years to come."
The newly funded I-Corps Hubs will serve national needs by implementing tools and training activities to enhance the nation's innovation capacity; developing and supporting promising research that can generate economic value; and providing opportunities to diverse communities of innovators.
"The Institute for the Global Entrepreneur is excited to be part of the new Desert and Pacific Region I-Corps Hub," said Dennis Abremski, executive director of the Institute for the Global Entrepreneur. "This increased support for the I-Corps program will translate into expanded access to entrepreneurial training and team-building for students and faculty at UC San Diego and the other seven member universities. I'm looking forward to great partnerships with the rest of the Desert and Pacific Hub as we work to advance technologies from the lab to the marketplace."
In addition to Arizona State and UC San Diego, the Desert and Pacific Hub includes Boise State University, Northern Arizona University, University of Arizona, University of Hawai'i, University of Idaho, and University of Nevada, Las Vegas
UC San Diego has been an I-Corps site, managed by IGE, since 2013. This new designation as part of a Hub provides broader access to students and faculty at UC San Diego to collaborate with the other seven institutions in the Hub.
Teams that have gone through the I-Corps program at IGE include liquefied gas electrolyte battery startup South 8 Technologies; hardware security verification firm Cycuity; and Cari Health, which is developing a wearable device to monitor medication compliance.
The Institute for the Global Entrepreneur at UC San Diego is a collaboration between the Jacobs School of Engineering and Rady School of Management, with a mission to educate, train and empower engineers to become changemakers and technical leaders who are prepared to drive innovation and advance research from the lab to the marketplace.
Media Contacts
---
Katherine Connor
Jacobs School of Engineering
858-534-8374
khconnor@eng.ucsd.edu