News Release
Nanoengineers receive $4.3M from NIH to continue studies using plant viruses to treat cancer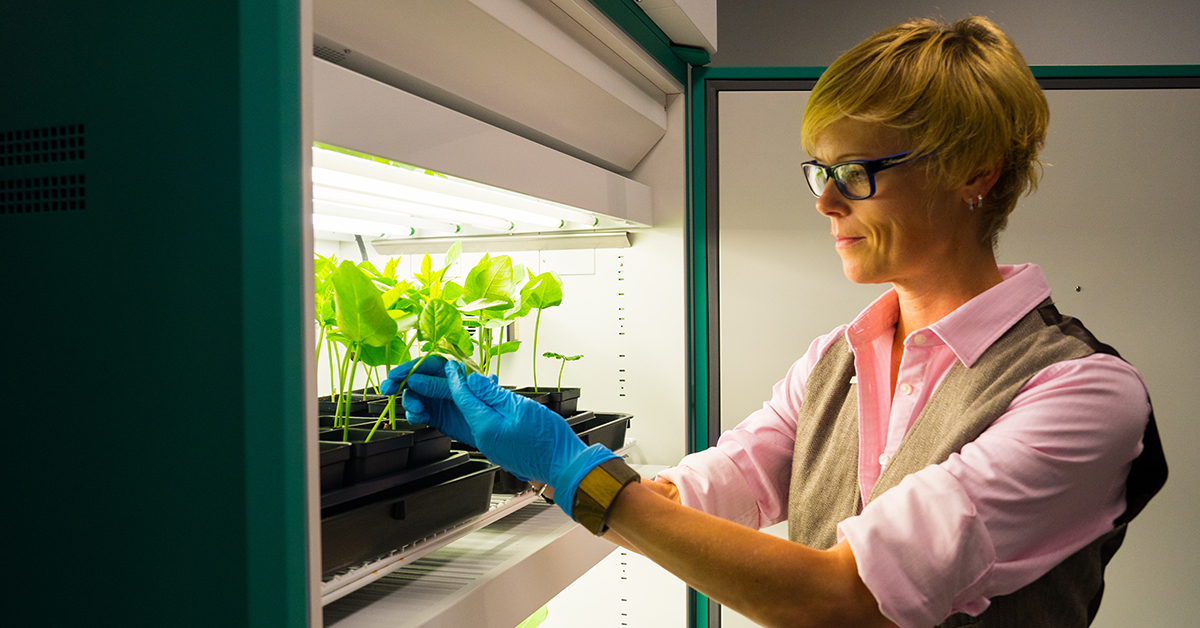 Nicole Steinmetz, professor of nanoengineering and director of the Center for Nano-ImmunoEngineering at the UC San Diego Jacobs School of Engineering.
October 17, 2022 -- Researchers led by Nicole Steinmetz, professor of nanoengineering at the University of California San Diego, have received $4.3 million in grants from the National Institutes of Health (NIH) to advance their research using plant viruses to develop cancer immunotherapies.
The work will be split up into two main NIH-funded projects. One will focus on developing a scalable manufacturing process, as well as preclinical development, for their lead cancer immunotherapy candidate: nanoparticles made from cowpea mosaic virus, which is a plant virus that infects black-eyed pea plants. The other project will focus on developing a combination therapy, using the cowpea mosaic plant virus nanoparticles, for triple negative breast cancer. Steinmetz, who is the director of the Center for Nano-ImmunoEngineering at the UC San Diego Jacobs School of Engineering, is the lead investigator on both projects.
The studies build on an approach that Steinmetz and colleagues have pioneered using cowpea mosaic virus nanoparticles to train the immune system to fight cancer and prevent it from spreading and recurring.
The approach involves injecting the nanoparticles directly inside a tumor to serve as immune system bait. The body's immune cells recognize the virus nanoparticles as foreign and get fired up to attack. When the immune cells see that the virus nanoparticles are inside a tumor, they go after the cancerous cells. The plant virus is infectious in plants but not in mammals, so it could be safely used to trigger an immune response against a wide variety of cancers in animals and potentially, humans.
Steinmetz began working on this approach seven years ago with collaborator Steven Fiering, professor of microbiology and immunology at Dartmouth College. The beauty of this approach, noted Steinmetz, is that it not only takes care of the primary tumor, but it also launches a systemic immune response against any metastatic and future tumors. The researchers have seen it work in mouse models of melanoma, ovarian cancer, breast cancer, colon cancer and glioma. They've also had success using it to treat companion dog patients with melanoma, breast cancer and sarcoma.
The goal is to test the approach in human clinical trials. Before they can get to that stage, the researchers will have to demonstrate that they can reliably produce the nanoparticles at scale. One of the NIH grants awarded to the team will provide $2.5 million of funding over 4 years to develop a good manufacturing process (GMP) for producing the cowpea mosaic virus nanoparticles. The funding will also enable the team to perform pharmacology studies in mice and canine patients with melanoma.
For this project, Steinmetz and Fiering will be teaming up with researchers at Oklahoma State University and Mosaic ImmunoEngineering Inc., the biotechnology startup that Steinmetz and Fiering co-founded to translate the cowpea mosaic virus nanotechnology into the clinic as a cancer immunotherapy.
In another project, Steinmetz and Fiering will be collaborating with researchers at Universidad Alfonso X el Sabio in Spain to develop a combination therapy to treat triple negative breast cancer, which is one of the most aggressive and hard-to-treat cancers. The proposed combination therapy will be a mix of the plant virus nanoparticles and checkpoint therapy. The researchers will test this new therapy in mouse models and canine patients. They will also perform detailed mechanistic studies to better understand how the therapy works. This project was awarded $1.8 million over 5 years from the NIH.
"These grants are a continuation and renewal of prior awards that enabled us to establish the technology," said Steinmetz. "We have demonstrated that intratumoral administration of cowpea mosaic virus results in potent efficacy with vaccine-like qualities, as it prevents recurrence of the disease. We are thrilled to continue this research to pave the road toward clinical translation."
Media Contacts
---
Liezel Labios
Jacobs School of Engineering
858-246-1124
llabios@ucsd.edu