News Release
Diversifying the ranks of future faculty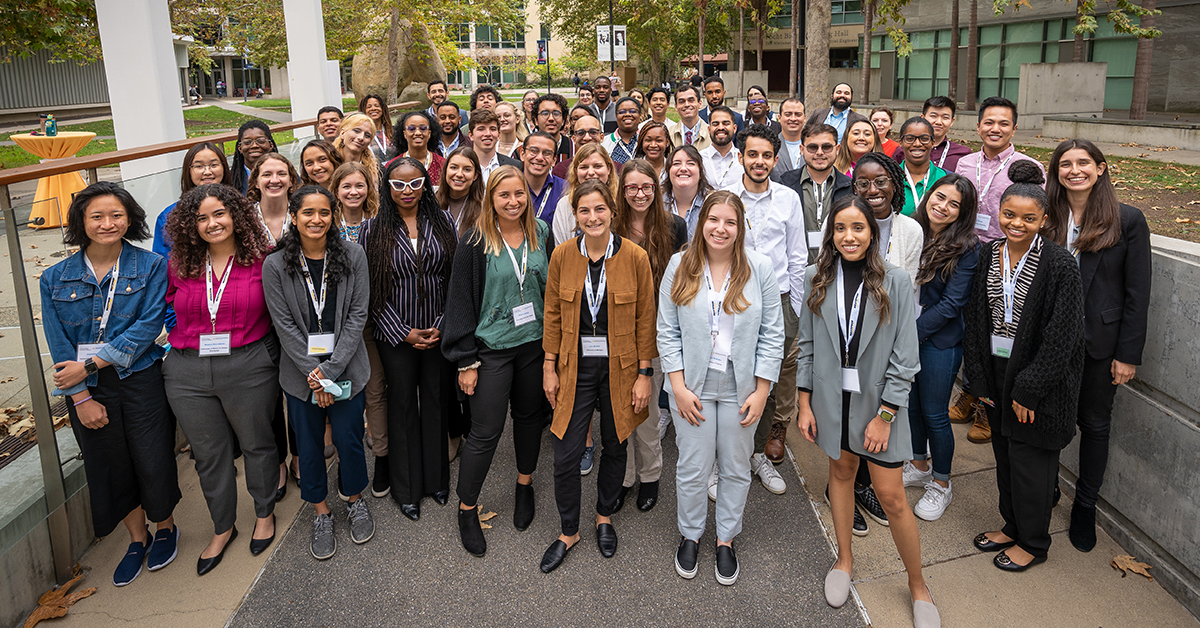 Graduate students and faculty mentors at the NextProf Pathfinder workshop, held at UC San Diego for the first time. Photo by Alex Matthews
October 25, 2022-- On October 2, more than 40 graduate students from schools around the country gathered on UC San Diego's campus for what has become a trajectory-changing weekend for many past participants. They were here for the NextProf Pathfinder workshop, two days filled with panels, presentations, networking, and hearing directly from early career and senior faculty and deans from a variety of backgrounds about what it takes to make it as an engineering professor.
The goal of the program, held in collaboration with the University of Michigan School of Engineering, is to prepare and inspire the widest swath possible of engineering graduate students to seriously consider careers as professors. The annual workshop is open to first and second year graduate students, with a particular focus on women, groups underrepresented in the current engineering professoriate, and anyone with a demonstrated interest in increasing faculty diversity within engineering schools around the country.
"NextProf Pathfinder is one component of a broader effort to create a culture within academia where everyone feels welcomed, valued, and empowered to succeed," said Karen Christman, associate dean for faculty affairs and welfare and professor of bioengineering at the UC San Diego Jacobs School of Engineering. Christman, along with Professors Lola Eniola-Adefeso and Chinedum Okwudire from the University of Michigan, organized the workshop. "I'm all too aware of the historic disparities in research funding and leadership in academia, and see NextProf Pathfinder as one way to work toward a more equitable future. It's a privilege to meet these future faculty members, and support them on their journey."
The larger NextProf program– including NextProf Nexus for advanced PhD students– began at the University of Michigan in 2012, and to date, more than 144 women and people from underrepresented groups who attended its workshops have achieved tenure-track faculty positions. This is the second year the UC San Diego Jacobs School of Engineering has partnered with University of Michigan on the Pathfinder program, and the first time it's been hosted here.
"As I move through academic spaces, I see challenges that people who look like me face, both as a woman and as a person of color in STEM, and in my mindset of leaving things better than I found them, I find myself drawn to what institutional changes can be made to make engineering more equitable for women and people of color," said Lola Eniola-Adefeso, associate dean for Graduate and Professional Education, and professor of chemical engineering at the University of Michigan. "NextProf is a key part of this effort. Having mentors, colleagues and role models who you can identify with is a powerful tool, and it's my hope that the future faculty participants find that through NextProf."
Sonia Ezenwajiaku, a materials science PhD student at the University of Florida, is one such doctoral student considering a career in academia. She said attending the NextProf Pathfinder workshop helped her gain practical, hands-on knowledge about what's required to apply for faculty positions.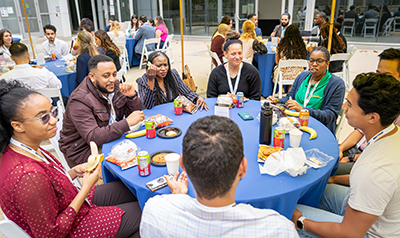 NextProf Pathfiner students and faculty eat lunch during a speed networking session. Photo by Alex Matthews
"I learned a lot, honestly," Ezenwajiaku said. "So one of the big things that's been discussed is funding– where funding comes from to start your own lab, but also as a graduate student, where your PI gets their money from, and the different types of institutes offering funding. We also learned what goes into an academic application, and I learned about imposter syndrome, that it's normal to feel like you don't belong there; almost everyone else feels it too."
Ezenwajiaku became interested in the field of bioresorbable materials from her own surgery experiences. An athlete and sports fan, she suffered several injuries that helped her see what being inactive can do to an athlete. She combined degrees in chemistry and biomedical engineering, and is now pursuing a PhD in materials science and engineering, focusing on bioresorbable metals. She could envision herself one day running her own lab geared toward the translational side of prototyping and designing such materials for use in medical procedures.
In addition to the practical advice she learned, Ezenwajiaku also gained a support network of like-minded people through the NextProf Pathfinder program.
"Coming to a place like this where you surround yourself with likeminded people who also see the benefit of a career in academia helps stop you from getting lost with industry or other people whispering in your ear. I would highly recommend it, especially if you're interested in a career in academia. It's good to know both the good and the bad of the field, but a lot of times people around you only focus on the negative, and a little positivity always helps."
During the workshop, students heard from faculty at schools around the country about how to navigate these early years of graduate school; time management for research; building your CV; an overview of the faculty search process; the relative importance of outreach or service activities; and the different paths available within academia.
Enrique Segura, a doctoral student at Colorado University, Boulder, said the program has helped him consider an option that he was hesitant to pursue for some time.
"I say to people that I want to go into industry, but deep down I would like to be a professor," Segura said. "But also deep down I'm not sure if I should do it. This was an opportunity to explore, and see what it would take, what the culture is like. I learned that you have to have a lot of intention to pursue a career in academia, but I also learned how rewarding it can be."
While he's still making up his mind about his future plans, Segura said the information he learned at NextProf Pathfinder was invaluable, and he highly recommends other students considering this career path apply. Zachary Wong, a participant from UCLA, agrees.
"What we've been hearing a lot about today is that even within academia there are a lot of different subpaths you can take, there are many different types of professorships" he said. "So while I'm still deciding what I'll do, I think for me now the decision has been opened up to a whole host of greater options."
NextProf Pathfinder will be held at the University of Michigan, Ann Arbor in 2023. Information on applications will be available here when they open.
Media Contacts
---
Katherine Connor
Jacobs School of Engineering
858-534-8374
khconnor@eng.ucsd.edu