News Release
A new era for robotics at UC San Diego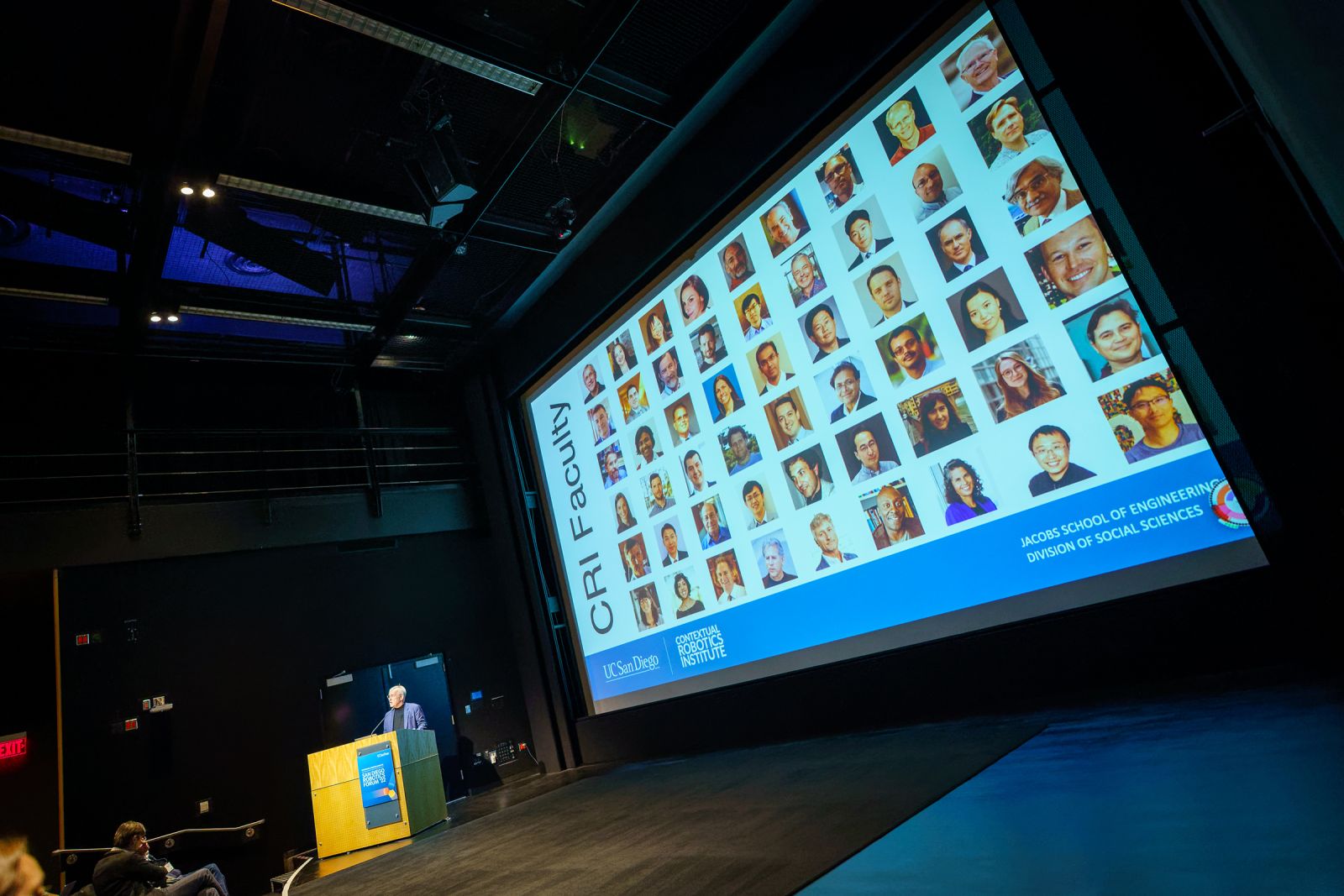 Henrik Christensen, director of the UC San Diego Contextual Robotics Forum, addresses the audience at the 7th annual interation of the event.
Nov. 21, 2022-- The Contextual Robotics Institute at UC San Diego hosted its 7th annual forum on Nov. 16, highlighting not only the robotics work underway across campus, but also efforts to capitalize on the broader San Diego region's strengths and expertise.
The Contextual Robotics Institute recently reorganized under three overarching themes to reflect research strengths here at UC San Diego, and in the broader San Diego robotics industry: Cyber-Physical Technologies, Healthcare Robotics, and Autonomous Systems.
These three core research areas use a multidisciplinary, collaborative approach, drawing faculty and students from diverse departments across campus as well as industry partners, to work together to solve technical challenges.
"The Contextual Robotics Institute is a major connective organization at UC San Diego, bringing together teams from health, communications, social science, policy, and all of the engineering disciplines," said Corinne Peek- Asa, Vice Chancellor for Research. "And we would not be successful without the critical partnerships with our industry partners, starting with the first glimmers of a startup, all the way up to global corporations."
Several of those robotics industry leaders shared updates at the forum on their latest advances in autonomous air systems and ground vehicles, wireless connectivity, checkout-free stores, and autonomous industrial robots. Leaders from General Atomics Aeronautical Systems Inc, Qualcomm, XCOM, Accel Robotics and Brain Corp all provided updates on technical progress made in the last few years, and laid out a roadmap for where the industry is heading.
A new home in Franklin Antonio Hall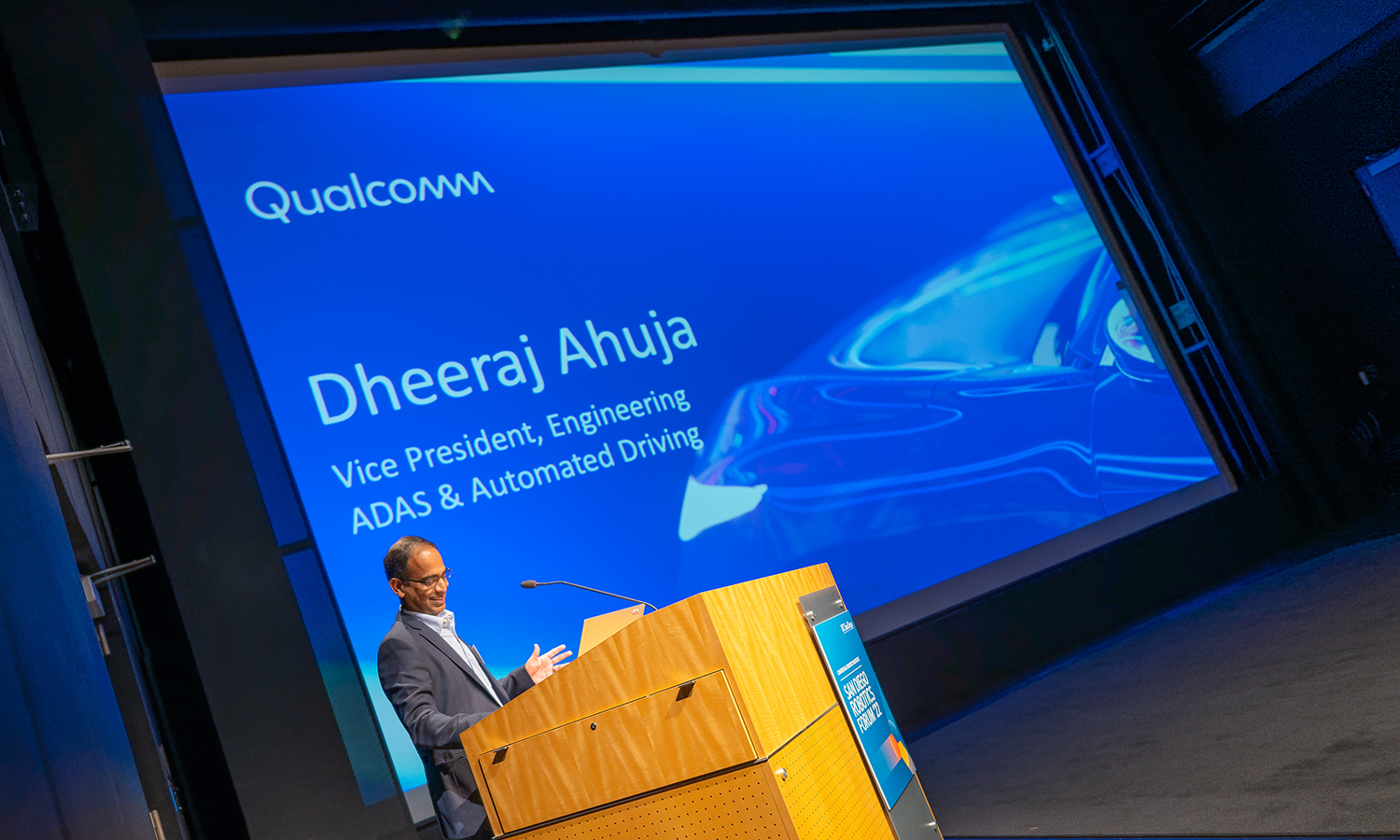 Qualcomm Vice President Dheeraj Ahuja addressed the CRI Forum audience.
In September, the bulk of the Contextual Robotics Institute faculty and students moved into Franklin Antonio Hall, the newest building at the Jacobs School of Engineering, which opened this fall. The 186,000 square foot building is not only innovative in its architecture, it's also ground-breaking in how research teams are organized within the building. It is home to 13 collaboratories–research laboratories bringing together researchers from different departments to solve a wide range of problems facing society.
The reorganization of the CRI into three research strength areas is also reflected in the new robotics collaboratories in Franklin Antonio Hall.
The Cyber-Physical Technologies collaboratory will focus on connecting technologies, such as robots, with the physical world. Faculty and students in this collaboratory conduct research on fundamental technologies, including design of mechanisms using new materials, integration of sensors and mechanisms, new methods for control and integration of embedded systems at the edge, as well as integration of all of these technologies into cyber-physical systems.
The Medical and Healthcare Robotics ollaboratory focuses on the mechatronic design, control, and autonomy of robot systems for clinical use, such as minimally invasive surgery and imaged guided interventions. Researchers in this collaboratory also work on robotic solutions to empower individuals with a high quality of life beyond an operating room, from hospitals, to rehabilitation facilities, to assisted living at home.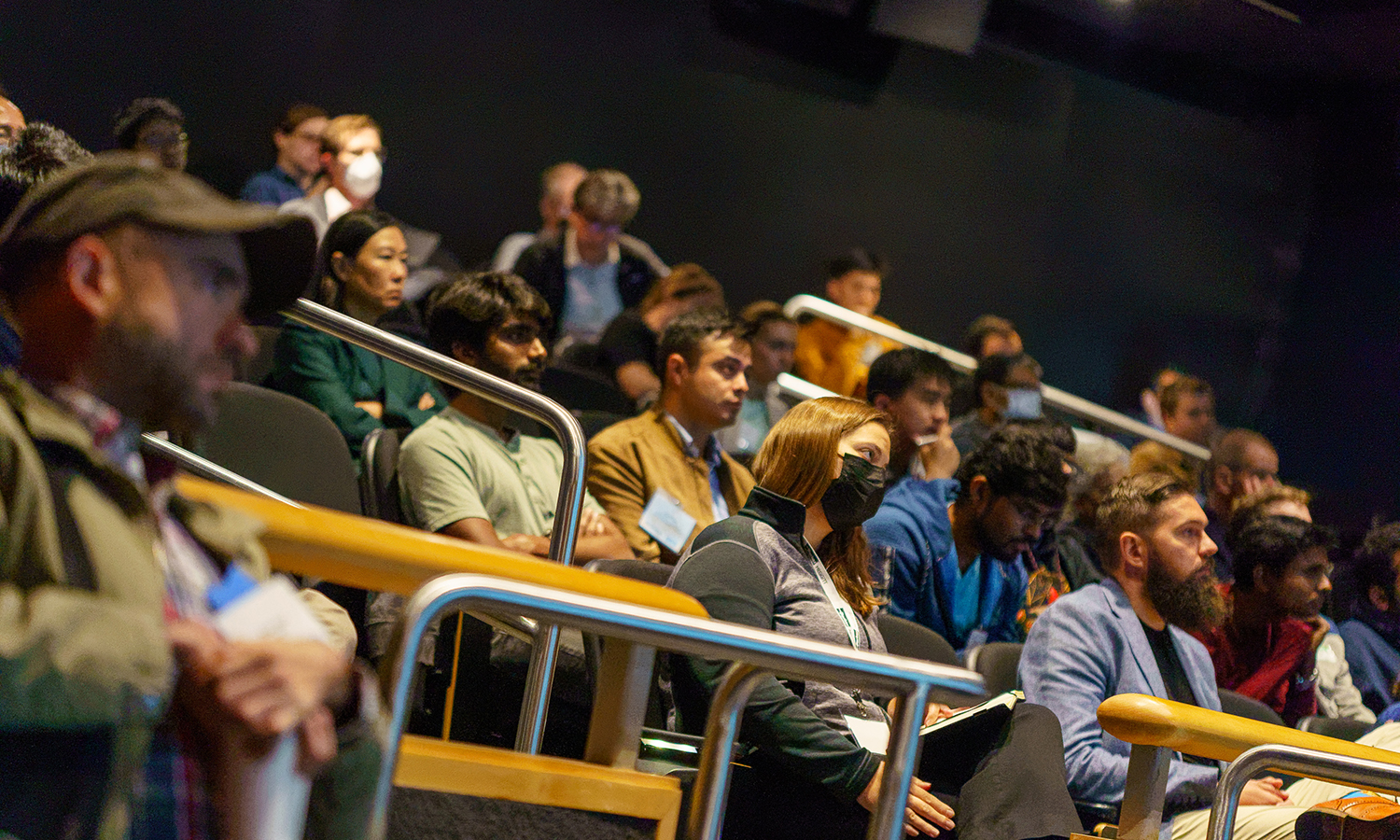 Audiece members listen to a talk.
And the Autonomous Systems collaboratory studies technologies for perception, planning and control, as well as the integration of systems into complete applications for air-, sea- and ground robotics using both single and multi-agent configurations.
The interdisciplinary nature of these collaboratories, and of Franklin Antonio Hall itself, is crucial to using robots to help solve the grand challenges of tomorrow.
"Franklin Antonio Hall is one of the machines that is going to carry us forward into the next decade of cutting edge research, including for robotics," said Albert P. Pisano, Dean of the Jacobs School of Engineering. "You need to maximize the circulation of people and ideas to be able to harness robotics for the public good, and to be able to convene groups like this and put them in the right environment where we can really get the necessary research going."
UC San Diego isn't the only place where the field of robotics is seeing changes. Christensen, who has edited the national Roadmap for US Robotics every four years since 2013, said the industry is evolving faster than ever.
"We create the Robotics Roadmap every four years, and yesterday I got a call saying the world is moving so fast, we can't wait two more years for a new one: we need a new road map now," Christensen said. "So we are in an area where there's a lot of really interesting growth, and we are moving fast in all of these areas."

Media Contacts
---
Ioana Patringenaru
Jacobs School of Engineering
858-822-0899
ipatrin@ucsd.edu