News Release
Jacobs School alumni kickstart Dean's Scholars of Excellence program
December 15, 2020-- Education is the great equalizer.
Jacobs School of Engineering alumni Mary Bui-Pham and Dan Pham have seen this play out in their own lives, having both arrived in the U.S. as Vietnamese immigrants who didn't speak English or have any money to their names-- Mary with her family at age 13 and Dan in his 20s. Yet they were able to work their way up to leadership roles at top tech firms like Yahoo, HP, and Indeed, all thanks to an education.
"I think of myself coming to the U.S., 13 years old, not knowing any English; my father going from being the administrator of a fairly famous research institute to getting a job as a stock clerk in the hospital because his degrees were not recognized, and my mother having to take a seamstress job in a shirt factory even though she didn't know how to sew," said Bui-Pham. "Fast forward to now, and I have a Ph.D., I'm a senior leader for a company that helps millions of people get jobs, and I just gave my school an endowed scholarship. All within my lifetime. And all because I got an education and I worked hard. Why can't that story be replicated again and again?"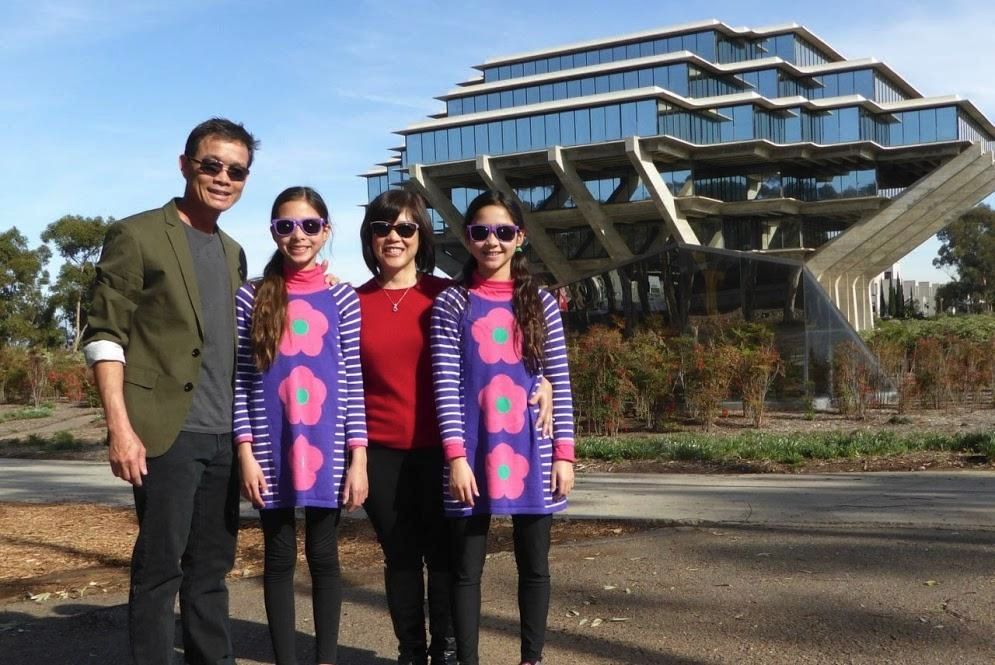 The Bui Pham family in front of Geisel Library at UC San Diego.
It will be replicated more frequently thanks to the Bui-Pham family, who have donated the funds to endow a scholarship supporting students with outstanding academic merit, including students who have made or show potential to contribute to diversity, equity and inclusion; first generation; and low-income engineering students. Their gift launched the larger Jacobs School of Engineering Dean's Scholars of Excellence program, a school-wide scholarship program meant to advance equal access to a Jacobs School education.
Thanks to a $10,000 seed gift from an anonymous Jacobs School faculty emeritus, gifts of any amount can now be directed to the Dean's Scholars of Excellence program, supporting these student scholarships.
"We have a responsibility to ensure that a Jacobs School education is accessible to as many students as possible. Diversity is critical to innovation, and moving forward as a nation, we must find more and more effective ways to tap our entire talent pool," said Albert P. Pisano, Dean of the UC San Diego Jacobs School of Engineering. "Mary and Dan understand on a personal level the effect that education can have on one person, and the transformative impact it can have on a society. I'm grateful and honored to work with them to launch the Dean's Scholars of Excellence program, providing outstanding students with the financial support to pursue their academic goals."
Bui-Pham earned her Ph.D. in Chemical Engineering at the UC San Diego Jacobs School of Engineering, where she met Dan, a master's student also working in Professor Kal Seshadri's lab one summer. It was fireworks-- or more like an explosion-- from the beginning; a pressure gauge on a gas tank Dan was using for an experiment malfunctioned, causing a minor explosion, but catching Mary's attention in the process. They've been together since.
After earning her Ph.D., Bui-Pham conducted research as a postdoctoral scholar, doing computational modeling of flames. Her computational background set her up for a job with NetGravity, which eventually merged with Google. She then went to Yahoo, where she was the chief-of-staff for the division of Publisher Products, before moving into her current role as Vice President of Strategy and Operations at Indeed, where she helps shape and implement the employment platform's long-term roadmap. After earning his master's degree in mechanical engineering at the Jacobs School, Dan worked at disk drive design and storage firm Quantum Corporation, before working his way up from procurement and software engineer to Program Manager at Hewlett Packard.
"I've always been very grateful to UC San Diego," Bui-Pham said. "I made amazing friends, I met my husband, I had the best time in grad school, and I want to pay it forward."
The inaugural Bui Pham Family Engineering Endowed Scholarship recipient will be named in Fall 2021. The family hopes that their gift and the larger Dean's Scholars of Excellence program will help propel students with the drive to succeed on a trajectory similar to the one they've lived.
"I think 10 years from now we'll have a whole generation of amazingly educated, productive citizens, who would be also thinking about 'how do I pay it forward,'" Bui-Pham said. "We all need to have that gratitude and understand that you don't get anywhere by yourself. We all stand on others' shoulders. Sometimes just a tiny boost is all we need."
The goal of the Dean's Scholars of Excellence program is to continue advancing equal access and success for the most promising engineering minds from all communities. With the help of visionary supporters, we can shape the next generation of diverse problem-solvers who will rise to the challenge of creating tomorrow's sustainable technologies. To support students through the Dean's Scholars of Excellence program, select the Jacobs School Dean's Scholars of Excellence fund here. For more information, contact: David Strachan, Director of Development, (858) 761-1379, dstrachan@eng.ucsd.edu
The Bui Pham's gift contributes to the Campaign for UC San Diego—a university-wide comprehensive fundraising effort concluding in 2022. Together with philanthropic partners, UC San Diego will continue its nontraditional path toward revolutionary ideas, unexpected answers, lifesaving discoveries and planet-changing impact. To learn more, visit the Campaign for UC San Diego website.
Media Contacts
---
Katherine Connor
Jacobs School of Engineering
858-534-8374
khconnor@ucsd.edu