Congratulations! You've been accepted into the #9 engineering school in the country, where we make bold possible. We invite you to participate in UC San Diego's virtual Triton Day and Transfer Triton Day welcome events to learn more about the UC San Diego community and your role in it.
Here you'll find information on the webinars, panels, live online chats and videos the six engineering departments at the Jacobs School of Engineering have prepared to answer your questions and get you the information you need to make your acceptance decision.
The digital offerings are organized by department, below.
All times listed are in Pacific Standard Time.
Our IDEA Engineering Student Center is also hosting virtual events to give you a glimpse of what student life is like at UC San Diego.
IDEA Engineering Student Center Webinars
The IDEA Engineering Student Center fosters an inclusive and welcoming community, increases retention and graduation rates, and promotes a sustainable culture of academic excellence among all engineering students at UC San Diego.
Transfer Student Welcome Event
Date: Monday, May 10
Time: 7:00-8:00 PST
We invite prospective transfer students to join us for a virtual welcome event with Albert P. Pisano, Dean of the Jacobs School of Engineering. Get an overview of the Jacobs School, followed by a Q&A.
A recording of this event is available for you to watch on YouTube.
Successfully Transitioning to Engineering at UC San Diego
Date: Tuesday, May 11 and Thursday, May 13
Time: 5:00-6:00 PST
Meet current Jacobs School transfer students, learn about programs and services geared toward supporting your transition to engineering at UC San Diego, and get your specific questions answered. Register to receive the Zoom link: https://tinyurl.com/5c9s3ezj 
Questions?
Please contact: idea@eng.ucsd.edu
Student Organization Welcome Events
Real Talks with AISES, NSBE and SHPE
Date: Wednesday, May 12
Time: 6:00 pm PST
The UC San Diego chapters of the National Society for Black Engineers, the Society of Hispanic Professional Engineers, and the American Indian Science and Engineering Society are hosting a Real Talks welcome event for admitted transfer students. Hear from current BIPOC transfer students as they share their experiences at the Jacobs School. Register to receive the Zoom link: https://tinyurl.com/realtransfertalks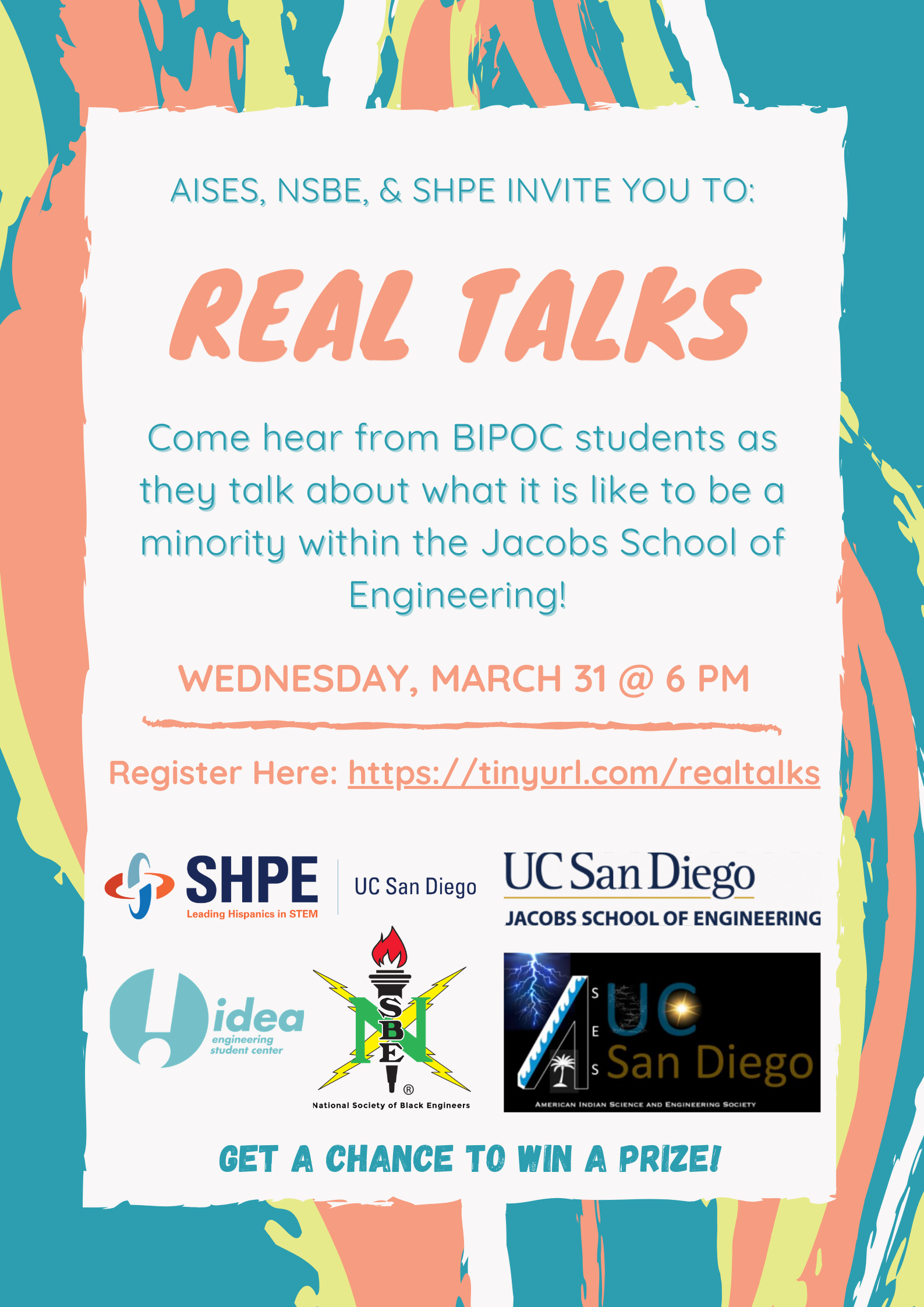 Many of these digital offerings are being hosted on the Zoom video conferencing platform. A brief set of instructions and tips on microphone and camera use can be found here: https://drive.google.com/file/d/1W0Bzoho2E6fJmA4VPVvXIPJYEtRptRNN/view
Take a virtual tour of campus.
Questions?
We're here to help you make the most informed decision possible. Please contact the email listed for your specific department above, for the most up-to-date and complete information. If you're unsure who to direct your question to, please contact our IDEA Engineering Student Center at idea@eng.ucsd.edu