Stefan Savage
Professor, CSE
---
Computer security issues (especially worms, viruses, intrusion detection and denial-of-service attacks), wide-area and wireless networking, and distributed and/or adaptive computer systems.
Savage's research interests lie at the intersection of distributed systems, networking, and computer security, with a current focus on embedded security and the economics of cybercrime. He currently serves as director of UC San Diego's Center for Network Systems (CNS) and as co-director for the Cooperative Center for Internet Epidemiology and Defenses (CCIED), a joint effort between UCSD and the International Computer Science Institute.
Capsule Bio:
Stefan Savage received his Ph.D. in computer science and engineering from the University of Washington and a bachelor's in applied history from Carnegie Mellon University. 
---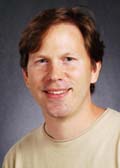 Email:
ssavage@ucsd.edu
Office Phone:
858-822-4895
Institute Affiliations:

California Institute for Telecommunications and Information Technology