UC San Diego nanoengineer Liangfang Zhang inducted into National Academy of Inventors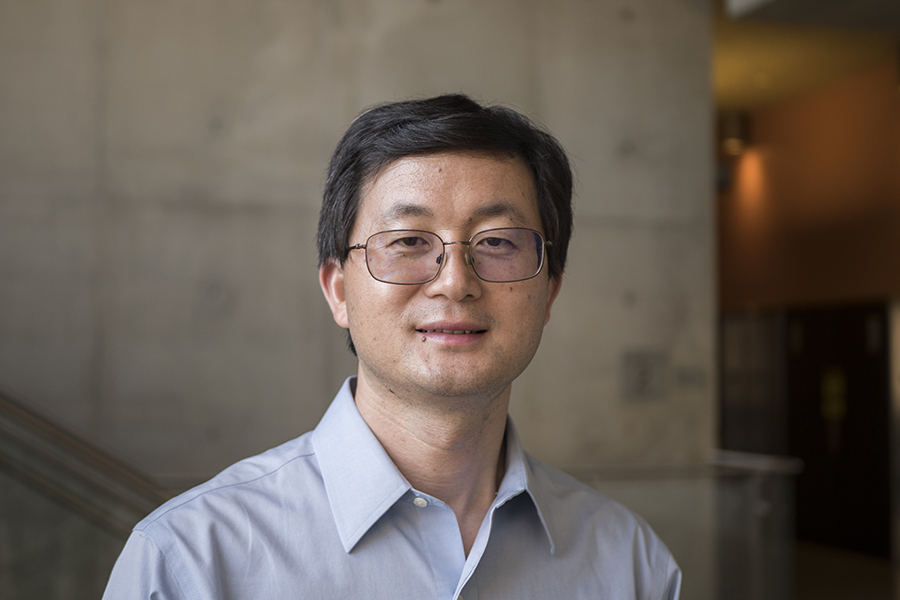 Liangfang Zhang
December 08, 2020 -- Liangfang Zhang, professor of nanoengineering and director of the chemical engineering program at the UC San Diego Jacobs School of Engineering, has been named a 2020 fellow of the National Academy of Inventors (NAI). Each NAI fellow has demonstrated a prolific spirit of innovation in creating or facilitating outstanding inventions that have made a tangible impact on the quality of life, economic development and the welfare of society. Election to NAI fellow status is the highest professional distinction accorded solely to academic inventors.
Zhang is recognized for his revolutionary work in the field of nanomedicine, which focuses on nanomaterials for medical applications. He invented a way to make nanoparticles perform therapeutic tasks in the body without being rejected by the immune system. His method is to disguise synthetic nanoparticles as the body's own cells—red blood cells, white blood cells, platelets, beta cells, cancer cells and others—by coating them with natural cell membranes from human cells.
Zhang's cell membrane coating technology made its debut in a 2011 study, which showed that polymeric nanoparticles disguised as red blood cells can evade clearance by the immune system. Zhang and his team later showed that these cell-mimicking nanoparticles can be used to treat MRSA (methicillin-resistant Staphylococcus aureus) infections in mice. These so-called red blood cell "nanosponges" work by absorbing toxins produced by MRSA and safely removing them from the bloodstream. Red blood cells are one of the primary targets of MRSA toxins, so the nanosponges serve as decoys by luring these toxins away and trapping them so they can no longer go on and destroy actual red blood cells.
"I like to test new ideas and invent new technologies. More importantly, I also like to facilitate the translation of these inventions, aiming to benefit the public in large, especially the patient populations," Zhang said.
Zhang currently has 108 issued and pending patents worldwide, of which more than 90 have been licensed to several biotechnology and pharmaceutical companies for clinical translation.
In 2014, Zhang co-founded the startup company Cellics Therapeutics to further develop and commercialize the red blood cell nanosponges. The company is currently on schedule to advance them to human clinical trials.
Cellics recently received an award of up to $15 M from Boston-based accelerator CARB-X to further development of another nanosponge platform: macrophage nanosponges—nanoparticles cloaked in the cell membranes of macrophages—designed to treat sepsis. The company is building on work from a 2017 study, in which Zhang and colleagues report that treatment with macrophage nanosponges protected mice from lethal sepsis caused by E. coli bacteria. In a similar vein to their red blood cell counterparts, the macrophage nanosponges work by luring and trapping bacterial molecules called endotoxins that play a key role in sepsis, as well as pro-inflammatory cytokines produced by the immune system.
In a recent study from the Zhang laboratory, researchers report that macrophage nanosponges could also serve as part of a potential treatment for COVID-19. The work, which is in the early stages, shows that both macrophage nanosponges and lung epithelial cell nanosponges greatly reduce the ability of SARS-CoV-2 to infect host cells and replicate. The lung epithelial cell nanosponges act as lung cell decoys to bait and trap SARS-CoV-2, while the macrophage nanosponges neutralize SARS-CoV-2 and the cytokine storm that the virus can cause.
"I like to think of the fundamental cause of a problem or challenge, which allows me to think of a solution from outside the box," Zhang said. "Take the cellular nanosponge technology as an example—I did not focus on how to target and kill the pathogens. Instead, I looked at how to protect the host cells that the pathogens attack. The idea is that no matter how different pathogens are and how often they mutate, these pathogens share some similarity in terms of their mechanism of action. They attack certain host cells and destroy them."
"I got the inspiration to develop cellular nanodecoys by using the target host cell membranes to attract and neutralize the pathogens or their virulence factors," Zhang added. "This treatment strategy can be broad; so broad that it can be used to treat all pathogens and their mutations as long as they attack the host cells. This initial idea of cellular nanosponges came to me almost 10 years ago and we have now proved its broad applicability in various disease models."
Zhang's cell membrane coating technology has produced a suite of other therapeutic nanoparticles, such as ones that can be used to treat rheumatoid arthritis; train the immune system to fight cancer; and deliver drugs to specific sites in the body.
Media Contacts
---
Liezel Labios
Jacobs School of Engineering
858-246-1124
llabios@ucsd.edu


Related Links
---