News Release
UC San Diego Engineering Ranks #9 in U.S. News and World Report Best Engineering Schools Rankings
March 30, 2021 - For the second year in a row, the University of California San Diego Jacobs School of Engineering has ranked #9 in the nation in the influential U.S. News & World Report Rankings of Best Engineering Schools.
This #9 ranking is up from #11 two years ago, #12 three years ago, #13 four years ago, and #17 five years ago.
"The Jacobs School of Engineering has earned its ninth place among the nation's most innovative, distinctive and prestigious engineering schools," said UC San Diego Chancellor Pradeep K. Khosla. "UC San Diego's engineers and computer scientists regularly collaborate with students, faculty and staff across our $1.4 billion dollar research enterprise. This unique cooperative, cross-discipline connectivity sparks discoveries and drives innovations that garner national and global recognition."
The Jacobs School of Engineering at UC San Diego leverages engineering and computer science for the public good through education, research and transfer of innovation to society. The #9 ranking brings welcome attention to the Jacobs School's work to create and strengthen interrelated education, research and innovation ecosystems.
"Ranking ninth in the nation is a tribute to the hard work, grit and excellence of our students, staff, faculty, industry partners, collaborators and friends," said Albert P. Pisano, Dean of the UC San Diego Jacobs School of Engineering. "I look at rankings as recognition rather than definition. It's wonderful to be recognized for some of the ways we are strengthening and growing as a school and as a community."
Research relevance
The UC San Diego Jacobs School of Engineering has launched 14 Agile Research Centers and Institutes since 2014. This effort has driven deeper collaborations within the Jacobs School and across the UC San Diego campus. It has also driven deeper interactions between Jacobs School research teams and collaborators in industry and government labs. The goal is to tackle fundamental, relevant challenges that no individual research lab or company is likely to solve alone. This process of taking on difficult, interdisciplinary challenges involving academia, industry and government provides engaging training and learning environments for Jacobs School of Engineering students. These students go on to graduate as an empowered innovation workforce.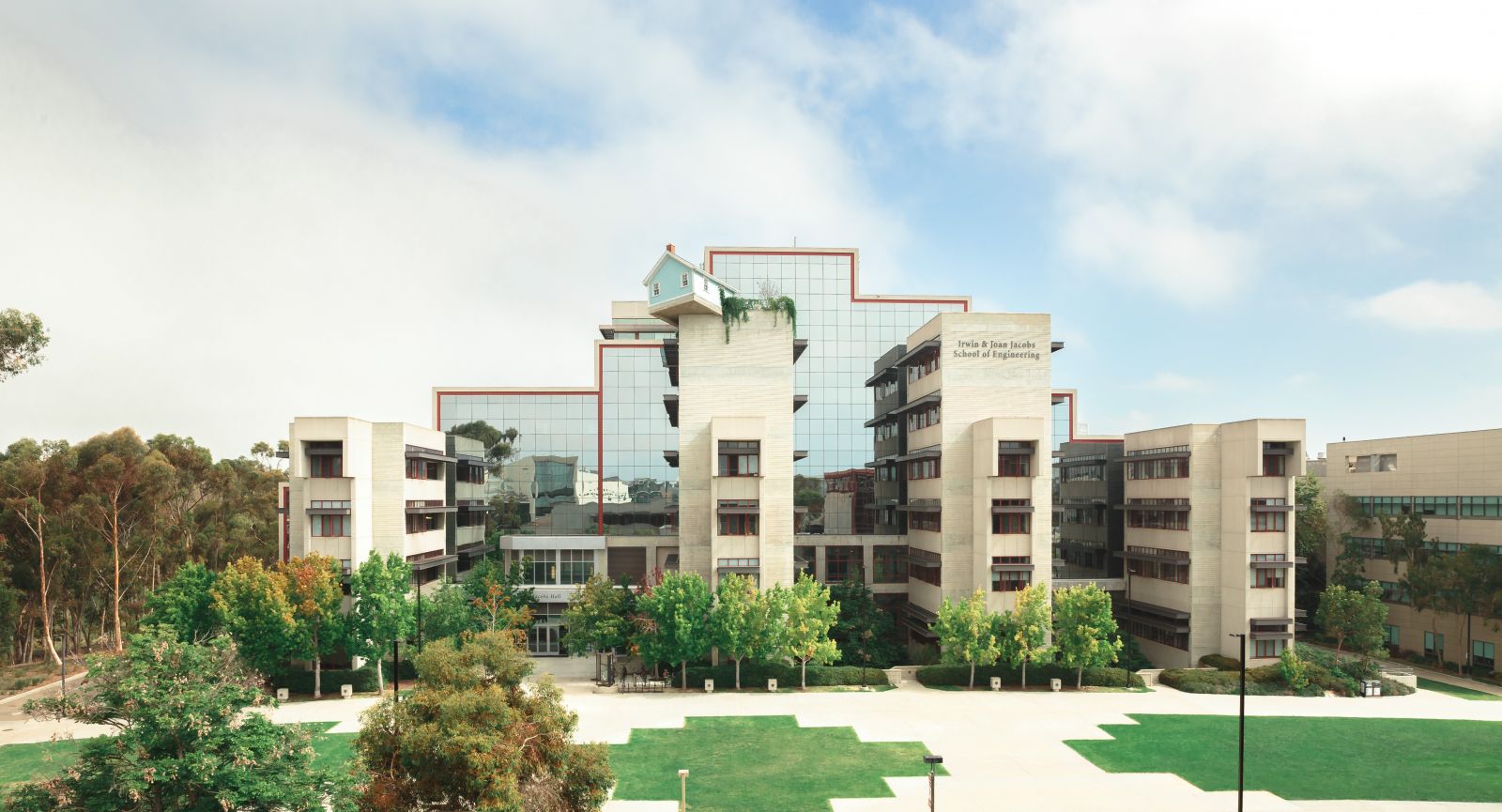 The most recent institute is a cross-campus collaboration, co-launched with the UC San Diego Division of Physical Sciences, called the UC San Diego Institute for Materials Discovery and Design. Researchers deeply involved in this Institute recently won a prestigious National Science Foundation (NSF) Materials Research Science and Engineering Center (MRSEC).
A few recent research results that have emerged from cross-disciplinary research projects tied to agile research centers and institutes include: a skin patch bringing us closer to wearable, all-in-one health monitor; a robot that doesn't need electronics; and a nano-scale particle for better COVID-19 tests.
San Diego regional innovation ecosystems
The fact that the UC San Diego Jacobs School of Engineering has established itself as a top-nine engineering school adds to San Diego's momentum as a world-class, well-rounded hub for technology and innovation.
In addition to its #9 ranking, the Jacobs School of Engineering at UC San Diego is the largest engineering school on the U.S. West Coast, according to the latest enrollment data from ASEE. In Fall 2020, the Jacobs School enrolled 9,174 students. The Jacobs School has awarded nearly 15,000 degrees over the last 6 years.
"The UC San Diego Jacobs School of Engineering is educating the innovation workforce the nation needs," said Pisano. "And more than ever, as a region, we are employing this innovation workforce here in San Diego."
Creating more and better environments for training this innovation workforce is one of the motivations behind Franklin Antonio Hall, which is UC San Diego's new engineering building. It is on schedule to open in Spring 2022.
Students from all across campus will take classes in Franklin Antonio Hall, which will serve as a national model for how to build innovation ecosystems with physical roots and virtual collaboration infrastructure with national and international impact. This is how engineering for the public good will get done in the future.
Bioengineering climbs to #3
In the same US News & World Report Rankings, the Department of Bioengineering at the UC San Diego Jacobs School of Engineering ranked #3 in the nation. This is up from #4 last year in the same ranking. Bioengineering at UC San Diego has ranked among the top four programs in the nation every year for more than a decade.
"The UC San Diego Department of Bioengineering has been inventing and re-inventing the field of bioengineering for more than 50 years, and it continues to take the field in new and exciting directions. I'm thrilled that we have moved up to #3 in the nation," said UC San Diego professor and chair of bioengineering Kun Zhang. "Some of the most influential work that helped launch the field of bioengineering happened here at UC San Diego. Today, our campus remains an incredibly open and vibrant environment. This enables us to recruit some of the most talented young investigators, and continue exploring the next frontiers and embracing non-traditional research directions in the realm of bioengineering."
Bioengineers from UC San Diego recently made headlines around the world for newly published work advancing an effort to develop a gene therapy for chronic pain that could offer a safer, non-addictive alternative to opioids.
One of the newest bioengineering faculty at UC San Diego is Lingyan Shi, who is developing new methods and systems for recording what is happening within live cells.
Jacobs School rankings
Highly ranked doctoral programs in engineering at the Jacobs School: bioengineering (3); computer engineering (14); electrical engineering (16); aerospace engineering (17); mechanical engineering (17); civil engineering (20).
The full listing of Jacobs School rankings:
2022 US News & World Report Rankings of Best Engineering Schools are here.
Media Contacts
---
Daniel Kane
Jacobs School of Engineering
858-534-3262
dbkane@ucsd.edu