News Release
UC San Diego engineering professors inducted into National Academy of Inventors
December 7, 2021 -- Two professors at the UC San Diego Jacobs School of Engineering have been named 2021 fellows of the National Academy of Inventors (NAI).
Shaochen Chen, professor and chair of nanoengineering, and Tse Nga (Tina) Ng, professor of electrical and computer engineering, were among the 164 fellows announced by the NAI this year who have demonstrated a spirit of innovation in creating or facilitating outstanding inventions that have made a tangible impact on the quality of life, economic development, and the welfare of society. Election to NAI Fellow is the highest professional distinction accorded solely to academic inventors.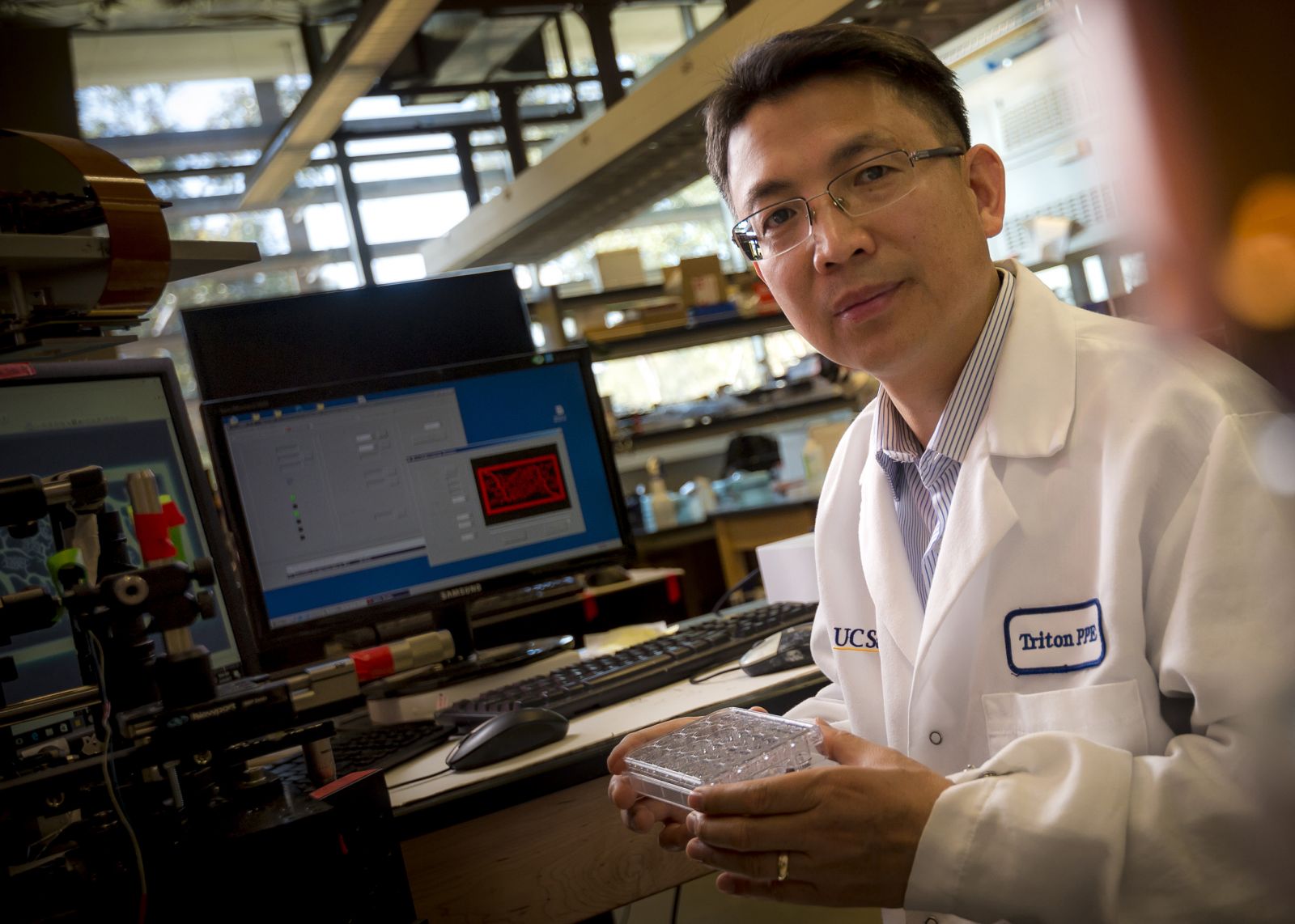 Shaochen Chen is recognized for his innovative 3D bioprinting technology, which rapidly reproduces detailed structures that mimic the complex designs and functions of living biological tissues. Chen's lab has used this technology to create lifelike liver tissue, networks of blood vessels, coral reef structures, and patient-specific spinal cord implants for treating severe spinal cord injury. What's also noteworthy about Chen's 3D bioprinting technology is that it prints structures with micrometer-scale resolution at an unprecedented speed of just mere seconds.
"My goal is to use our engineering talents to develop tools and technology to advance healthcare—specifically in the areas of tissue engineering and drug discovery," said Chen. "In the tissue engineering area, we are developing our bioprinting technology to help overcome big bottlenecks in creating organ transplants, which are in high demand but in short supply. In the drug discovery area, we are developing our technology to mass-produce human tissue models, which pharmaceutical companies could use to test millions of drug candidates immediately for efficacy and toxicity. This will provide better prediction for the outcomes of human trials; significantly reduce the risk of later stage drug failure, saving millions of dollars during drug discovery; and speed up the drug development process to hopefully save more lives."
Chen holds 18 patents and provisional patents. He is the co-founder of the startup company, Allegro 3D, which licensed the bioprinting technology and has produced a commercial 3D bioprinter (Stemaker™ Model D) that is currently being used by biotechnology, pharmaceutical and university research labs worldwide.
Tse Nga (Tina) Ng is a leader in the field of flexible printed electronics. She is recognized for engineering additive manufacturing processes to create large-area optical and mechanical sensor systems. One example of such a system is a thin, compact infrared imager that Ng's lab recently developed. This infrared imager has one of the largest display areas of infrared imagers to date and is fabricated using thin film processes, so it is easy and inexpensive to scale up to make even larger displays for biomedical imaging, silicon wafer inspection, and defense applications.
Ng hold 39 U.S. patents—some of which have been licensed to the U.S. Army and the Department of Energy, and others are in use at Palo Alto Research Center (PARC, a subsidiary of Xerox). The patents enable low-cost additive printing of sensors, memory elements and transistor circuits for Internet-of-Things devices and wearable systems. The patents were instrumental in the commercialization of Xerox's printed electronic labels technology, which is used in the smart packaging and printed electronics industries.
"I am fortunate to work with great students at the Jacobs School to advance the mission of engineering for the public good," said Ng. "In addition to producing peer-reviewed publications, my students and I engage in patent applications to facilitate technology translation to commercial partners. Coming in with my industrial research background, I can share my experience to help students understand the patent process—which is very different from academic publishing—so that they, too, can contribute to technology translation."
Media Contacts
---
Liezel Labios
Jacobs School of Engineering
858-246-1124
llabios@ucsd.edu