News Release
2022 Research Highlights
December 20, 2022-- From tools to track the origin and spread of COVID-19, to making homes safer in earthquakes, to using smartphones as diagnostic tools, researchers at the Jacobs School of Engineering pioneered important work in 2022. A few highlights of our outstanding research this year are here.
COVID-19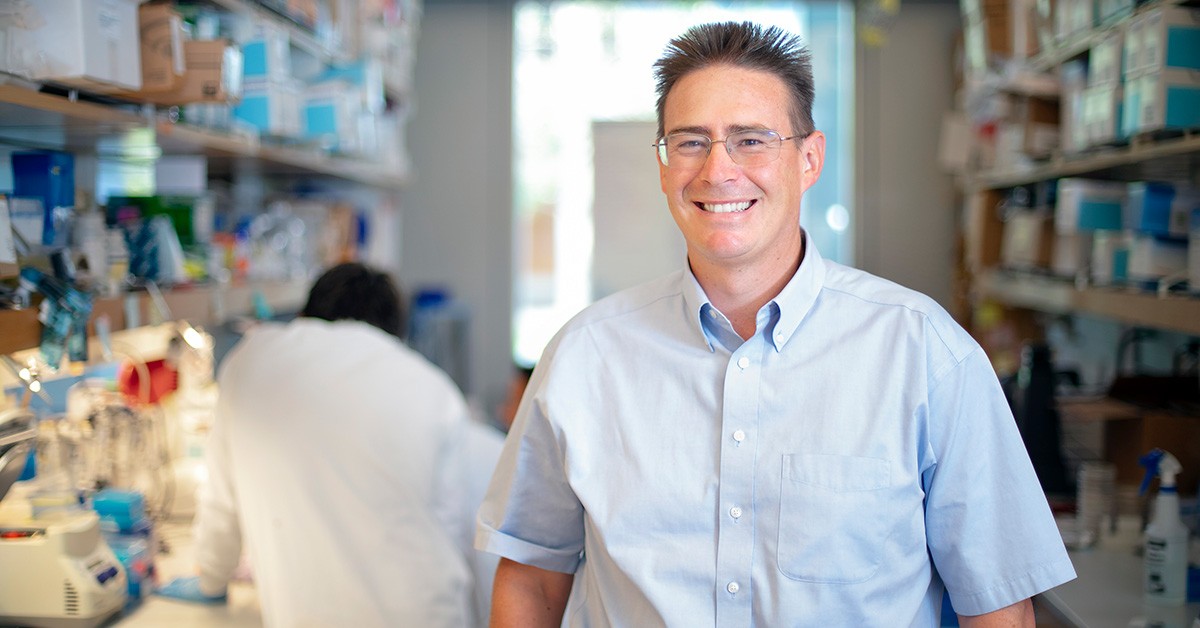 Professor Rob Knight helped to build a system to sequence wastewater samples to provide insights into the levels of COVID.
COVID-19 continued to be a focus of research. Physicians and computer scientists, led by Professor Rob Knight, with local and federal officials came together to build a system to sequence wastewater samples in order to provide insights into levels and variants on the UC San Diego campus and the broader community.
UC San Diego researchers, with colleagues on four continents, also published a high-profile paper in Science, showing that the origin of the COVID-19 pandemic in 2019 was the Huanan Seafood Wholesale Market in Wuhan, China. Niema Moshiri, a computer science faculty member, built the epidemic simulation tool that was key to the paper's findings.
From Earth to Space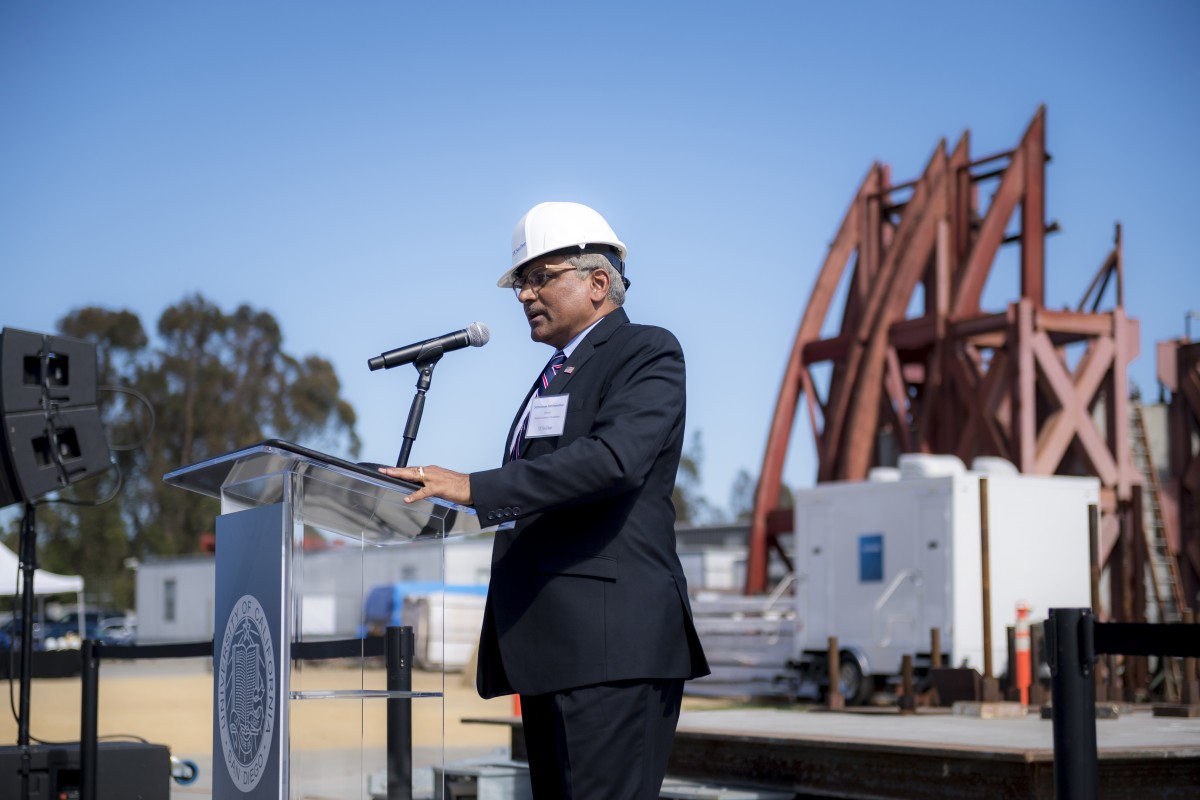 NSF Director Sethuraman Panchanathan at the official reopening of the UC San Diego earthquake simulator.
Another big development for the Jacobs School this year was the reopening of our earthquake simulator after a $17 million NSF-funded upgrade. NSF Director Sethuraman Panchanathan was on hand for the occasion. The simulator, run and staffed by UC San Diego structural engineers, went from being able to move in one direction – east-west – to three directions – east-west, north-south, up and down, as well as roll, pitch and yaw–three motions in the x, y and z axes performed by airplanes in flight and commonly seen in earthquake motions. Early next year, the shake table will put a 10-story cross-laminated timber building to the test, in order to build more earthquake-resilient infrastructure
A member of the structural engineering faculty, professor Ingrid Tomac, sent an experiment to the International Space Station to better understand the part that gravity plays in mudslides that take place after wildfires. Results could lead to improved mudflow models, new critical infrastructure and the development of early-warning systems.
Health
UC San Diego computer scientists were part of a team that published the first complete human genome. "This is a major milestone," said Pavel Pevzner, Ronald R. Taylor Distinguished Professor of Computer Science at the UC San Diego Jacobs School of Engineering. "Around 8% of the human genome had gone unsequenced for decades. By filling these gaps, we gain a better understanding of human biology and can now identify formerly hidden genetic anomalies that may lead to disease.
Nanoengineers and electrical engineering experts continued to explore how wearables can be used to monitor a number of health indicators. A team led by professors Patrick Mercier and Joseph Wang built a wearable that continuously monitors glucose, alcohol and lactate levels. The device is applied to the skin through a Velcro-like patch of microscopic needles, on the upper arm.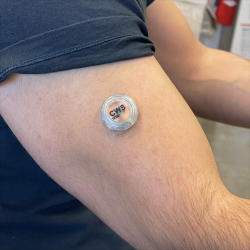 This wearable monitors glucose, alcohol and lactate levels.
Electrical engineers investigated how smartphones can be turned into diagnostic tools. In a proof of concept study from the research group of Professor Ed Wang, researchers showed that smartphones are capable of detecting blood oxygen saturation levels down to 70%. The same research group developed a smartphone app that could allow users to screen for Alzheimer's disease, ADHD and other neurological conditions by recording closeups of their eyes.
Other research groups are working to develop treatments inside the human body. Nanoengineers led by Professor Liangfang Zhang built microscopic robots that can swim around in the lungs, deliver medication and clear up life-threatening cases of bacterial pneumonia.
Engineering alumni founded a startup that designs, builds and installs 3D-printed, custom prostheses. Called LIMBER Prosthetics, the startup is led by structural engineering Ph.D. alumni Joshua Pelz and Luca De Vivo, with prosthetics specialist Herb Barrack. The company plans to sell its personalized prostheses in developed countries while providing its services for developing countries at discounted prices or for free.
Studying and treating the brain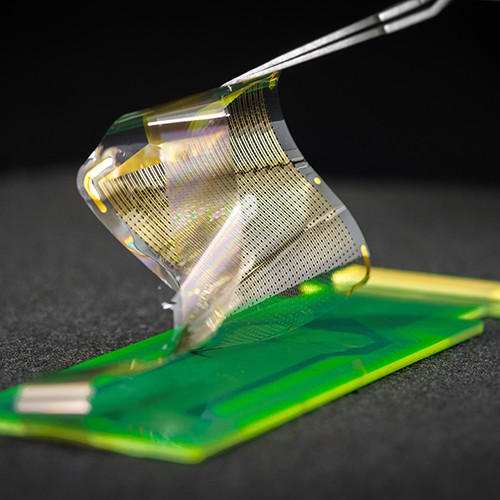 An array of brain sensors that records electrical signals directly from the surface of the human brian in record-breaking details.
Studying and treating the brain is also a focus for several Jacobs School faculty. Engineers and physicians published data showing that a new array of brain sensors can record electrical signals directly from the surface of the human brain in record-breaking detail. At the Jacobs School, the effort was led by electrical engineering faculty Shadi Dayeh.
Bioengineering professor Ester Kwon and colleagues are developing nanomaterials that could be used to diagnose traumatic brain injury on the spot, in the field or in a clinical setting. They are also engineering nanoparticles that could target the portion of the patient's brain that was injured, delivering specific therapeutics.
Engineers and neuroscientists partnered to develop a device that is a first step to enabling non-invasive, ultrasound-based therapies for the brain. Ultrasound waves are currently being used in clinical trials to treat epilepsy. At the Jacobs School, the effort was led by Professor James Friend.
The environment and more
Beyond the human body, the environment is another focus of research here at the Jacobs School. Nanoengineers in the research group of professor Zheng Chen have built lithium-ion batteries that perform well both at freezing cold and scorching hot temperatures, while packing a lot of energy.
Michael Davidson, a professor both in the department of mechanical engineering and the School of Global Policy and Strategy, co-authored a study that shows a globalized, open trade supply chain saved countries around the world an estimated $67 billion in solar panel production costs.
In bioengineering news, an international team of researchers has designed and built a chip that runs computations directly in memory and can run a wide variety of AI applications–all at a fraction of the energy consumed by computing platforms for general-purpose AI computing. The UC San Diego team was led by Professor Gert Cauwenberghs.
In robotics news, roboticists, physicists and biologists discovered that the physics of walking for multi-legged animals and robots is simpler than previously thought. "This is important because it will allow roboticists to build much simpler models to describe the way robots walk and move through the world," said paper coauthor Nick Gravish, a faculty member in the Department of Mechanical and Aerospace Engineering at the University of California San Diego.
Media Contacts
---
Ioana Patringenaru
Jacobs School of Engineering
858-822-0899
ipatrin@ucsd.edu