Adah Almutairi
Skaggs School of Pharmacy and Pharmaceutical Sciences
NanoEngineering

---
Nanomedicine, nanotechnology, chemistry and polymer science
Prof. Adah Almutairi is a Professor of Pharmaceutical Chemistry; affiliate faculty in the departments of Bioengineering and NanoEngineering; and Director of the Center for Excellence in Nanomedicine and Engineering in the Institute of Engineering in Medicine. Professor Almutairi is a 2016 Kavli Fellow and has received numerous honors and awards such as the NIH director's new innovator award in 2009[1] for her work on "Chemically Amplified Response Strategies for Medical Sciences"
Prof. Almutairi holds over ten US and international patents, two of which are licensed to pharmaceutical industries. Her academic contributions throughout her career to Pharmaceutical Sciences are listed below:
Introduced the first polymeric nanoparticle to release drug in response to Concentrations of hydrogen peroxide characteristic of inflammation.
Developed the first near infrared-degradable polymer, which enables Precise remotely controlled delivery of molecules.
Created an activatable MRI agent with unprecedented contrast between "on" and "off" states.
Designed a polymeric nanoparticle that enables delivery to the cytosol by rapid degradation upon exposure to mild acid.[5]
Capsule Bio:
Professor Adah Almutairi has been a faculty member at the University of California, San Diego since 2008. She is the director of UC San Diego's Center of Excellence in Nanomedicine, a rapidly expanding interdisciplinary research collaborative team developing tools for the future of biology and medicine. Her primary appointment is in the Skaggs School of Pharmacy and Pharmaceutical Sciences, and she is a member of the departments of NanoEngineering, and Radiology. She came to UC San Diego from UC Berkeley, where she worked with Professor Jean Fréchet to develop several nanoprobes for in vivo imaging. Prior to that, she completed her PhD in Materials Chemistry at UC Riverside on electron delocalization and molecular structure, in which she developed a novel polymer for electromechanical actuation.
---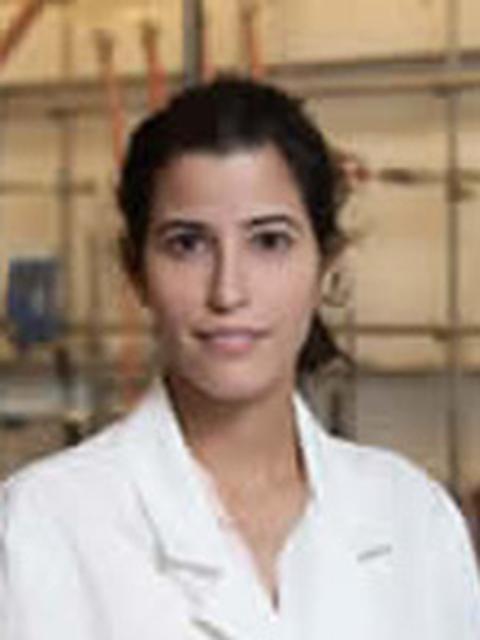 Email:
aalmutairi@ucsd.edu
Office Phone:
858-246-0871
Institute Affiliations:
Institute of Engineering in Medicine