News Release
Jacobs School of Engineering 2022 institutional highlights
December 22, 2022-- As we take a break to rest and recharge before jumping into more research and engineering education for the public good next year, we're reflecting on all that our students, faculty, staff and partners accomplished in 2022. Here are a few of our UC San Diego Jacobs School of Engineering highlights this year, from opening new buildings, to launching new research centers, and working to support and diversify the ranks of future faculty.
Top Ten Again: For the third year in a row, the Jacobs School of Engineering earned a top 10 ranking in the influential U.S. News & World Report Rankings of Best Engineering Schools. This #10 ranking is up from #17 six years ago. "I look at rankings as recognition rather than definition, and this world-class ranking is well deserved recognition of the excellence, hard work, and creativity of our entire community," said Albert P. Pisano, Dean of the Jacobs School of Engineering.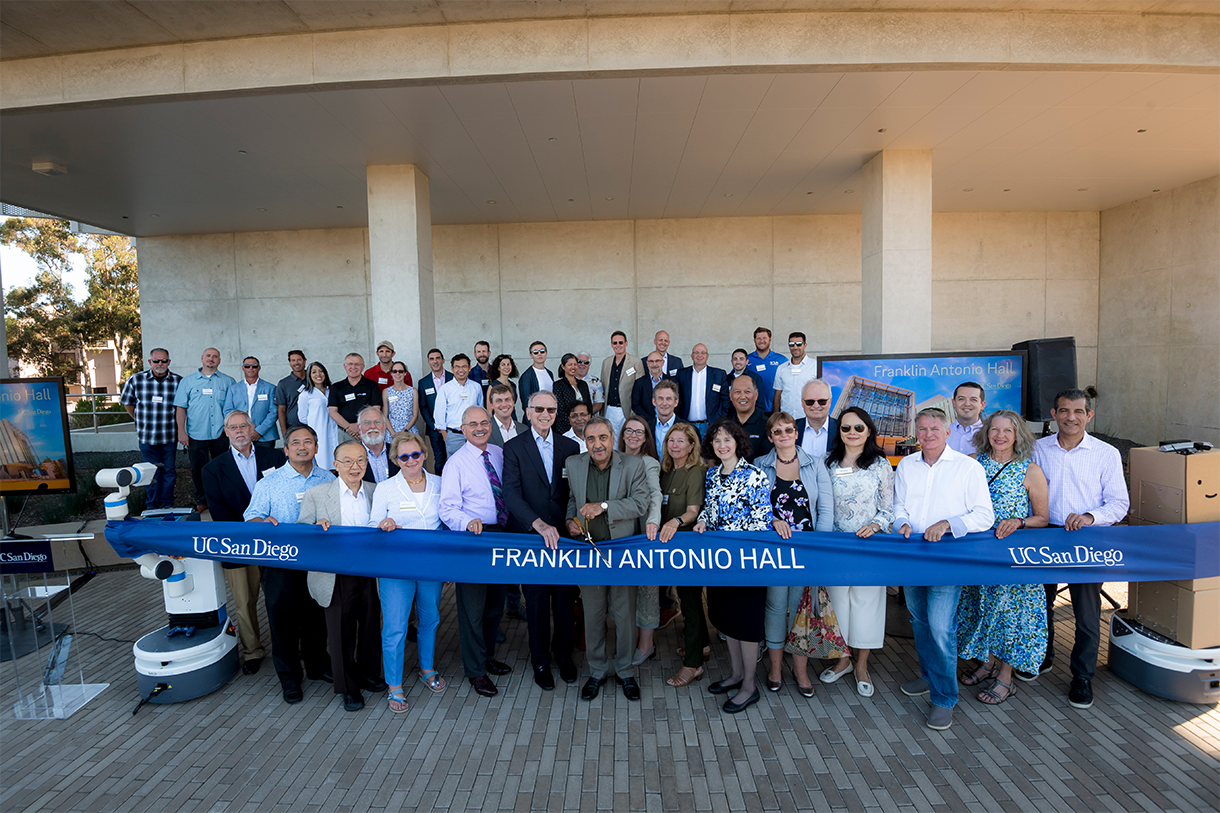 Franklin Antonio Hall officially opened its doors in September.
Franklin Antonio Hall opened: In September, we officially opened the doors to our newest engineering building, Franklin Antonio Hall.The 186,000 square foot building is not only innovative in its architecture, it's also ground-breaking in how research teams are organized within the building. It is home to 13 collaboratories–research laboratories bringing together researchers from different departments to solve a wide range of problems facing society.
With $25M gift, bioengineering department is renamed: Eminent biotechnology innovator and entrepreneur Gene Lay, through the Laygend Foundation, committed to provide $25 million as an endowment gift to support UC San Diego's world-leading bioengineering department. Lay's gift honors Shu Chien, a UC San Diego emeritus professor of bioengineering and medicine who is a renowned bioengineering researcher, educator and mentor. In recognition of Lay's generous gift, UC San Diego renamed its bioengineering department the Shu Chien-Gene Lay Department of Bioengineering.
Upgraded shake table reopens with NSF director: In June, NSF Director Sethuraman Panchanathan was on hand as we held a grand re-opening of our earthquake shake table, one of the two biggest in the world. The facility was recently upgraded with a $16.9 million grant from NSF. It went from being able to move in one direction – east-west – to six directions – east-west, north-south, up and down, as well as roll, pitch and yaw. The shake table is a machine for earthquake safety; tests on it have resulted in changes to building codes for everything from hospitals, to tall buildings, to roads and bridges.
Bioinformatics/ biotech programs rank #1: Six undergraduate academic programs at the Jacobs School of Engineering ranked in the top 10 programs in the nation according to the U.S. News & World Report 2022-2023 Best Colleges ranking. The biocomputing, bioinformatics, biotechnology program, a multidisciplinary undergraduate offering supported by three UC San Diego divisions, including the Jacobs School of Engineering, was ranked first in the nation. This is the second year in a row it's been ranked #1.
NSF Director Panchanathan was on hand as we re-opened our upgraded earthquake shake table.
$10M from NSF launches EnCore Institute for data science: A new NSF initiative has created a $10 million dollar institute led by computer and data scientists at UC San Diego that aims to transform the core fundamentals of the rapidly emerging field of Data Science. Called The Institute for Emerging CORE Methods in Data Science (EnCORE), the institute will be housed in the Department of Computer Science and Engineering, in collaboration with The Halicioglu Data Science Institute (HDSI), and will tackle a set of important problems in theoretical foundations of Data Science.
Diversifying future faculty through NextProf: In October we hosted more than 40 graduate students from schools around the country on UC San Diego's campus for the NextProf Pathfinder workshop– two days filled with panels, presentations, networking, and hearing directly from early career and senior faculty and deans from a variety of backgrounds about what it takes to make it as an engineering professor. The goal of the program, held in collaboration with the University of Michigan School of Engineering, is to prepare and inspire the widest swath possible of engineering graduate students to seriously consider careers as professors.
Welcomed new faculty: This year, we welcomed 11 new professors to the Jacobs School of Engineering. These faculty represent the first year in our latest three-year, 35+ faculty member hiring cycle. By 2024, the Jacobs School will have more than 300 professors, more than half of whom will have joined in just the last 10 years.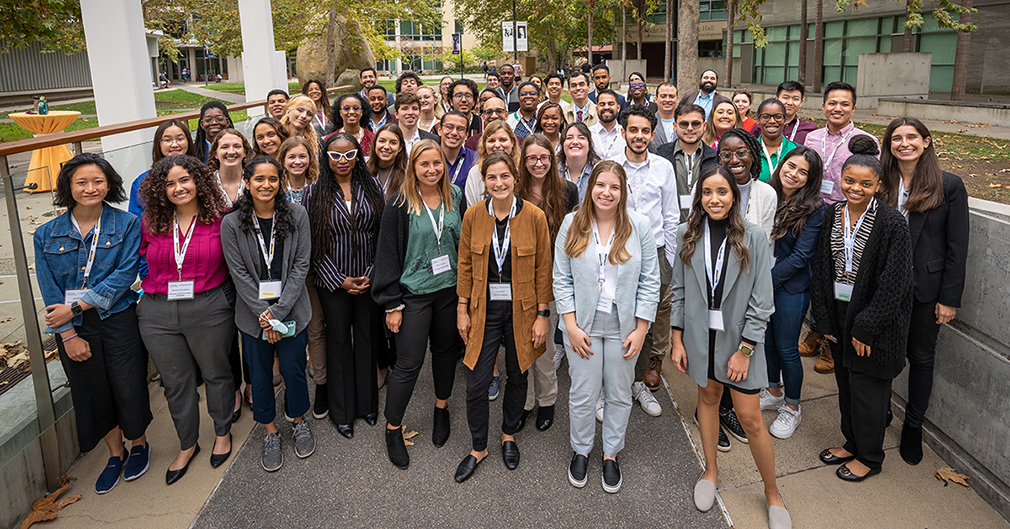 Students from schools around the country gathered at UC San Diego for the NextProf Pathfinder workshop.
Empowered transfer students to an engineering degree: With a $5 million grant from the NSF, we're leading a new effort to support low-income transfer students pursuing a bachelor's degree in engineering. The five-year program, called EMPOWER, will support engineering students at UC San Diego and two nearby community colleges, Southwestern College in Chula Vista, Calif., and Imperial Valley College in Imperial, Calif., working to eliminate opportunity gaps through comprehensive cohort-based, success-promoting programming and significant scholarships.
Expanded I-Corps Hub: The Institute for the Global Entrepreneur, a collaboration between the Jacobs School of Engineering and Rady School of Management, was selected to join one of five new NSF Innovation Corps (I-Corps) Hubs, meant to scale the NSF-led National Innovation Network in accelerating the translation of discoveries into new solutions that benefit society. Each I-Corps Hub is funded for up to $3 million per year for five years and comprises a regional alliance of at least eight universities; UC San Diego joins the Desert and Pacific Region Hub.
Three researchers were named NAI Fellows: Three entrepreneurial faculty were named fellows of the National Academy of Inventors, the highest professional distinction awarded to academic inventors. This year's UC San Diego inductees all hail from the Jacobs School of Engineering: Yu-Hwa Lo, a professor of electrical and computer engineering; Nicole Steinmetz and Joseph Wang, both professors of nanoengineering.
Two researchers were named AAAS Fellows: Two Jacobs School of Engineering material scientists were elected as fellows of the American Society for the Advancement of Science, the largest general science organization in the United States and publisher of the journal Science. Professor Shirley Meng, a batteries expert, and Professor Olivia Graeve, an expert on materials for extreme environments and an advocate for engineering education for underrepresented students, were recognized for work deemed scientifically or socially distinguished, advancing science or its applications.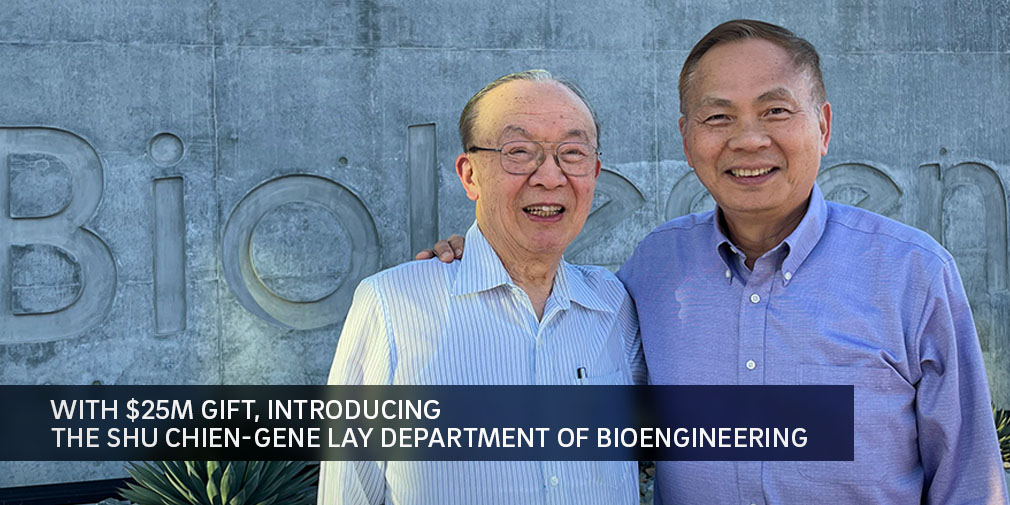 In honor of Lay's $25M gift, UC San Diego renamed its bioengineering department the Shu Chien-Gene Lay Department of Bioengineering.
Faculty received 2 of 10 national young investigator awards: Jacobs School of Engineering faculty members brought home two of the 10 Beckman Young Investigator awards bestowed nationwide this year by the Beckman Foundation. Both faculty members, Lisa Poulikakos and Tania Morimoto, are part of the Department of Mechanical and Aerospace Engineering. It was first time the award went to two researchers from the same department at the same institution.
16 faculty named most highly cited in the world: A remarkable 16 faculty and research scientists at the Jacobs School of Engineering are among the world's most influential researchers in their fields, according to the 2022 Clarivate listing of Most Highly Cited Researchers in the World. The list highlights individuals at universities, research institutes and commercial organizations who have demonstrated a disproportionate level of significant and broad influence in their field of research.
Dean Pisano earned IEEE honor society's highest award: Albert P. Pisano, Professor and Dean of the Jacobs School of Engineering at the University of California San Diego, has received the highest honor of the IEEE-Eta Kappa Nu: the IEEE-HKN Asad M. Madni Outstanding Technical Achievement and Excellence Award. Dean Pisano is being recognized "for outstanding technical achievements and seminal contributions that promote engineering to broader communities for the benefit of society."
Media Contacts
---
Katherine Connor
Jacobs School of Engineering
858-534-8374
khconnor@eng.ucsd.edu